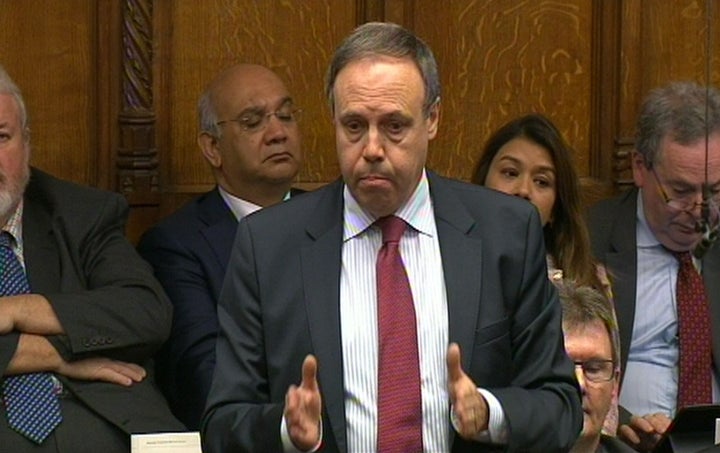 Northern Ireland's largest party has been invited for secret talks with the Government amid rumours a deal may be offered over boundary changes in exchange for backing grammar schools.
HuffPost UK has learned that Tory chief whip Gavin Williamson today approached the Democratic Unionist Party's Westminster leader Nigel Dodds, and asked him to come in for a "quiet chat".
The invitation comes after Dodds described proposed Boundary Commission changes to Northern Ireland's 18 constituencies as having a "a detrimental effect on Unionist representation."
HuffPost UK has been told there are fears among Labour MPs that the DUP will offer to support Theresa May's controversial plan to reintroduce grammar schools – which already exist in Northern Ireland – in exchange for the boundary proposals being changed.
With the Government's working majority at just 16, it would only take a small number of Tory MPs to vote against or abstain on a grammar school legislation for it to be defeated.
The DUP's eight MPs could offer Theresa May's plans a lifeline when it comes to getting the reforms through parliament.
The reorganisation is thought to benefit Sinn Fein, which despite contesting General Elections does not take up seats in Parliament. The republican party could make significant inroads in the new seat of North-West Belfast and is likely to secure South-West Belfast.
In a statement on the proposals, Dodds said: "These Boundary Commission proposals will have a detrimental effect on Unionist representation.
"The proposals do not take into consideration the natural hinterlands of many major cities and towns in Northern Ireland. That is something which is of particularly concern as these shape communities."
He added: "Voters shouldn't be under any illusion that this will not affect them. This fight is now about making sure their voice is heard and that they have strong representation when it comes to health, education and jobs – the bread and butter issues that matter to many people across the Province.
"It is important that we build a stronger, better Northern Ireland and it was this vision which was endorsed by voters in May, as the DUP was returned as the largest political party."