The EgyptAir plane that crashed killing 66 people on board had "we will bring this plane down" scrawled on the side of it in Arabic, according to reports.
Political activists - who worked at Cairo Airport - were said to be behind the graffiti, written on the underside of the jet about two years ago.
Others also wrote "murderer" and "traitor" in messages directed at Egypt's president Abdel Fattah el-Sisi, The New York Times revealed following interviews with three separate EgyptAir security officials.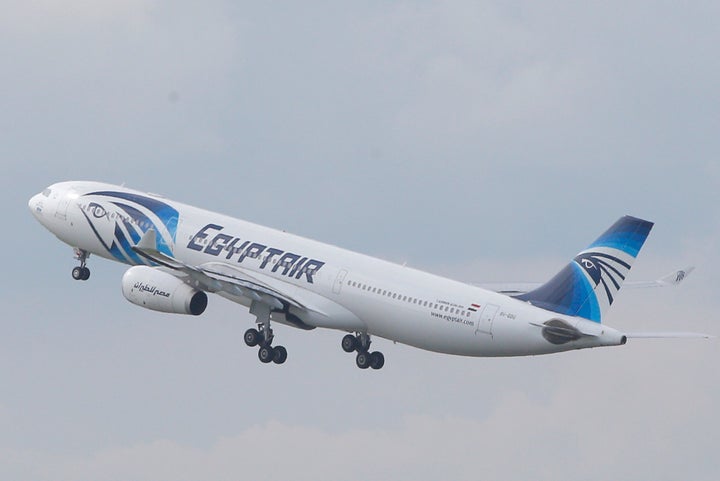 The officials, who the newspaper did not name, said the graffiti was not linked to the so-called Islamic State, or al-Qaeda, but to the volatile political situation in the country.
The Airbus A320 was en-route from Charles de Gaulle airport in France to Cairo, when contact was lost around 00:45 on Thursday morning, around 10 miles into Egyptian airspace. No distress call was made by the pilots and experts believe the crash was most likely the result of a terrorist attack.
Briton Richard Osman, a father-of-two originally from Wales, is among 56 passenger and 10 crew thought to have died in the crash.
EgyptAir is said to have introduced a series of security measures in response to the political turmoil and other plane disasters like the Metrojet plane that was downed after taking off from Sharm el-Sheikh Airport, killing all 224 people on board.
The Times reported that EgyptAir had fired employees for their political leanings, stepped up crew searches and added extra unarmed in-flight security guards. Three such guards died in Thursday's crash.
The head of the Egyptian investigation team, Ayman al-Moqadem, said Sunday that it will take four weeks for information to be compiled and published as pictures of recovered debris began to circulate.
Meanwhile, French investigators, who are assisting the official inquiry, have revealed the jet sent a series of warnings before it disappeared off radar just before 2.30am.
The signals indicated smoke or fire had been detected on board. While not dismissing these reports, officials have warned the public not to read too much into the claims until the black box has been recovered.