At weekends and evenings, it's easy to end up playing computer games with your child or being an armchair expert on TV sports, but the stand-out memories for when your kids are looking back on their childhood will be the times you got off the sofa to play some sport with them in real life.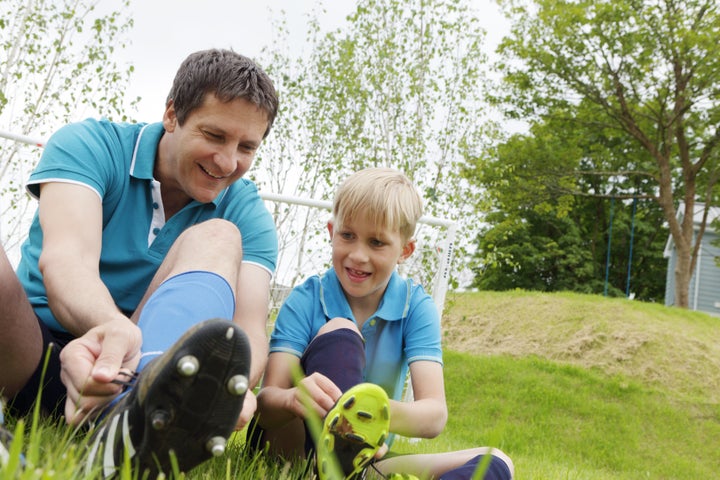 Doing something active together with your children works for all of you on so many levels: the adrenaline-pumping joy of racing each other on bikes; one-on-one time to chat, laugh, tease each other and catch up in a relaxed way while you're playing; the opportunity to teach the important stuff like being a good and bad loser, supporting each other, not giving up and the pride of doing something to the best of your ability and succeeding.
Here are some suggestions for sports to play with your children.
1. Ball games
From crawling age, your child should have a ball to pursue. By the time they're toddle-running, you can be teaching them how to throw, kick and catch. You're the role model, and unless you want your child to be uncomfortable when teams are picked at school, it is up to you to show them how to be relaxed - and hopefully skilled - playing ball sports and enjoying hours of fun together. As they get older - and always taking your cue from their enthusiasm - you can sign them up for weekend football or rugby classes and even volunteer to be a coach. The same is true for any sport: inspire some early interest, take a supporting role in a club or continue learning alongside him or her and share the memories together.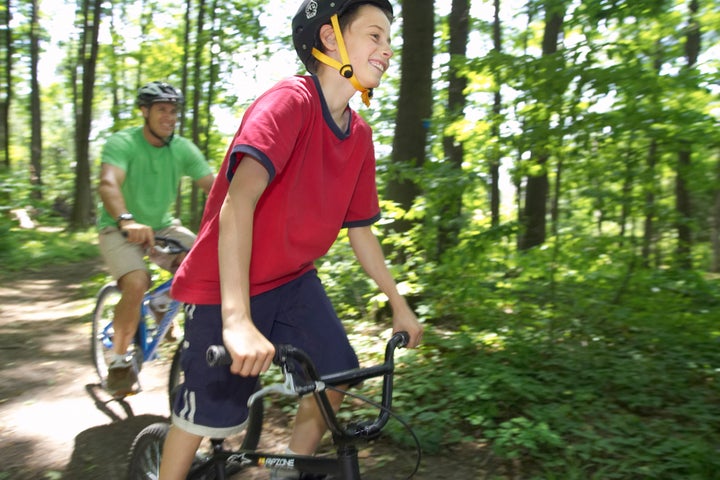 2. Cycling
That moment when your child pedals off solo on their first bike may be the stuff of 'proud dad moment' in ads but for true father-child bonding, nothing beats a long (and preferably muddy) bike ride. Cycling on roads can be nerve-wracking with and for children, but cycling trails away from traffic can be a chance to really relax and enjoy family time. The British Cycling Federation's website is packed with suggestions for different family bike rides.
3. Tennis
Kids' tennis racquets are so light nowadays that from the age of three or four, you can be throwing balls to your child and teaching them to 'back and smack'. Like any sport, be prepared to put the time in if you are looking for a future tennis partner. Check out the LTA website to find your nearest courts (many of them are free to book) and activities, including the new free Tennis for Kids Initiative.
4. Wrestling
Rough housing, rough and tumble, play fighting, rowdy games, whatever you call it, it's great fun for you and your kids.
"In rough housing, fathers and children get the endorphin rush of athletics as well as the oxytocin rush of a good hug (oxytocin is often called the 'cuddle chemical')," explains Anthony T. DeBenedet, author of The Art of Roughhousing: Good Old-Fashioned Horseplay and Why Every Kid Needs It.
Children who enjoy rough and tumble with their dads learn the difference between boisterous fun and angry aggression, have a closer, trusting relationship and have been shown to be more sociable and independent, not timid and fearful. Add in a swimming pool and the fun ratchets up even more.
5. Climbing
Climbing is a great way to build strength and fitness, as well as confidence and trust. Many indoor climbing walls will offer family taster sessions where you can all have a go at scaling some beginner routes. You can find a wall near you on the British Mountaineering Council's website. If you and your children are bitten by the climbing bug, the Ready to Rock: Family course is five-days of adrenaline-packed fun designed specifically for families (children must be aged 14 or over) who climb regularly on an indoor wall and want to make the transition to outdoor climbing in North Wales.
6. Orienteering
Get outdoors, have some hearty exercise and learn new skills together. Win-win-win! You can choose your pace with orienteering - a race to the finishing line or a brisk walk navigating the course using a map and compass (a useful skill for everyone, even with mobile phones!).
Orienteering can take place anywhere from woods to parks, courses are colour-coded according to length and technical difficulty so you can choose one best suited to your child's age. You can find your local community orienteering club or event on the British Orienteering website.
7. Running
Parkrun are free Saturday morning run events taking place across the world. Kids can take part in either the junior 2km specifically for 4-14 year olds, or in the regular 5km runs with an adult. You can enter just for fun but you also have the option of recording your times to create some healthy family competition and a regular date in your diary. Explore the parkrun website and you'll see hundreds of locations all over the UK.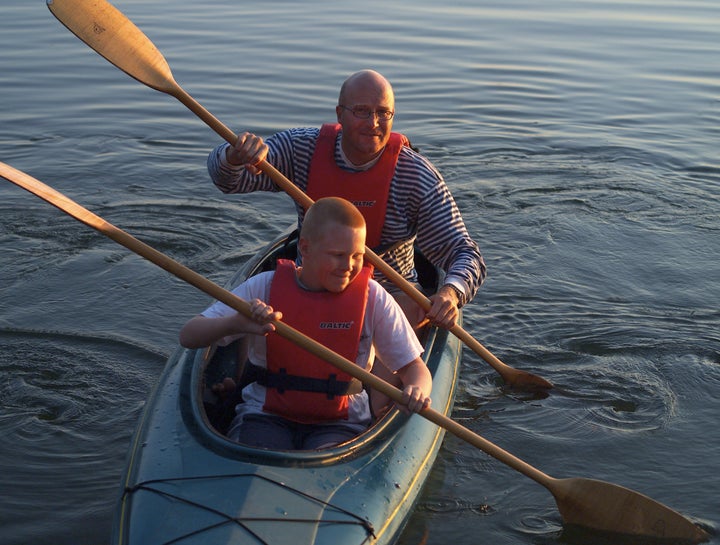 8. Canoeing
Messing about on boats is a wonderful way to create child-dad bonding memories. Go Canoeing starter sessions give you a chance to dip your toes in the water (!) and there are also guided tours so you can enjoy an adventure without stressing about being solely responsible for your child in an unknown waterway. Search the Go Canoeing website for details near you.