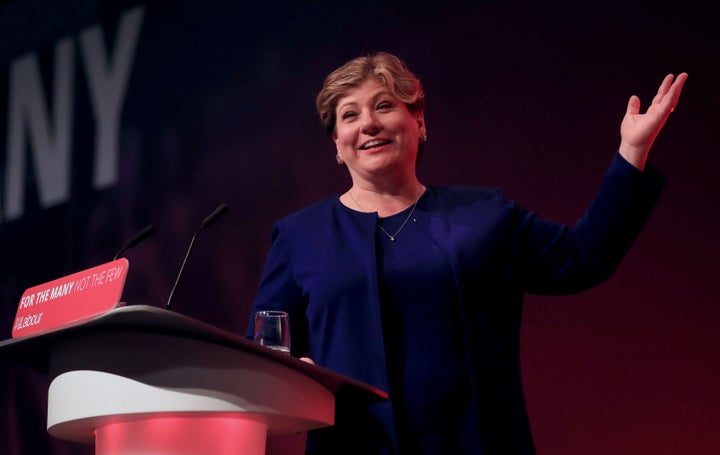 Labour will probably vote in favour of Theresa May's Brexit deal, Emily Thornberry has said.
The shadow foreign secretary said the prime minister would return with such a "blah, blah, blah" agreement that it would likely past Labour's "six tests".
Speaking at the Chatham House foreign policy think-tank on Wednesday, Thornberry said: "What's the nature of the divorce? And I think if past evidence of the last few months is anything to go on, it's going to be a blah, blah, blah, divorce.
"It's not going to make any decisions. It's going to continue to kick things down the road. We don't seem to have come to any difficult decisions at the moment.
"The difficultly is going to be with the meaningful vote in October, which we have secured, is that, what is it we are going to be agreeing on?"
Thornberry added: "We have our six tests. If you hold up blah, blah, blah, to six tests, you'll probably pass it."
She said it was her "hope upon hope" that there would be a general election before the end of the transition period in 2020 to allow Labour "grown ups" to take over the negotiations with Brussels.
According to Business Insider UK, Shadow International Trade Secretary Barry Gardiner suggested last week that Labour MPs should vote for May's deal to avoid the UK crashing out of the the EU with no deal at all.
Labour's six tests for approving the Brexit deal are:

Does it ensure a strong and collaborative future relationship with the EU?

Does it deliver the "exact same benefits" as we currently have as members of the Single Market and Customs Union?

Does it ensure the fair management of migration in the interests of the economy and communities?

Does it defend rights and protections and prevent a race to the bottom?

Does it protect national security and our capacity to tackle cross-border crime?

Does it deliver for all regions and nations of the UK?