Tired of feeling like she had to conceal her mental illness from the rest of the world, one woman has made it her mission to help reduce the stigma and shame that surrounds mental health and invisible illnesses.
The 28-year-old has created a handful of specially-made badges, which people can use on Facebook, Twitter and Instagram, to out themselves as having a mental or invisible illness.
She hopes it will help other people feel safe in the knowledge that they're not alone in their struggles.
"I want the badges to start a conversation, make everyone feel apart of something and help them brave the path to ending stigma," she told The Huffington Post UK.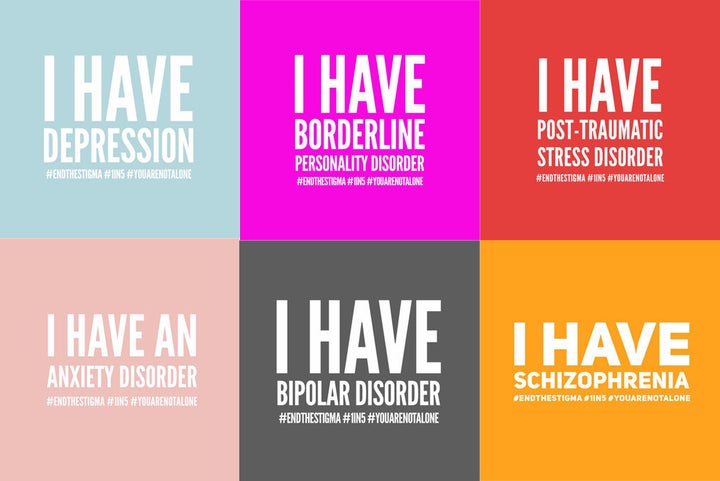 Layton, who was diagnosed with bipolar disorder when she was 19 years old, took to Facebook to share her creations on 30 December.
She wrote: "I've made these with the intention of, as the hashtags say, ending the stigma of mental illnesses [and] other neurodivergent conditions (having a style of neurocognitive functioning that does not fall within the dominant societal standards of 'normal')."
Explaining why she created them, she wrote: "Just because an illness is often invisible, it doesn't mean your battle should go unrecognised.
"If someone is struggling with a mental illness and/or other neurodivergent condition they should feel comfortable reaching out, they should feel safe discussing it. Most importantly, they should know they're not alone."
Her hope is that people will use the images as profile pictures or simply share them, as a means of opening up about their experiences. And they've clearly struck a chord with the general public.
The collection of badges has been shared more than 37,000 times on Facebook, prompting Layton to create a dedicated page called 'End The Stigma', which has received more than 15,000 likes in as little as four days.
So far, #EndTheStigma has inspired many to create collages (similar to the one above) to highlight their struggles with mental illness and let one another know they're not alone.
In a small amount of time the movement has reached people in the UK, USA and Australia - and it continues to grow.
Layton's idea has even inspired people, who couldn't find a badge to represent their own struggles, to create new versions.
Sharing an update on Facebook, Layton said: "When I created a post with nine pictures and a message that I wanted to fight the stigma of mental illness, I never dreamed it would become what it has.
"Please continue your bravery. I have learned so much the past two days. I am still in a state of disbelief, and so proud of the strength so many are showing in order to #endthestigma."