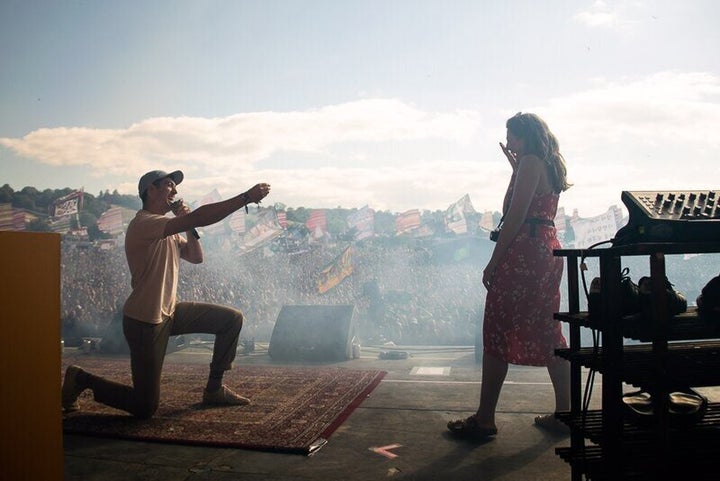 It was baking hot, the baseline was pumping and Eleanor Cunningham, 29, was getting ready for another incredible day at Glastonbury – with no idea what her long-term boyfriend Adam Javes, 28, had in mind.
The pair, who have been together for over a decade, were supporting their friend Ben, a hip hop artist known as Loyle Carner, who was playing an early evening set at the Other Stage on the final night of the festival.
As they watched him perform Loose Ends from the side of the stage, Ellie, a video journalist at London Live, was shocked when Ben finished the track and told them to come up on to the stage. Then, Adam got down on one knee.
"Ben and I had joked about him calling me out to sing a song with him – I can't sing to save my life," Ellie tells HuffPost UK. "So when he did, I actually thought he was going to make me do that. I honestly had no idea Adam was going to ask me to marry him. I was so emotional already. I was in tears watching one of my best mates perform the biggest gig of his life, and then that happened!"
In a roundabout way she said yes. Adam, who works as a film producer, explains: "She jumped up and down squealing and crying and nodding her head in the right direction, with her hands in the air. And then Ben ran around the stage shouting: 'SHE SAID YES'. It was a lot. I loved it."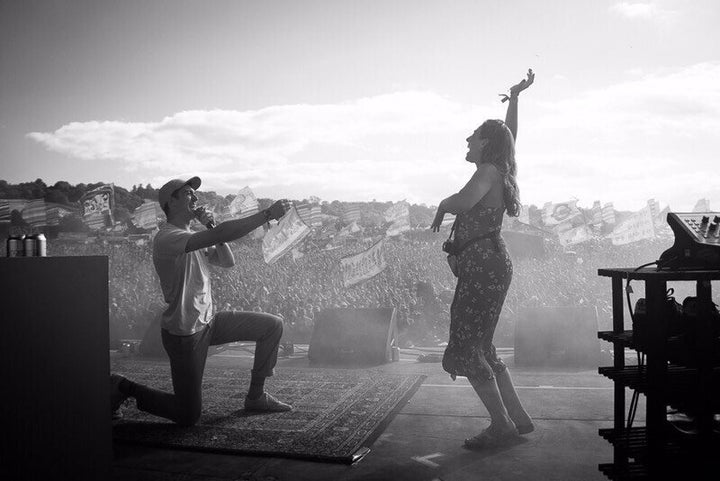 Ellie and Adam have been best friends since they met as teenagers. They fell in love, and Ellie says they've been a couple for 12 years.
The incredible proposal was six months in the making, first planned on New Year's Eve after Ben revealed to his mates that he would be playing at Glastonbury – and Adam asked if he would help him propose.
In the immediate run up to the proposal, waiting by the side of the stage, Adam says he was incredibly nervous – "mostly I just really needed a poo," he laughs.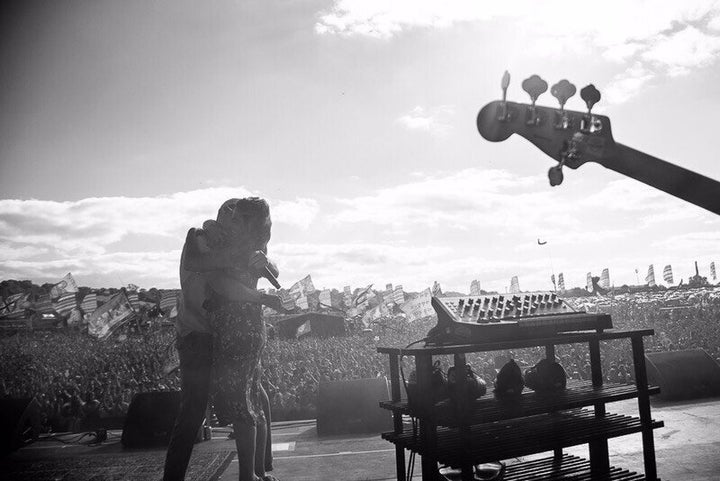 "Not only is Ben a really good friend, we're also big fans so I felt bad for not being able to enjoy his set as much as I usually would," Adam says. "I was just thinking about what I was going to say – and trying not to concentrate on how bloody massive the crowd was."
Adam had typed dozens of notes on his phone in the months leading up to the festival, filled with snippets of what he wanted to say to Ellie – but when the moment came, his mind went blank. "I vomited something spontaneously out," he recalls. "I'm glad it made some sense.
"I was definitely nervous but it was worth all the nerves in the world and I'd do it again in a heartbeat."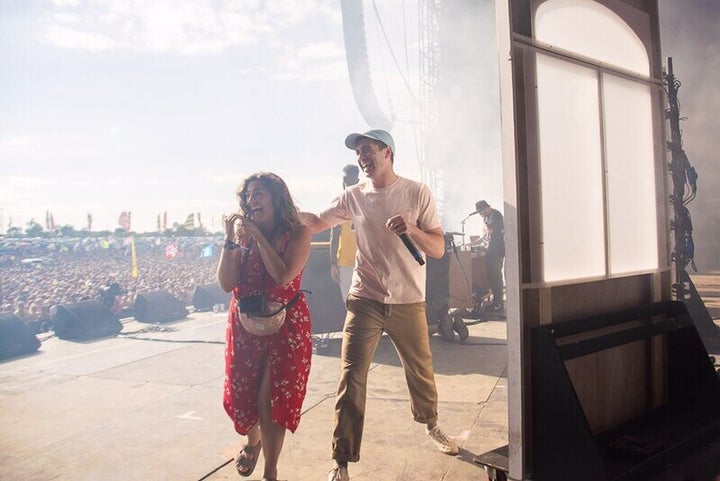 Ellie, who says she's not overly romantic, was totally thrown by the move – in a good way. "It was completely surreal, incredible and overwhelming," she says. "I can't believe my best friend in the entire world did such a huge gesture in front of so many people, he's a brave boy! There were so many people there, if I'd have known I would have slapped on a bit more makeup."
She was crying backstage for hours afterwards, she adds: "It was so special given that we could celebrate with all our mates and have the rest of our family stream it online."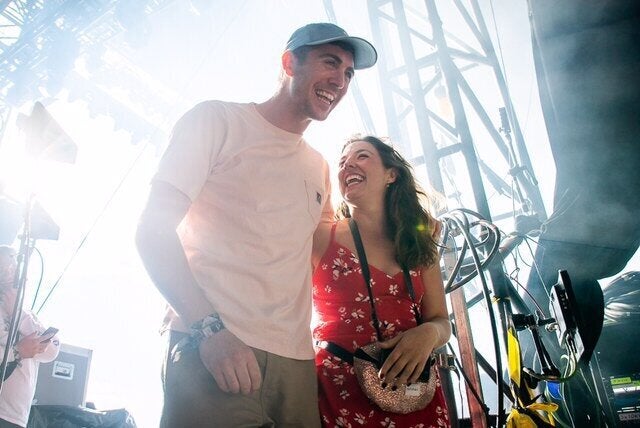 Adam says he'll be "eternally grateful" to Ben for giving him the opportunity to propose in such an amazing way. "I'm struggling to put into actions or words how thankful I am. So this would be a start," he adds.
The pair, who live in Bow, east London, now have another big day to plan. "I have no idea what the wedding will be like, as I'm not sure we can top what Adam did," Ellie adds. "All I know is that it is gonna be one hell of a party."