When chancellor Rishi Sunak unveiled plans to help boost restaurant business this summer with the month-long Eat Out to Help Out discount scheme, it struck meme gold and made the front pages with headlines like "Dinner's on Dishy Rishi" and "Rishi's Meal Deals".
Innuendos aside, restaurant footfall had been struggling ever since the much-touted July 4 reopening and was nowhere near pre-lockdown levels of trade.
And no wonder: Covid-19 anxiety remains high and reassurances about perspex screens and vats of hand sanitiser weren't enough to get the bums on those (carefully disinfected) seats. Establishments that had already had to take out tables to meet the social-distancing measures complained about no-shows from customers – and the outlook for the sector looked bleak.
So, in a bid to lend the hospitality industry a helping hand, Sunak struck the deal to end all meal deals: from Monday to Wednesday throughout August, diners could get 50% off their food, up to £10 per person.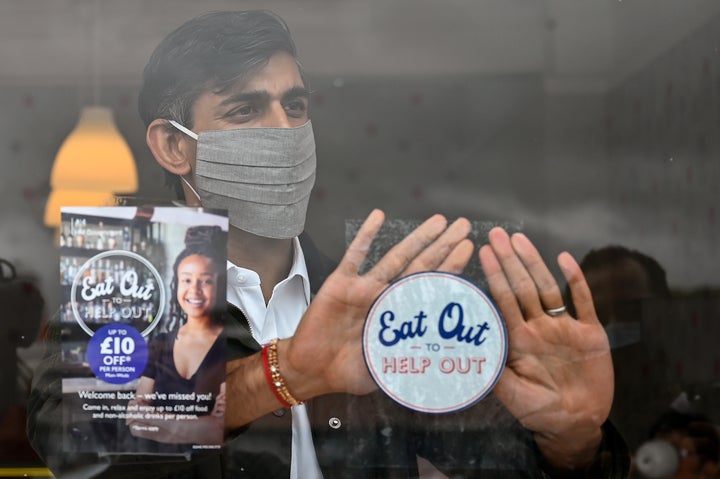 An estimated 85,000 bars, cafes, restaurants and pubs signed up to his list – from nationwide chains like Nandos and Harvester, fast-food giants KFC and McDonalds, and even that family-run bistro at the end of your road. Suddenly, it became hard to even get a table anywhere – the steakhouse chain Hawksmoor said it received 15,000 bookings in just 13 days across the six outlets open during August.
On Bank Holiday Monday, the 'Eat Out To Help Out' comes to an end. But despite a surge in bookings and sales throughout August, did Sunak's campaign help those who actually needed it?
Patrick Campbell, general manager at Brawn, a neighbourhood restaurant in East London, has seen a massive rise in footfall, saying their phone lines have never been busier with people trying to book in.
"Increased bookings mean more cash flow, [which] means we can continue trading, employing staff, and doing what we love," he tells HuffPost UK. "We also get to introduce the restaurant to a whole tranche of the public that may not have come to see us before.
It's maintained throughout the month, he adds. "We're trying to squeeze people in and we're seeing a rise in lunch bookings, too. We may be doing six to 10 people for lunch mid-week in August normally. Now, we turn tables and do 40+. The figures don't really compare, as we have had to remove many tables to ease distancing, but we are as full as we could hope to be."
However, Mandy Yin, Malaysian chef-owner of Sambal Shiok Laksa Bar and Nasi Economy Rice, both on Holloway Road in London, is looking forward to the end of the scheme and getting back to the 'new normal' level of business.
"It's not really sustainable to be going at that rate, because people just want a really cheap meal... to be honest, it's not necessarily always the nicest customer and it's not our regular customer base," she tells HuffPost UK.
"I'm in two minds about it all," Yin says. "Yes, it's been good for business, but I haven't been able to plan properly because it's been a massive, crazy blip for one day [Wednesday] a week for us.
"Maybe I'm being too cynical, I'll just have to wait to see what the long-term effect is and whether the new customers will stay or not."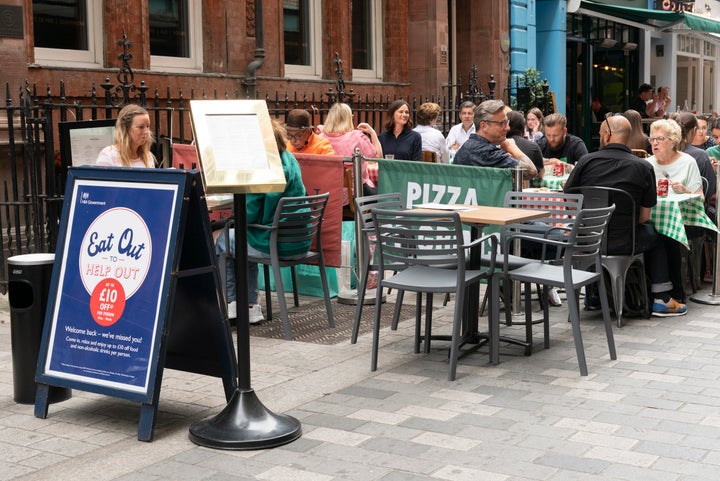 Some owners fear the discount offer has merely pushed weekend diners to eat out earlier in the week rather than kickstarting a sustainable customer base.
"Monday, Tuesday, and Wednesday, we're trading really well and we're busy, but it sorts of trails off and quietens down on Thursday," says John Devitt, co-founder of Koya, a Japanese noodle restaurant in Soho and City.
"I think the biggest thing the scheme has done is not just give people some money off their meal, but it's given customers the confidence to go back to restaurants. There was the fear of having to stay in and to stay alert in March, and now the government is slowly undoing it."
But Devitt is also preparing to wait and see. "We're currently operating as outdoor dining only and have not opened back inside yet," he says.
With autumn fast-approaching and the transition into colder months on the horizon, that's another hurdle that restaurants have to think about. Some simply don't have the space inside to accommodate customers safely, meaning they'll have to turn customers away or rely on takeaway and delivery.
But the promotion has proved so popular that many restaurants up and down the country and even online food delivery company Deliveroo, have chosen to foot the discount themselves in September. These include chains such as Pizza Pilgrims and the independently-run Flesh & Buns and Kricket – but is there a risk of customers getting addicted to discounts?
"I'd love it to continue for another month, but it's not profitable for me to continue without the government's help because it's such an enormous part of our take per head – I'd be out of business and might as well stay closed," Devitt explains. "I've never been interested in giving people discounts because I think it creates a false economy and we all have to eventually get back to reality."
Come September there are more things to consider than simply the end of the 'Eat Out To Help Out' discount scheme. Restaurants must deal with the upcoming quarterly rent due at the end of the month, the loss of space inside from operating at a social distance, and outside from the newly introduced outdoor dining throughout the summer, as well as a potential second wave.
"I think it's a bit of a roll of a dice and we're taking things as they come," says John Ogier, co-founder and director of Michelin-starred restaurant Lyle's in Shoreditch, Borough Market wine bar and bakery Flor and new takeaway-exclusive brand ASAP Pizza.
"We're looking at the whole business and seeing how we can knit it together to be more positive, but I don't think the future is based on a discount scheme – I'm not sure whether that really gives it any longevity," says Ogler.
Despite the discount scheme being well-received and having boosted sales slightly – it's still a cautious and nervous time for the industry and customers. Businesses are having to catch up sales from three months of forced closure while ensuring staff safety and tempting customers back into feeling safe to eat out again under new Covid-safe measures.
"I hope there isn't a cliff-edge moment for hundreds of restaurants who have been propped up by the scheme," Patrick Campbell says. "It does sometimes seem like the cart has been put before the horse, with plans for expansion back in the operators' minds before we are truly out of this period of depression."
As Mandy Yin wrote for the Guardian, it's unrealistic for businesses to be quiet for so long, then suddenly manage this spike in customers. Thousands of businesses may go down in the next few months because they can't regain their losses from the months of closure and plummeting bookings.
"I've probably experienced a 20% increase from the last month," she tells HuffPost UK. "For it to be really considered a success, it'd have to be a continuous thing. Of course, the government can't afford to keep doing it for six months – that's a lot of money, so I do understand. It was an interesting experiment, but I'm happy for it to be removed. I'm going to keep my fingers crossed and take every weekend as they come."