EU leaders have agreed to delay Brexit until May 22 – but only if Theresa May can win the backing of MPs for her Brexit deal.
If the prime minister is once again defeated in a third meaningful vote, Article 50 will instead be extended to April 12, a summit of the EU 27 decided in Brussels on Thursday.
The UK will be expected to "indicate a way forward" ahead of this date, they said.
Reacting to the decision, May said the plan outlined "the importance of the House of Commons passing the Brexit deal next week so we can put an end to the uncertainty".
But the PM refused to be drawn in on what the she would do if MPs once again voted down her plans on how to leave the EU, saying only that Article 50 should not be revoked.
Meanwhile, she appeared to use her moment behind the podium to apologise for a speech in Number 10 on Wednesday night in which she seemingly blamed MPs for the Brexit deadlock.
"I know MPs on all sides of the debate have passionate views and I respect those different positions," May said on Thursday.
"Last night I expressed my frustrations and I know that MPs are frustrated too – they have difficult jobs to do.
"I hope we can all agree that we are now at the moment of decision and I will make every effort to make sure we can leave with a deal and move our country forward."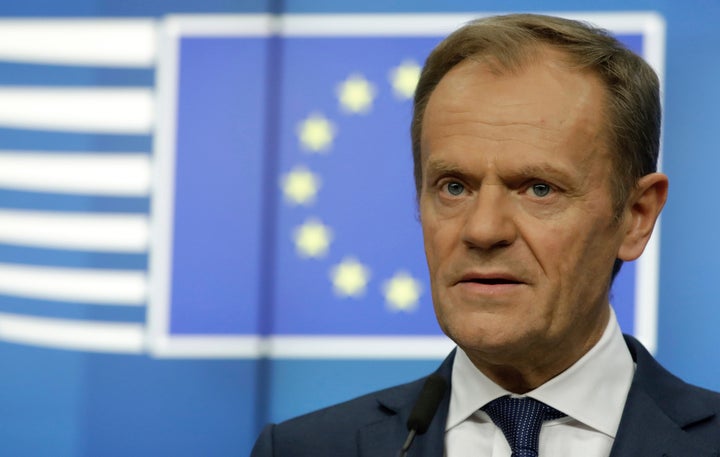 Also speaking after the agreement was announced, European Council president Donald Tusk said the decision the EU had come to meant "all options would remain open" to Britain.
"The UK government will still have the choice of a deal, no deal, a long extension or revoking Article 50," he told a press conference on Thursday night.
But if the UK refuses to participate in European elections, the possibility of a long delay to Brexit would become "impossible", he added.
However, May said it would be "wrong to ask people in the UK to participate in these elections three years after voting to leave the EU".
Meanwhile, Jean-Claude Juncker said that the EU's decision to allow the UK to delay Brexit "closes and completes the full package", saying leaders had done "everything we could" to get the withdrawal agreement over the finishing line.
"We were asked for clarifications in December, we gave it to them. We were asked for assurances in January, we gave it to them," the European Commission president said.
"I was asked for further reassurances last Monday in Strasbourg, notably with regard to the backstop, I gave it to them.
"So I have to welcome that today, the 27 leaders endorsed the legally binding clarifications and assurances that Prime Minister May and I agreed in Strasbourg."
Asked how long the "long extension" eventually on offer to the UK could be, Juncker replied: "Until the very end."