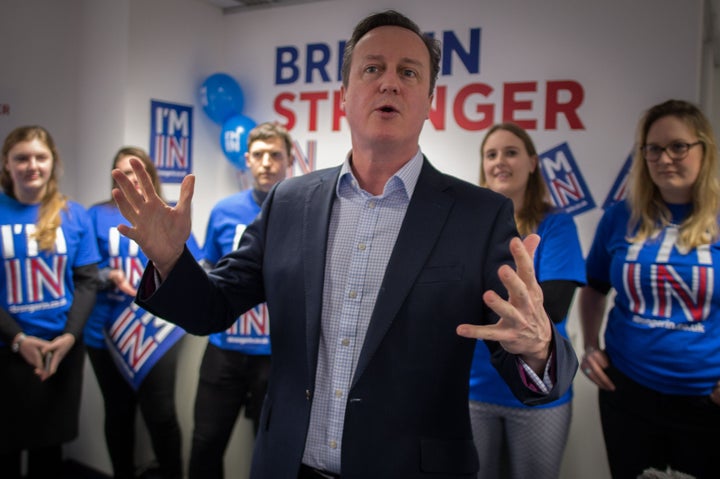 British voters can be convinced to leave the the European union for as little as 50p a week.
According to polling conducted by YouGov, the economic argument for or against Brexit can be won on what most people would see as pocket change.
Philip Cowley, professor of politics at Queen Mary University, asked the firm to recreate the "£500 question" asked during the Scottish independence referendum and apply it to EU membership.
Surveys by ScotCen Social Research in the run-up to the 2014 independence referendum suggested Scots could be persuaded to vote to break up the UK if it would leave them £500 a year better off, but would vote to save the union if it left them £500 a year worse off.
But Cowley has taken the question further, varying the amount of money people would gain or lose in 11 different ways, from £500 a year at the most to as little as £25 a year.
YouGov asked the following question with the sum of money altered across different polls:
"Say it was clear that if the UK left the European Union the standard of living would be lower and people would on average be £500 a year worse off. In those circumstances, how would you vote in the referendum: should the United Kingdom remain a member of the European Union or leave the European Union?"
Cowley writes in The Guardian: "The effects are pretty obvious. In every scenario in which people were told they were going to be worse off outside the EU, there was a majority for remain.
"But in every scenario in which people were going to be better off outside the EU, there was a majority to leave.
"The neutral point – where 'people would on average be no better or worse off' – also produced a majority in favour of leaving."
This graph shows how varying the amount of cash on offer to people affects their voting intention in the referendum.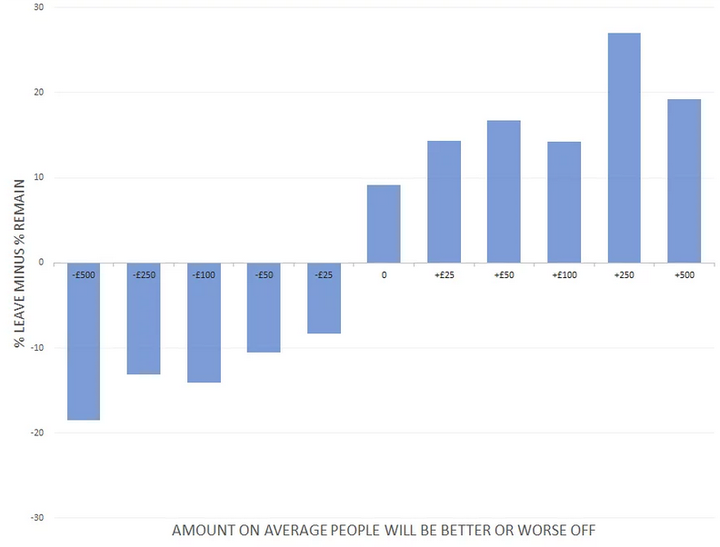 As Cowley writes, the actual amount of money on offer "seemed to make a little bit of a difference" to the outcome. Instead, what matters is whether people believe they will be better or worse off.
"In other words, you can alter the outcome of this particular vital British constitutional decision for just under 50p a week," he says.
Half (49%) would vote to remain in the European Union on 23 June compared to 41% saying they would vote to leave.
James McGrory, Chief Campaign Spokesman for Stronger In, said: "British people are better off in Europe and leaving would put their financial security at risk.
"As an EU member, independent experts agree that each UK household is better off to the tune of about £3,000 a year. We enjoy lower prices, more jobs and greater investment into the UK. That means more money in people's pockets.
"If we left, that would all be put at risk. The immediate and prolonged economic uncertainty – and the long term impact of worse trading terms with Europe and the rest of the world – would hit household incomes.
"The Leave campaigns can't say how they would prevent that financial damage because they have no idea what Out actually looks like. They want to leave at any cost – including making British people worse off."
George Osborne used his Budget earlier this month to warn of the economic dangers of leaving the EU.
At the time, pro-Brexit Conservative MP David Davis said a 'Leave' vote was the only way to "take control of our own affairs and create a more competitive, globally trading British economy".
"Our economy will be best served and the British people best protected from a stuttering European economy by spending or saving the billions of pounds we send to Brussels on our own priorities in our own country," he said.