Groups of Russian fans are being deported from France due to bouts of violence.
French riot police surrounded a bus of Russian supporters on Tuesday as it left Cannes for Lille
The BBC reported that Alexandr Shprygin, head of the Russian Union of Supporters, said 29 of the fans were now being escorted to the airport.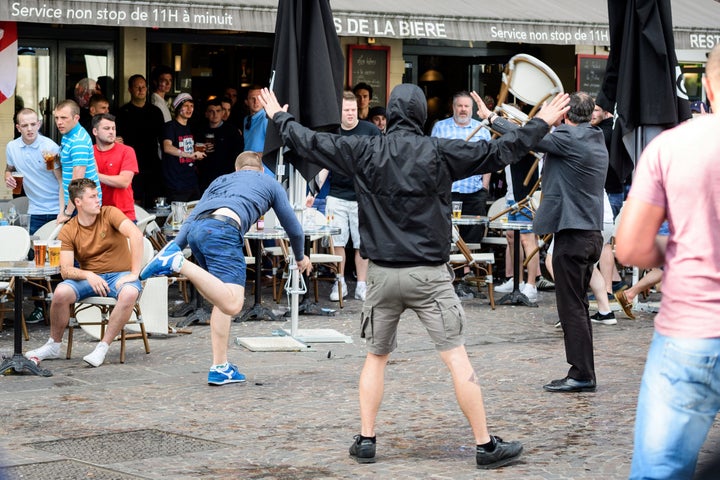 He told Reuters by phone that that French authorities had drawn up 29 deportation orders but insisted none of the fans in the bus had taken part in the violence in Marseille.
Adolphe Colrat, the local police chief, told reporters there were 43 people on the bus, 35 of whom had refused to get off until the Russian consul arrived. Six were sent to regional detention centres and are in police custody claiming to belong to the Russian sports ministry.
"There are clear signs that some of them took part in unacceptable violence in Marseille," Colrat said, according to Reuters.
Some videos also showed fan chanting "fuck off Russia, we're England and Wales" and brandishing flags.
There were concerns trouble would flare as England and Russia fans are both congregating in Lille ahead of matches this week.
Russia play Slovakia in the city on Wednesday and England and Wales will face each other on Thursday in nearby Lens.
A ban on alcohol sales in Lille does not appear to have been followed by at least one shop.
England's previous Group B game against Russia was marred by violence on the streets of Marseille and inside the Stade Velodrome.
On Tuesday footage was uploaded to YouTube showing a group of Russian men armed with metal pipes and bottles chasing down England supporters who they then beat to the ground.
Uefa threatened both teams with expulsion from the tournament following the ugly scenes.
They then gave Russia a suspended disqualification from the European championship for crowd disturbances and fined the team £119,000.