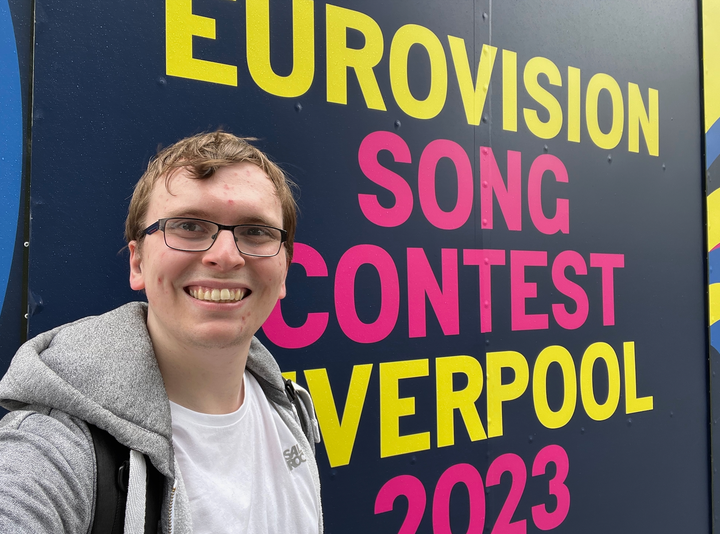 Until Eurovision beckoned me to venture outside of my southern home county of Bedfordshire, I had never set foot in the gorgeous city that is Liverpool. Even so, it was immediately welcoming to those of us who'd come to watch one of the greatest shows on European television.
Information stalls immediately present by the platforms of Liverpool Lime Street – and the fact just about every other building had been emblazoned with the yellow and blue colours of the Ukrainian flag – set out it was going to be quite the full-scale event.
But when it comes to a cultural phenomenon as inclusive as the Eurovision Song Contest, I thought that some of its inaccessibility was very much Not A Vibe.
I had somehow been lucky in the scramble for tickets back in March, and nabbed accessible seats in the arena for both semi-final previews, which was thrilling. The decision to call them "hearing impaired" tickets (it's an outdated term – just call us "Deaf") and finding myself sat pretty far back from the presenters and performers? Less so.
Of course, I appreciate specific seats were likely reserved for Deaf ticket holders with a range of different accessibility needs (such as a British Sign Language interpreter, who often has to be situated in a specific section of the arena so they can access the necessary facilities), but accessibility for me is being sat as close to the person speaking as is reasonably possible.
Granted, the seats offered a stunning view of the whole stage and green room, but hearing what presenters Hannah Waddingham, Alesha Dixon and Julia Sanina had to say proved difficult for me most of the time.
With respect to them, though, it was all about the music. A popular (and incorrect) misconception out there about Deaf people claims we're unable to enjoy or even connect with music, but that couldn't be more wrong. So many songs had hard-hitting beats which could be felt all the way at the back of the M&S Bank Arena.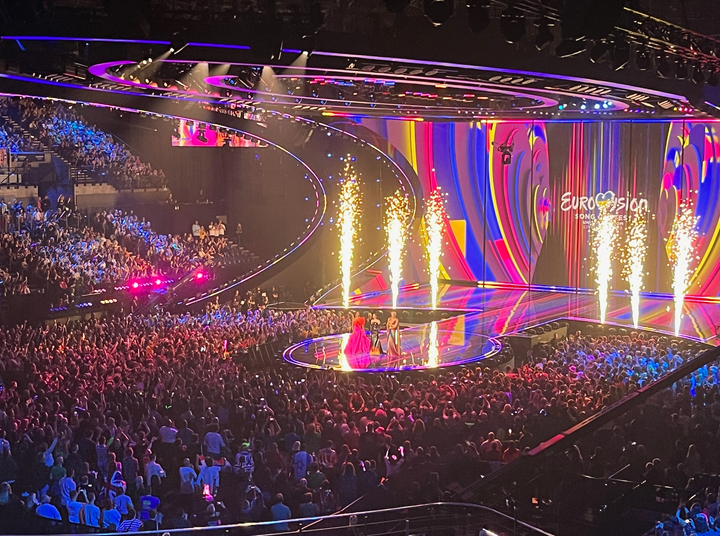 My issues with accessibility aside, the previews were nonetheless incredible – not least in terms of the sense of community felt with other audience members nearby. Joining in a crowd singalong to Sam Ryder's Space Man before the rehearsal kicked off was pretty special, as was the moment a security guard kindly shone his searchlight in my direction in an otherwise dark arena to help me tie up my shoelaces.
These all sound like minor anecdotes, but there's something rather poetic in the small gestures and conversations which were had with an event of such magnitude like Eurovision as the backdrop – the volunteers around the city who were happy to chat and take photos (even during the Monday's wet weather), the security guards who told us to have a good night, and the fellow fans who considered the UK's chances as we waited for our photo under some heart-shaped arches.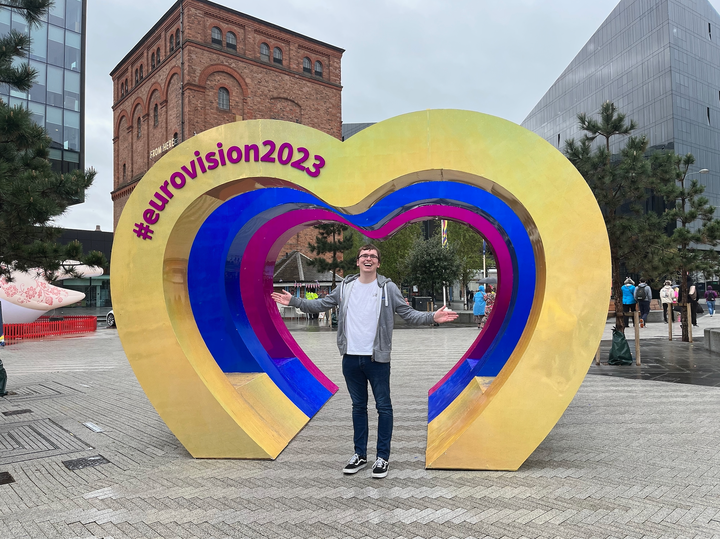 The atmosphere both inside the arena and outside on the streets of Liverpool was one of acceptance – with a show as utterly wild as Eurovision, you kind of have to embrace the weirdness of it all. I remember the looks of unspoken acknowledgement between myself and two people opposite me on the aisle as we confirmed to each other that yes, we had both witnessed the exact same levels of ridiculousness you'll only see at the Eurovision Song Contest.
We all clapped along to Finland's Cha, Cha, Cha, chanted "Poe!" countless times to Austria's Who The Hell Is Edgar? and boogied to Malta's Dance (Our Own Party) – the latter of which, in the view of both myself and my friend who accompanied me to both previews, were robbed of a place in the Grand Final. Have we forgotten about the brilliance that was "Epic Sax Guy" from Moldova back in 2010?!
Even though no results are announced at the preview run-throughs (obviously), they still have to prepare for the moment of truth the next day when they do it live. Enter the poor members of the production team roped in to pretend to be participating singers for green room interviews, and those who had to embody the competing countries just so they can get the camera angles right for the "reaction" shots.
Oh, and the Peppa Pig appearance during the second semi-final? They didn't appear during the preview, so once again, a production crew member had to lead the conga in her absence. Iconic.
All of these were necessary preparations, of course, but we all couldn't help but see the funny side, cheering on the production assistant who was desperate for her country to make it into the list of 10 qualifiers, even when the results ultimately meant absolutely nothing.
It was also impressive to get an idea of how the show comes together beyond what we see at home. I have a newfound respect for all of the stage managers who, after one act has finished performing and the next act's postcard is playing, have less than a minute to assemble the most elaborate staging for the following contestant. Even though nothing is broadcast from these previews, they are still more than worth going to, not least for getting an understanding of how the cogs turn behind the scenes to get a giant beast of a show moving.
Not just that, but when you've spent years watching Eurovision at home, soft drink in hand, singing at your TV screen, there's something striking about everything unfolding right in front of you, and being physically real. We were sat in front of the commentary boxes, and moments where Hannah Waddingham, Graham Norton and Rylan Clark walked past us were unbelievable reminders that yes, all of this is very much happening.
There was a real sense of people coming together – both to celebrate music in terms of audience members like me, and to put on a show when it comes to the whole production crew and presenting team.
It certainly lived up to the contest's 2023 slogan – United By Music – that's for sure.
After being contacted by HuffPost UK for comment on this article, the BBC said: "To ensure a BSL interpretation service could be provided where requested by ticketholders, specific seats were reserved to accommodate individual accessibility needs. These seats were offered at the lowest price level for seating within the arena to ensure that Eurovision was as accessible as possible."