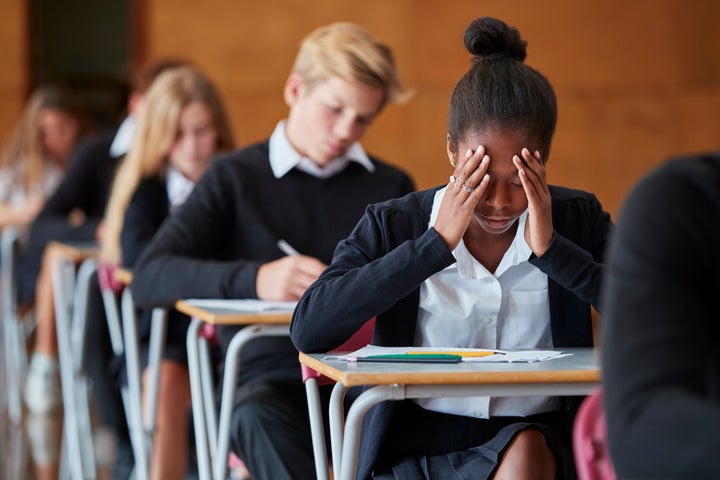 Young women and girls are less happy than they were 10 years ago, but more are willing to seek help for and discuss the mental issues that affect them, new research suggests.
The tenth Girl's Attitudes Survey, carried out annually by Girlguiding UK, found the number of girls who term themselves "very happy" has almost halved from 41% in 2009 to 25% today, with exams still the main cause of stress in girls aged 11-21, but new anxieties emerging over the past decade.
Pressure from social media has grown in the past seven years and almost 60% of those surveyed said it is one of the main causes of stress among peers.
Of young women aged between 13 and 21, more than half have experienced street harassment and 63% feel unsafe walking home alone, while increasing numbers have experienced negative behaviour online.
Nearly half said that feeling unhappy affects their health, while also negatively impacting other areas of their life such as confidence, learning, relationships and fun with friends and family, and being able to enjoy sports and hobbies.
But more girls than ever feel able to talk about mental health. Among 11- 21-year-olds, 71% said they know a girl who has had a mental health problem, an increase of nearly 10% from three years ago, while the survey recorded a steady increase in awareness of peers who have experienced depression or an anxiety disorder.
The amount of girls in this age group who felt mental health issues were awkward to talk about has dropped from 57% in 2015 to 46% today, and half said the subject had been spoken about at school during lessons.
Despite the issues affecting girls' and young women's happiness, they are increasingly speaking up about issues and subjects they feel passionately about – 36% of 11-21-year-olds in 2018, compared with 28% in 2011.
High on the list of issues that matter to them is period poverty. More than two thirds of girls over the age of 11 believe menstrual products should be made free by the Government to young people who can't afford them.
Another positive development is the widening of subjects that younger girls are interested in at school, with their enjoyment of information and communication technology doubling over the decade. A total of 43% of girls aged 7-10 now enjoy ICT, compared to just 19% in 2009, and more girls are interested in STEM subjects – science, technology, engineering and maths – overall.
An increasing number of girls want to learn about politics, citizenship and voting, but said the way female politicians are depicted in the media, the reported levels of sexual harassment these politicians experience, and the elitist, male culture of politics, puts them off wanting a career in politics.
Speaking to HuffPost UK, Victoria Kinkaid, British Youth Council Delegate for Girlguiding, said: "The key statistic is that girls are unhappier. It's due to exams, which is such a shame because school and education is the one thing that really empowers girls to be able to go out and do what they want to do.
"We know that when girls are less happy they feel less confident and able to go out and have fun with their friends."
Social media didn't factor in girls' happiness levels seven years ago, said Kinkaid, but "we can assume that it's going to be a growing pressure, and potentially in the next few years a leading cause of stress".
"It's really important that we teach girls how to responsibly use social media, and that everything they see on there isn't always real," she said.
Kinkaid is a mentor for action for change at Girlguiding, and said problems arising from social media and body confidence is definitely an issue she has seen first hand when working with the girls. But she added that the increase in girls and young women voicing their views and concerns is a positive turn of events: "It's good to see that girls are speaking out about how they feel and hopefully this percentage will go up in the next few years," she said.
She added Girlguiding as a whole is calling for girls to be listened to more by Governments and schools, but added that the organisation itself can be a safe space for girls and young women who are going though the same stresses, and "is a really powerful way for them to find solidarity and know they're not alone".
The findings are from the Girl's Attitudes Survey carried out by Girlguiding, which saw 1,903 girls aged between seven and 21 asked what they think and feel about a range of subjects, from education to personal safety.