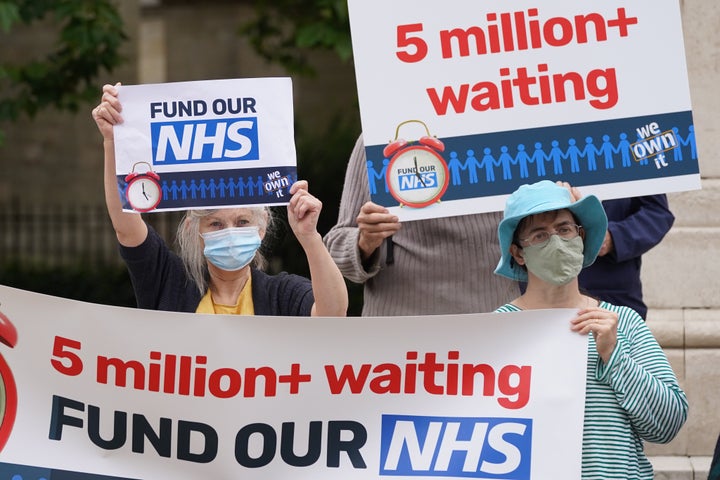 More than a million women in their 50s and 60s are waiting for NHS treatment in England, HuffPost UK can reveal.
NHS figures show that about 1,086,000 women aged 50 to 69 are waiting to be treated for issues from arthritis to orthopaedic problems and inflammatory joint disease.
The Labour Party has raised concerns that the "unacceptably long" NHS waiting list — which currently stands at 7.19 million people — is holding women back in their careers to the detriment of the economy.
Poor diagnoses are also forcing women to leave the workforce, with one in 10 women quitting their jobs over the menopause alone.
Other constraints, such as a lack of availability of care options for elderly or disabled loved ones, means 2.5 million unpaid family carers — the majority of whom are women — are forced to give up work or reduce their hours.
The figures come amid a nationwide debate about the impact that women leaving the workforce has had on the economy.
According to the Office for National Statistics (ONS), there were 5.3 million women aged 16-64 who were economically inactive from September to November 2022.
An estimated 265,000 women in this age group are waiting for orthopaedic care, 19,800 of whom have been waiting more than a year. The median waiting time for trauma and orthopaedics is 15.2 weeks, one of the longest of the 24 specialties on the NHS waiting list.
Meanwhile, nearly 125,000 people are currently waiting for NHS rheumatology care. Rheumatoid arthritis, which causes pain, swelling and stiffness in the joints, is two to three times more common in women than in men.
Of the 125,000 waiting for treatment, 39% of those seen as an outpatient or admitted for care were women in their 50s and 60s.
He unveiled a raft of reforms designed to incentivise people into work, such as allowing people to go back on sickness benefits if a job they have applied for doesn't work out.
The Department for Work and Pensions is due to publish its health and disability white paper in the coming months which will look at how to support people to start or return to work.
Liz Kendall, Labour's shadow social care minister, said women in their 50s and 60s were in the "prime of their lives" but "too many are being held back because of their health needs and caring responsibilities".
"The menopause is still not properly recognised, NHS waiting lists are unacceptably long, and more and more women face a daily struggle to hold down their job while caring for an elderly or disabled relative," she said.
"We can't build a healthy economy without a healthy society. It's totally unacceptable that women going through the menopause have to see their GP again and again before they getting the help they need."
She added: "Labour will champion the health and caring needs of women over 50. We will get them the diagnosis and treatment they need by training 7,500 more doctors and 10,000 more nurses and midwives a year, paid for by scrapping the non-dom tax status, and we will help them better balance work and family life through flexible working.
"Women in their 50s and 60s shouldn't be forced to wait in pain or to quit work – they should be able to live their lives to the full."
A Department of Health and Social Care spokesperson said: "We recognise the pressures the NHS is facing following the pandemic and are working tirelessly to ensure people get the care they need, backed by up to £14.1 billion additional funding for health and social care over the next two years.
"Bringing down waiting lists will also be crucial and we remain committed to the targets set out in the Elective Recovery Plan, with the NHS already virtually eliminating two year waits and reducing 18 month waits by over half in a year.
"We have also put women's health at the top of the agenda by publishing the Women's Health Strategy for England and appointing the first-ever Women's Health Ambassador."