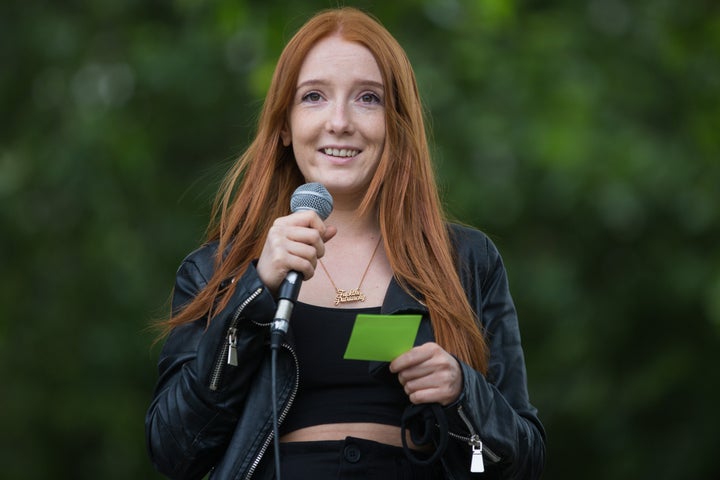 Patsy Stevenson today warned that a "sinister" government bill designed to crack down on demonstrations will "eradicate" protest in the UK.
The activist, who was famously photographed being restrained by police at the Sarah Everard vigil, said the new Public Order Bill will "deplete" democracy.
"If this bill goes through, I could be arrested and put in prison," Stevenson told HuffPost UK.
Police could be allowed to intervene before protests become highly disruptive, in a bid to curb the guerrilla tactics used by groups like Just Stop Oil, Insulate Britain and Extinction Rebellion.
An amendment to the bill will give police greater clarity about when they can intervene to stop demonstrators blocking roads or slow marching.
Downing Street has confirmed that police would not need to wait for disruption to take place and could shut demonstrations down before they escalate.
Stevenson likened the bill to George Orwell's 1984, adding: "They could do whatever they like and I think that's really scary."
She said it affected everyone's right to protest across the political spectrum, adding: "The government is just allowing themselves to get away with whatever they want.
"If they can say 'well we deem this to be protesting we deem this to not be OK' we have no say over how our government is acting - at all.
"It not only depletes democracy, it takes away freedom of speech completely."
"We've just seen that officer that's been admitted being a serial rapist. So why are we giving police even more powers?" she added.
Stevenson also pointed to a recent report on the Met Police force which found some officers would stop the cars of attractive women in a practice dubbed "booty patrol".
Stevenson added: "We're giving them more reason to do that. They can stop and search anyone.
"People like myself, I could be put in prison because I've been arrested in the past five years at a protest.
"All my friends would be on tag, and it would just ruin our lives and it's just so extreme.
"I think the ability to protest will completely be eradicated. I think this is the start of something really sinister."
Stevenson said she believed that police would use the powers to stop protests that were not disruptive.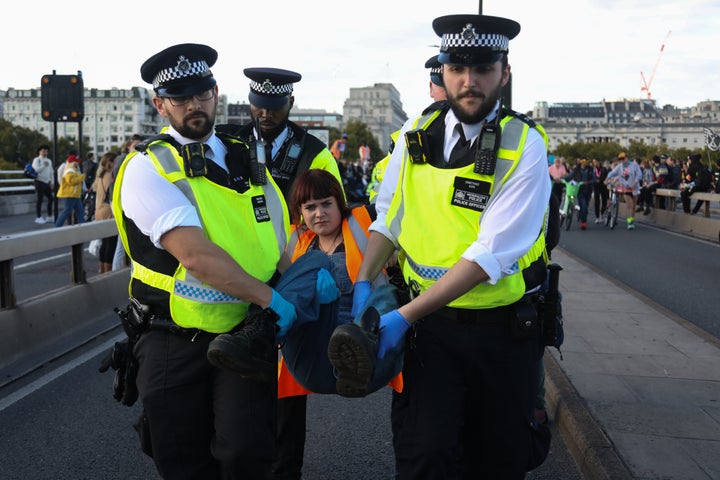 She spoke to HuffPost UK alongside Chris Davis, the international director of activism and sustainability at The Body Shop.
The cosmetics company, which campaigns on social issues, has written to sitting members of the House of Lords to oppose the bill in its current form and to urge them to challenge it.
They have concerns about measures to introduce suspicion-less stop and search powers and serious disruptive prevention orders.
Davis said he was "shocked" when he read through the content of the bill and warned it would "silence" the voices of young people.
He added: "The UK is a place that has a strong history of protests that we will all be familiar with and celebrates the idea of freedom of speech.
"Something like this - in our times when a lot of the world is falling into some darkness - you kind of hope that Britain would be one of those places which would say actually 'we do believe people should have freedom of speech'."
The proposals, backed by Rishi Sunak, come after police chiefs claimed there is uncertainty over what can be currently classed as "serious disruption" under existing law.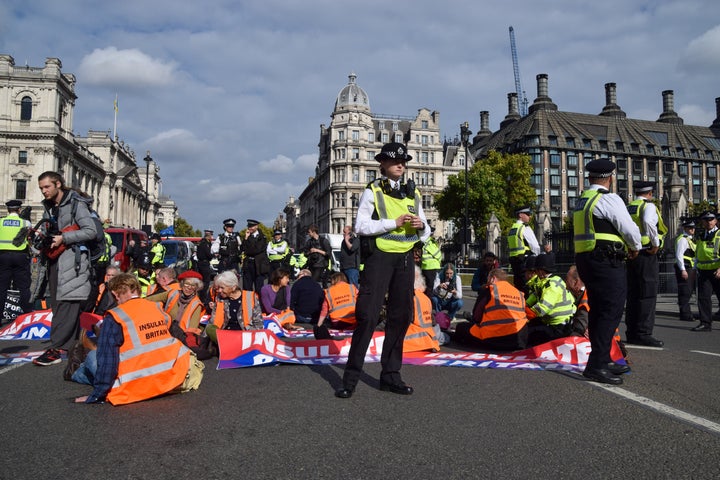 Officers would also be able to take into consideration long-running campaigns designed to cause repeat disruption over a period of days or weeks.
Sunak said: "The right to protest is a fundamental principle of our democracy, but this is not absolute.
"A balance must be struck between the rights of individuals and the rights of the hard-working majority to go about their day-to-day business."
Metropolitan Police Commissioner Sir Mark Rowley also backed the proposals, adding: "The lack of clarity in the legislation and the increasing complexity of the case law is making this more difficult and more contested."
The Public Order Bill is considered a successor to the controversial Police, Crime, Sentencing and Courts Act passed last year, which was criticised for introducing curbs on the right to protest.
Sunak said the proposals would be tabled through an amendment to the bill, which will be debated in the House of Lords this week.