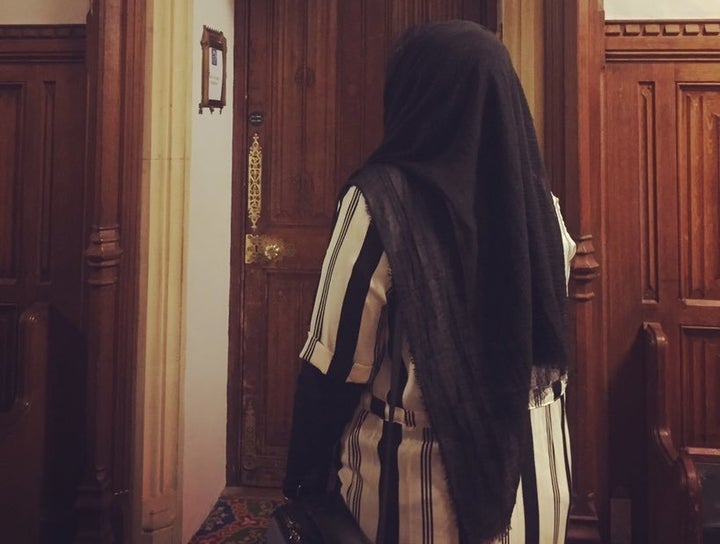 A Muslim woman who says she has been subjected to serious Islamophobic abuse by some of her neighbours has slammed her housing association for failing to take her complaints seriously.
Parveen Ali moved into a newly refurbished flat in west London last May and says she has endured abuse ever since.
Ali, who wears a hijab, says the bullying started when a video of her at a Britain First rally, which was posted on YouTube in 2017, was seen by residents of her estate who identified her as a neighbour.
In the footage, Ali is seen filming Tommy Robinson, real name Stephen Yaxley-Lennon, on her phone. He repeatedly asks her what she think of sharia law, to which she responds: "I want to live in peace".
In a series of tweets about her treatment on the estate, the 37-year-old said the video was being used by "15-20 people" who have "harrassed me at different times or in groups".
Speaking to HuffPost UK, Ali said: "I hate going outside here because very often when I walk out on the estate, I've received dirty looks or, if they're in a group, people trying to be intimidating by staring at me.
"I've never seen such cold hatred towards anyone and I'm on the receiving end of that horrible, right-wing prejudice. Minus the ethnic minority people that live here, this is like a Tommy Robinson estate. That's showing with their actions and harassment."
Ali says that she is also being subjected to online abuse in the comments section beneath the video, where she has been called "Isis bitch" and "Muslamic". The clip, which has amassed almost 200,000 views, was reported to Youtube but the streaming giant has not removed it from the platform.
"There have been times when people have laughed in my face, spat on the floor as I walked past and made comments under their breath," she explained, adding that people sometimes tap her window, throw cigarettes at her ledge and chant "Tommy, Tommy" and "who's country?, our country!"
Ali says she is now considering relocating from her home, which she described as "a stunning, lovely, newly refurbished set of flats" for her own safety.
She has contacted her housing association, Southern Housing Group, to complain about the abuse she is suffering.
"I've been contacting about the harassment since February and was only able to get an appointment this week Wednesday. If I am completely honest, they have handled the situation poorly and took too long to meet with me," she said. "I had no intention of moving but I can't put up with this harassment and feeling like a prisoner in my own home."
Ali is a prominent voice on islamophobia, and has given a speech in parliament about how prejudice impacts on mental health as part of a photography exhibition of her work exhibited there, titled 'Not A Terrorist'.
The photographer feels that organisations could do more to support people who have experienced Islamophobia.
"No one asks us how we're feeling and there's no one to talk to," she added.
In its annual report, monitoring group Tell Mama revealed an increase in Islamophobic attacks, with 1,201 verified reports submitted in 2017, a rise of 26% on the year before and the highest number since it began recording incidents.
Experts put the rise down to the growth of the far right, as well as a large number of "trigger" incidents last year, such as the terrorist attacks in London and Manchester, which prompted a backlash of anti-Muslim hate.
Echoing these findings, Ali told HuffPost UK she has been on the receiving end of Islamophobia "many times" since 2015, including being physically attacked in a supermarket and verbally abused in a leisure centre.
"I've lost count. I have reported incidents to the police before but feel that they're never going to take it seriously. I've been advised to contact them about this [ongoing issue with my neighbours], so I am doing it, but I don't live in any hope that they're going to do anything about this."
The Executive Director of Customer Services at Southern Housing Group, Chris Harris, told HuffPost UK: "We have already been in touch with Ms Ali and we're really sorry to hear about her experience. We can't discuss the specifics of the case, but we take allegations of this nature seriously, and have a strong policy to tackle and resolve this kind of issue.
"This involves investigating the reports, supporting our residents and agreeing a plan of action to tackle the issues. We work with all with other agencies involved (including local authorities, social services and the police) to ensure that residents are safe and secure in their homes."
Youtube and The Metropolitan Police Service has been contacted for comment.