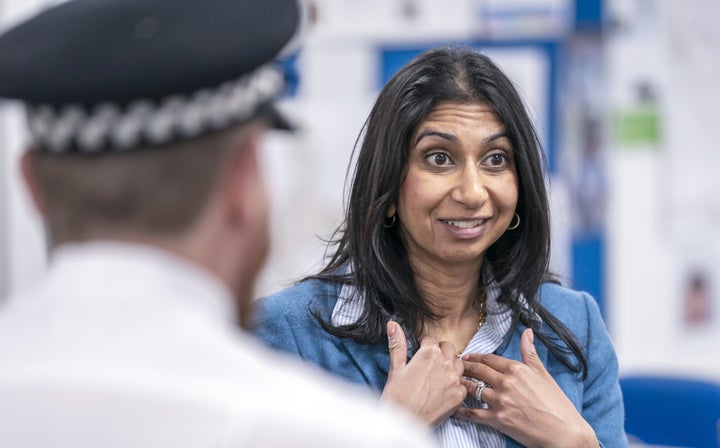 In a letter to MPs, seen by HuffPost UK, the home secretary admitted parts of her plan to stop small boats might be "incompatible" with the European Convention on Human Rights.
Braverman suggests there is a more than 50% chance her new plan to stop small boats will be incompatible with the Human Rights Act, which enshrined the convention rights in the UK.
She formally unveiled her plan in the Commons on Tuesday, saying new legislation will remove asylum seekers and ban them from re-entry if they arrive through unauthorised means.
However, she suggested the plans were still being drawn up as she refused to address the bill's "full legal complexities". Braverman went on to say the nation's "finest legal minds" continue to be involved in its "development".
In her letter to MPs, Braverman said: "Our approach is robust and novel, which is why I've made a statement under Section 19(1)(b) of the Human Rights Act 1998.
"This does not mean that the provisions in the bill are incompatible with the Convention rights, only that there is a more [than] 50% chance that they may not be.
"We are testing the limits but remain confident that this bill is compatible with international law."
In the Commons, Braverman also refused to make a "definitive statement of compatibility" of her legislation under the Human Rights Act.
"Of course the UK will always seek to uphold international law and I am confident that this bill is compatible with international obligations," she told the Commons.
Ministers are under pressure from some Tory hardliners to leave the ECHR.
Former levelling up secretary Simon Clarke asked if Braverman's legislation is frustrated by the ECHR if she would commit to leave it: "Because leave it we must, if in the end this legislation is forestalled."
Despite Tory MPs welcoming the plan in the Commons, HuffPost UK understands a number of them privately believe it is unworkable.
Earlier this morning former justice secretary Sir Robert Buckland said he had received assurances that the "government isn't seeking to break international law" but he agreed the proposals will almost certainly become tied up in the courts.
Labour's shadow home secretary Yvette Cooper branded the bill a "con" and described the plans as "Groundhog Day".
The bill allows the detention of illegal arrivals without bail or judicial review within the first 28 days of detention, until they can be removed.
It also places a duty on the home secretary to remove illegal entrants and it will "radically narrow the number of challenges and appeals that can suspend removal".
The bill will also introduce an annual cap, to be decided by Parliament, on the number of refugees the UK will offer sanctuary to through safe and legal routes.