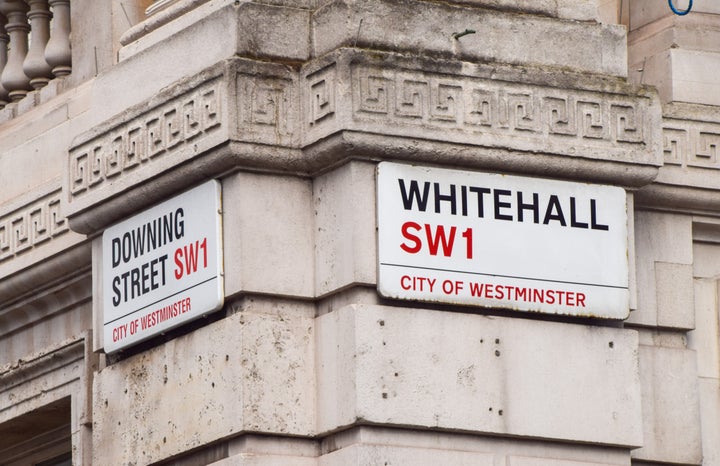 Voters trust civil servants to run the country far more than Tory ministers, HuffPost UK can reveal.
Opinion polling carried out by the More in Common think tank shows that British people believe staff in Whitehall are more hardworking, trustworthy and competent than their politician bosses.
They also believe that civil servants are more likely to have the public's best interests at heart.
The findings come despite concerted attacks on the so-called civil service "blob" by Tory MPs like Jacob Rees-Mogg and Jake Berry.
Asked who is the most hardworking, 42% of voters said civil servants compared to just 12% for ministers.
On who is the most trustworthy, 40% said civil servants and 10% said ministers, while on competence, Whitehall staff came out on top by 36% to 15%.
Finally, asked who is most likely to have the public's interests at heart, 36% said civil servants and 15% said ministers.
Luke Tryl, More in Common's UK director, told HuffPost UK: "Far from believing in the notion of an intransigent civil service blob blocking progress, the public are significantly more likely to say civil servants are more trustworthy, hardworking, competent and have the public's interests at heart – and that's something that even those who voted Conservative at the last election agree with."
Meanwhile, Rees-Mogg tweeted "the blob wins" when the government ditched plans to axe thousands of EU laws by the end of the year.
Dave Penman, general secretary of the FDA union, which represents senior civil servants, told HuffPost UK: "It is no surprise that the public trust those delivering vital public services over those giving soundbites to client journalists.
"Despite years of attacks on their integrity and commitment, negative briefing and a barrage of criticism from politicians and commentators, our civil servants continue to go to extraordinary lengths to deliver the services on which we all rely.
"These dedicated public servants work night and day to help the country through its most complex challenges, from Brexit to the Covid pandemic, ensuring our civil service retains its reputation as the best in the world. The public know who they can trust."