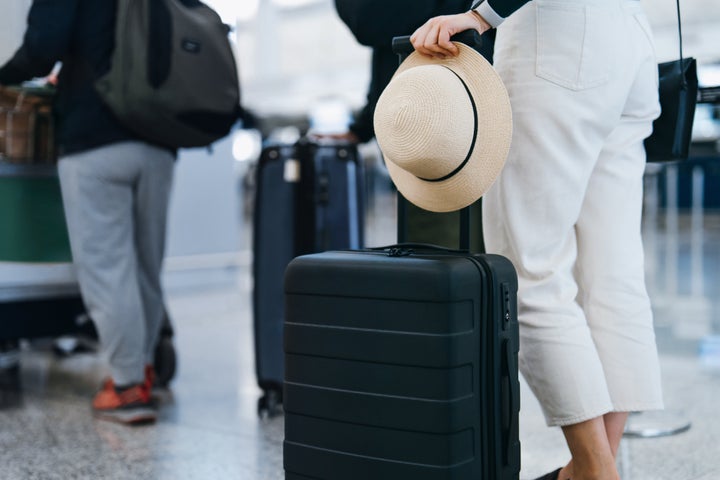 I'm sure at some point in history, travelling by plane wasn't the most confusing experience. In fact, I'm sure for people who are a little more organised than I am, it still isn't. However, whenever I find myself booking a holiday, I very quickly find myself overwhelmed by what bags I can and can't bring on board.
Thankfully for me and people like me, travel expert Chelsea Dickinson spoke on This Morning, uh, this morning, about how to navigate all of these rules with different airlines so that we can travel with ease and one less thing to worry about.
Which bags you can take on a plane for free
So, first of all, all airlines provide measurements on their website but when choosing your hand luggage, if it looks like it would fit underneath the seat in front of you, it is likely the ideal size as this is exactly what airlines have in mind when it comes to hand luggage guidance. All airlines allow this bag to go on with you for free.
However, if you're hoping to take on a larger bag, most don't allow this for free and will charge a small fee apart from Virgin who allow a large bag for free but, with the caveat that you can't then bring a smaller bag with you for your in-flight essentials.
Dickinson recommends that if you're the kind of person that tends to take carry-on luggage and your own bag of essentials, you pack that bag inside of your bigger bag and take it out once you're on the flight. A bit sneaky but helps you get around the restrictions!
When it comes to checking in a bag for the hold, none of the most popular UK airlines give free hold luggage allowance but Dickinson warns that when it comes to hold luggage, dimensions aren't actually the most essential thing to keep in mind but weight is.
Before jetting off, weigh your suitcase to make sure that it fits within the airline's limits to avoid being charged extra.
Finally, for parents and carers, the good news is that pushchairs are of course, considered to be an essential and are free on most airlines though Jet 2 requires pushchairs to be under 10kg.
You can use a pushchair right up to the flight and if it's collapsible, many including Wizz Air, TUI, EasyJet and Ryanair will let you take it on board with you as part of your hand luggage but if not, it'll be prioritised when you land at your destination.