Yemen is witnessing the world's "worst humanitarian crisis" according to the United Nations, with three out of four of its population – that's a staggering 22 million people – needing basic assistance to survive.
Escalating conflict which ripped the country apart has left 8.4 million people without reliable access to food – with that figure feared to reach almost 20 million by the end of the year.
The UN is calling for urgent action to be taken to address "unprecedented" levels of need in the "bleak" situation.
So what caused it and is it nearing an end? Here's everything you need to know.
What Is Happening?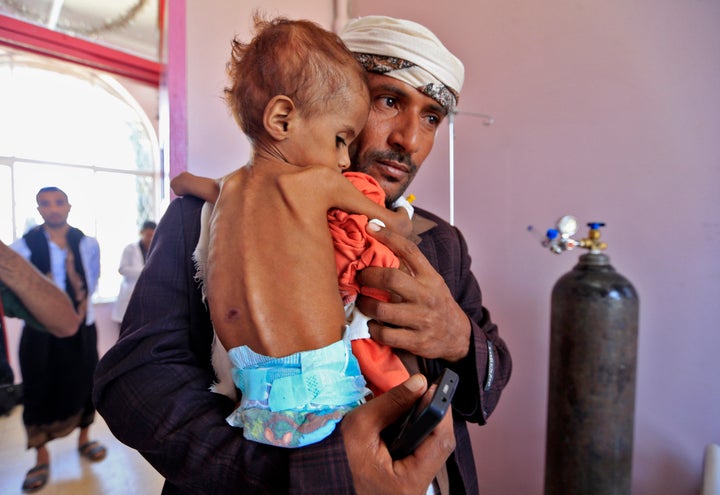 Yemen, the poorest country in the Middle East, has been torn apart by civil war after conflict escalated in 2015, with a Saudi-supported coalition fighting to take back control of the government from Houthi rebels.
Airstrikes have become a daily reality for civilians in the conflict which broke out after an international coalition sent in troops, at the request of the Yemeni President.
Around three million people have been forced to flee their homes since 2015, with more than two million still displaced today.
Hundreds of thousands of families have lost jobs and income, according to the UN.
In the latest attack over the weekend, 15 people were killed on passenger buses in the Hudaydah governorate. Some 20 people were injured.
Fighting escalated again in June, leading to around 170 deaths and a further 1,700 injuries.
Half a million people have been forced to flee their homes in the same region since June.
Healthcare, education, water and sanitation providers have collapsed, caused by "erratic payment of public sector salaries", the UN said.
The shutdown has been described as a "key driver" in the country's cholera outbreak two years ago, in which 1.2 million cases have been reported so far.
Djibouti, Somalia and Oman are among countries receiving large numbers of refugees displaced by the conflict.
What Caused It?
Unrest initially broke out in 2011 as part of the Arab Spring which took hold of much of the region.
The uprisings were largely against corruption and economic conditions.
In mid-2014, conflicts broke out between marginalised group the Houthis, armed groups and government forces.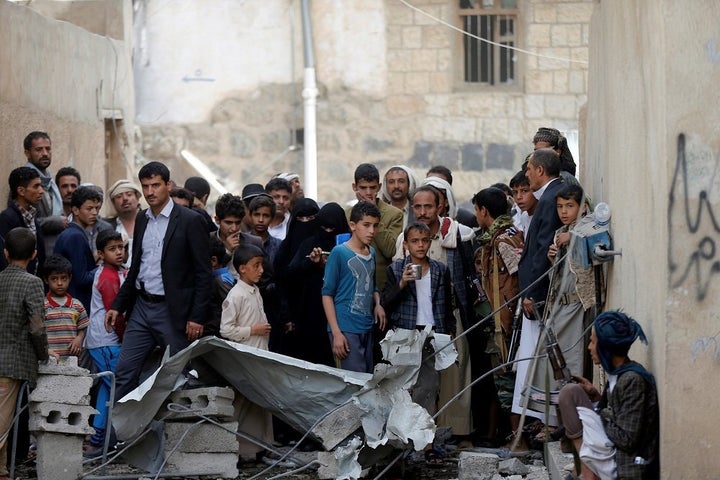 The Houthis gained control of many parts of the country, including capital Sana'a, that September.
Conflict escalated in March 2015, when the military intervention took place in support of the Yemeni government, at the request of President Abdrabbuh Mansur Hadi.
The coalition launched airstrikes in a bid to restore Hadi's government – an attempt supported by the United States.
The escalation led to tens of thousands of civilian deaths and frequent outbreaks of violence, exacerbated by the presence of terrorist group Al Qaeda in the Arab Peninsula (AQAP).
Several attempts at a peace process, combined with economic decline, has plunged Yemen into a state of political and humanitarian crisis.
When Will It Come To An End?
It is unclear when a resolution will be reached for the ongoing conflict.
UN secretary-general Antonio Guterres has made clear that the crisis should not be brought to an end militarily, and calls for peaceful negotiations.
Where Does The UK Stand And What Is It Doing To Help?
The UK government says it is "leading international efforts" to provide aid to those affected by the conflict.
It has committed £170m to address the immediate food needs of 2.5 million people in Yemen.
Last month, minister for the Middle East Alistair Burt said the food security crisis was "entirely preventable" during a meeting at the UN General Assembly.