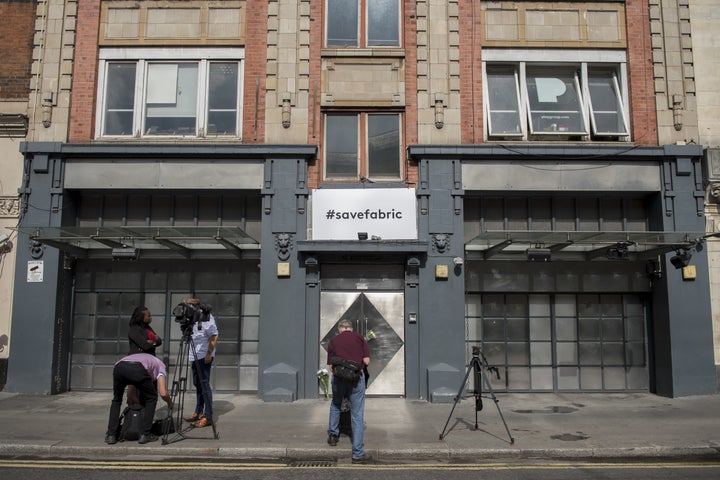 A judge on Monday approved a decision to allow Fabric nightclub to reopen after it earlier reached an agreement with Islington Council.
The Islington Gazette said judge Robin McPhee authorised the deal at a hearing at the Highbury Corner Magistrates' Court this afternoon.
Under new regulations, 18-year-olds will be banned from the famous venue which had its licence revoked in September over drug concerns.
Fabric had been set to appeal the decision at the court next week but a deal was reportedly reached in private between the nightclub and the council.
In a statement after the decision Fabric thanked their many supporters who had "saved Fabric".
"We are hugely thankful to be able to confirm the news that we have won our licence back. We owe everything to our supporters.

"We really would not be here today without your unparalleled support and generosity. So many different people stepped up to put their voices to our cause, artists from all corners of the music community, fellow promoters who have put on huge events from us and clubbers from around the world who all united behind us. We've even seen people sporting their #savefabric T Shirts on the other side of this planet showing just how big this thing is.

"So, thank you to all of you. Without the strength of your backing this would not have happened.

"You saved fabric."
Islington Tribune reporter Koos Couvee earlier suggested on Twitter that the deal was based on 32 new licence conditions set out in a 155-page document Fabric submitted last week. The council has said there are 38 new conditions.
Conditions are said to include a ban on under 19s on main club nights, CCTV monitoring, ID scanners, and life time bans for anyone "even asking for drugs".
According to the Gazette, Islington Council's lawyer Raujit Bhose, told the court that the council had been concerned Fabric could not operate with a "true zero tolerance towards drugs", but was "now satisfied revocation of the licence is not necessary".
Fans of the bar were ecstatic.
A review was sparked after 18-year-olds Ryan Browne and Jack Crossley died after taking ecstasy at the club on June 26 and August 6. This was in addition to another four drug-related deaths linked to the nightclub since 2011, which police said suggested it had a "culture of drug use".
In a statement after the court's decision, superintendent Nick Davies from Islington Police welcomed the nightclub's decision to accept additional conditions.
He said: "Fabric have accepted their search procedures were insufficient as well as measures to stop drugs being taken and dealt inside the premises. They understand why police asked for a review of their licence and feel we acted reasonably in the circumstances.
"I fully welcome Fabric's offer to have additional conditions placed on their licence to address these issues and their new zero tolerance approach to drugs."
Davies said police will continue to "robustly enforce the licensing objectives of preventing crime and disorder and maintaining public safety" and will continue to monitor the "ongoing conduct of Fabric and the activities that take place within it".
He added: "If there are further breaches of the licence, Fabric should be in no doubt that they will be challenged by Islington police and action taken.
"I know Fabric is a venue that holds a great deal of affection in people's hearts. We had no choice but to take action to safeguard clubbers and now Fabric has agreed to considerable changes I hope the venue can continue to operate for many years to come within the boundaries of the new licensing conditions."
The Tribune last week said that the nightclub had submitted a new 155-page operational policies and procedures manual and suggested new licence conditions that would see it operate "to a gold standard".
London Mayor Sadiq Khan has previously urged the two parties, and Islington Police, to come together "to find an approach that protects clubbers' safety and the future of the club".
More than £320,000 was raised by Fabric supporters to fund the legal battle which was headed by leading licensing barrister Philip Kolvin QC.
The Met told a licence hearing that on one night "80 per cent of clubgoers appeared to be under the influence of drugs" at Fabric, while more than half "are willing to sell drugs."