Normally, I love a bold lip. Painting on red, orange, plum or black hues to my face ties a look together, makes my teeth look whiter, and gives me confidence – it's my makeup power item. But since the coronavirus outbreak, working from home and the drop-off in socialising has left my beloved Fenty lip paint collecting dust at the bottom of my make-up bag.
Wearing my signature lippy can feel a bit futile – a face mask is either going to cover up or smudge my hard work. Plus, most mornings, I can't even be bothered to do my makeup anymore – I'm comfortable baring my true face, I tell myself – even though I miss the lift that a slick of lippy gives me.
I'm not the only one abandoning it. According to The Grocer, Covid-19 has dealt a blow to the cosmetics industry – with lipstick sales dropping by 12% (interestingly, My Beauty Brand reports a 480% increase in eye products, however, from eyeshadow and mascara to false lashes).
Historically, lipstick was the one product that could weather a storm. Leonard Lauder, current chairman of the board at Estée Lauder, coined the term "lipstick index" after he noticed people were buying a lot of lipstick as a mood-enhancer and a relatively cheap luxury during the economic downturn of the early 2000s.
But with lippy use in decline, is it any wonder someone's invented a solution?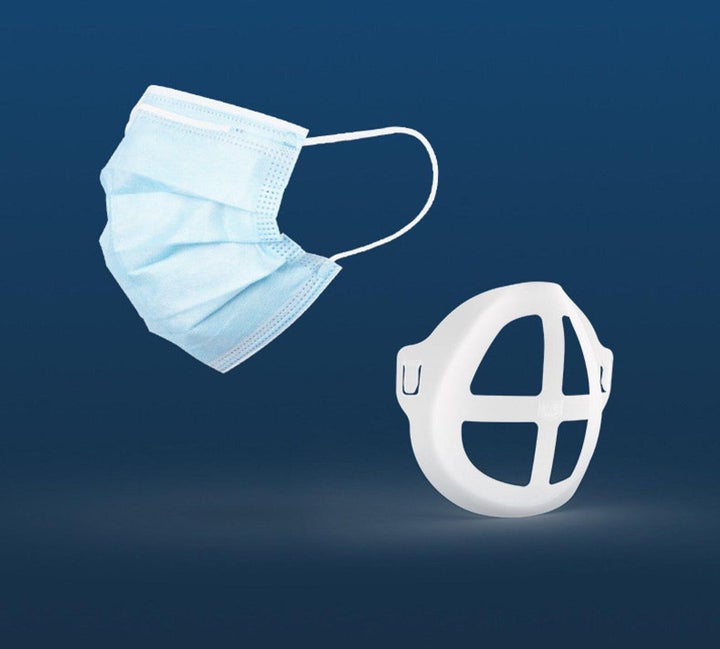 What is a face mask bracket?
The face mask bracket is a cage-like accessory, made from plastic or silicon, which fits inside your mask to provide structure and support so the mask sits away from your mouth and skin.
You can buy them from a range of online retailers, big and small. The bracket in these pictures costs just £3.99 from Etsy and has a stream of four and five star reviews from happy shoppers.
There's been a rise in pointless Covid merch this year. Is this one just creating more unnecessary plastic waste or does it actually make mask-wearing more comfortable? I put it to the test to find out.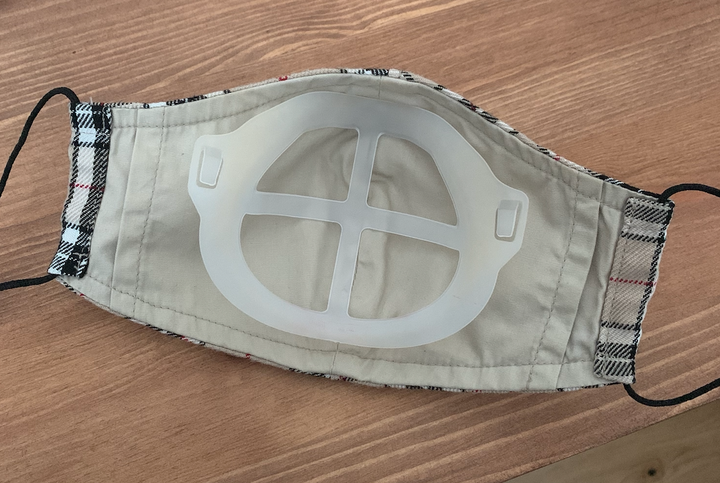 How does it feel and fit?
I start by applying a full face of make-up for the first time in what seems like forever. There are two small hooks in the bracket to slot into the folds of a disposable or pleated fabric mask. My reusable mask doesn't have these, so I simply place the bracket inside, hoping there won't be too much movement.
I won't lie. The bracket on its own makes me look like Hannibal Lecter. I'm worried if my mask slips down, the woman sitting opposite me on the Central Line tube would freak out that I was wearing some strange torture device.
Surprisingly, however, it actually works a treat. Having space between my mouth and the face mask provides ample breathing room. My lips are no longer rubbing on the mask or doused with water droplets when I do breathe.
When I speak with a mask on, I've always had issues, having to readjust it every couple of seconds when it slips up or down. But with this new accessory, neither my mask nor my lipstick are going anywhere. I'm sold.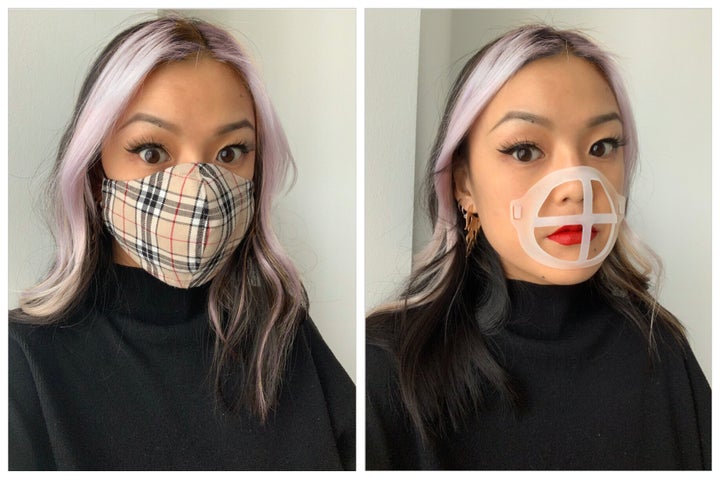 Are mask brackets safe to use?
Dr David Strain, senior lecturer at University of Exeter Medical School, sees no issue with the bracket impacting the effectiveness of a face mask – provided both mask and bracket fit properly. "The chances of the droplets being aerosolised between mouth and the few millimeters away where the mask is now minimal," he tells HuffPost UK. "Indeed the FFP3 masks that we use in hospitals are rigid and take a similar sort of structure on the face."
His main issue is they could become a "biological weapon" (in his words), "moving to and from the face mask to handbag and pocket, then back out again. They will very quickly become coated in fomites [virus particles] that can then be spread on to hands, money and passed around shops."
Each time I head out, I carry a small fabric pouch around to keep my face mask separate when I'm not wearing it and, now, I do the same with my new mask bracket. But I imagine many people might just stuff it along with their mask into a pocket – or leave both to one side on the table while eating, for example.
"The chances of it being appropriately sterilised between each time they are touched are minimal," says Strain, who advises regular handwashing. "I suspect people will hand-wash after taking them out, but not necessarily every time they put them in... The virus lives for quite some time on the smooth dry surface."
Cleaning and storing your mask bracket
Reusable face masks and any mask accessories should be washed every day after use. Disposable face masks should not be reused as they are single-use.
Strain suggests two options for keeping your bracket safe and clean. The first is washing it in alcohol – or soap and water. The second is putting your bracket in a ziplock bag at the end of every day and using another bag and bracket the following day. "The evidence suggests that the virus only lasts 48 hours, therefore a couple of days in a ziplock will be enough," Strain advises.
Avoid antibacterial wipes for Covid-19 cleaning, he adds – "the active ingredient in most antibacterial wipes and sprays is benzhexol which does absolutely nothing to viruses and it actually dries slower than water, and the virus can stick around for longer in the sticky residue and potentially makes things worse."