Spoof recruitment posters for the Islamic State have been plastered across east London calling on would-be terrorists to sign on at a branch of Wetherspoons next Tuesday.
The posters appeared in Leytonstone this week at the Red Lion pub, as well as on trees on the High road. While many were said to have been taken down, others have since appeared in their place.
The poster begins: "Ever wanted to see the world, fight against rock music and get paid for the pleasure?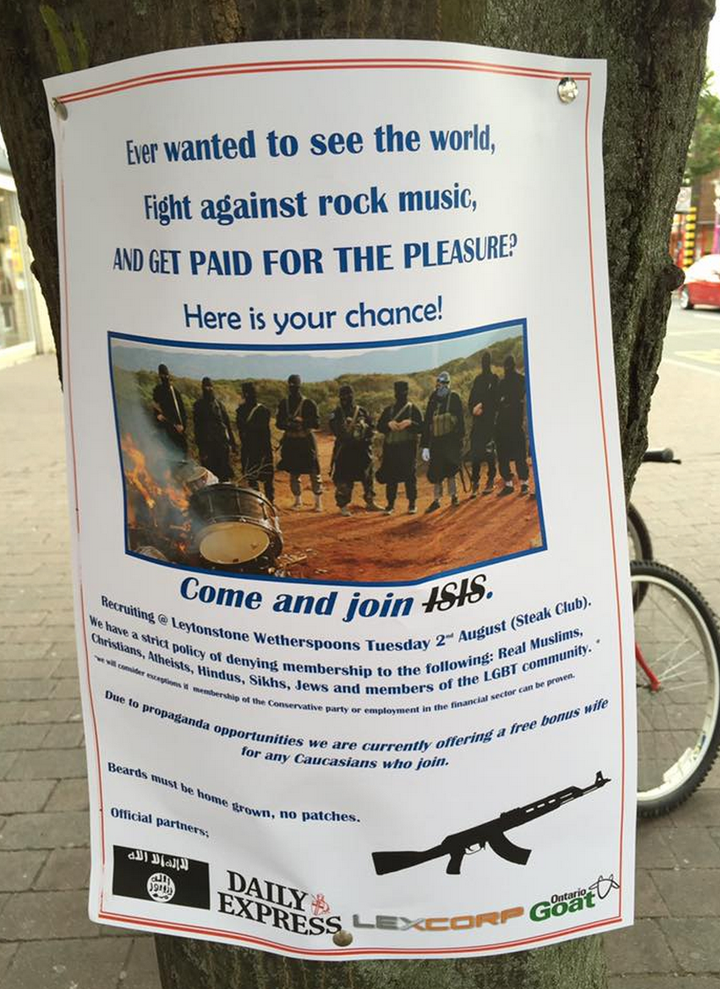 Underneath a picture of black-clad extremists standing in front of a burning drum kit, members of the public are invited to pledge their allegiance to the terrorist group at the Walnut Tree Pub - a branch of Weatherspoons.
The poster continues: "Come and join Isis. We have a strict policy of denying membership to the following: real Muslims, Christians, atheists, Hindus, Sikhs, Jews and members of the LGBT community.
"We will consider exemptions if membership of the Conservative Party or employment in the financial sector can be proven.
"Due to propaganda opportunities we are currently offering a free bonus wife for any caucasians who join.
"Beards must be home grown, no patches."
The posters have been condemned by community leaders, who have branded them "dangerous" and "wrong".
Yusuf Hansa, the chairman of Noor Ul Islam mosque in Leyton High Road, told Asian Image: "The poster is a prank but it is wrong.
"One should not do this in this day and age especially. It is dangerous."
However, one man who spotted the posters told the Evening Standard that it was clearly satire.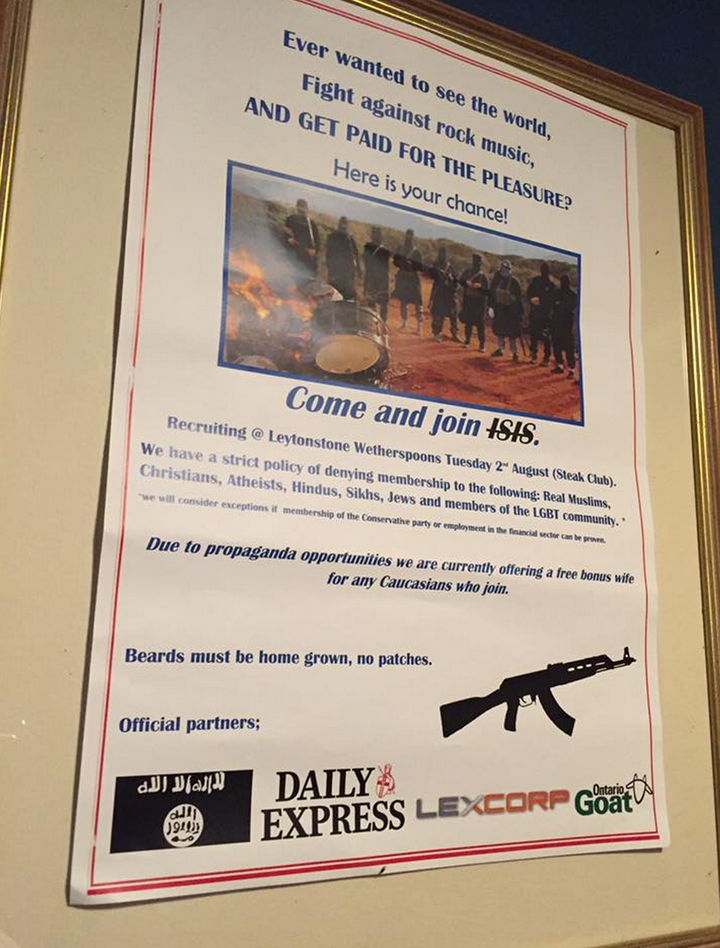 He told the newspaper: "I thought it was intelligent, if not, ridiculous satire.
"Very funny, a shame if it was taken literally, because it obviously was not meant to be taken in that fashion."
Deputy leader of the Waltham Forest Labour Group, Clyde Loakes, who represents Leytonstone, said authorities had taken "immediate action" to remove the posters.
He told Asian Image that CCTV footage had also been obtained of one of the posters being put up, and police were now involved.
The posters claimed to have been created in conjunction with the Daily Express newspaper, the fictitious digital industrial company Lexcorp, and Canadian goat farming organisation Ontario Goat.
Police told the Standard that people should not be "unduly concerned" by the posters.
Popular in the Community