The room where Jankhana and her family live is roughly the size of two parking spaces.
Space is so tight that they say it sometimes feels like a prison. Yet this room is considered adequate for a family of four in the UK.
Some of these homeless families, like Jankhana's, end up living in one room, with access to shared kitchens and bathrooms. To report on conditions inside this type of housing, HuffPost UK followed two families for a year. We documented their journey through the pandemic to find out what it was like to spend lockdown in one room.
Their stories, told in the first of our special two-part series, shine a spotlight on the severity of a crisis that is set to spiral further as the pandemic continues.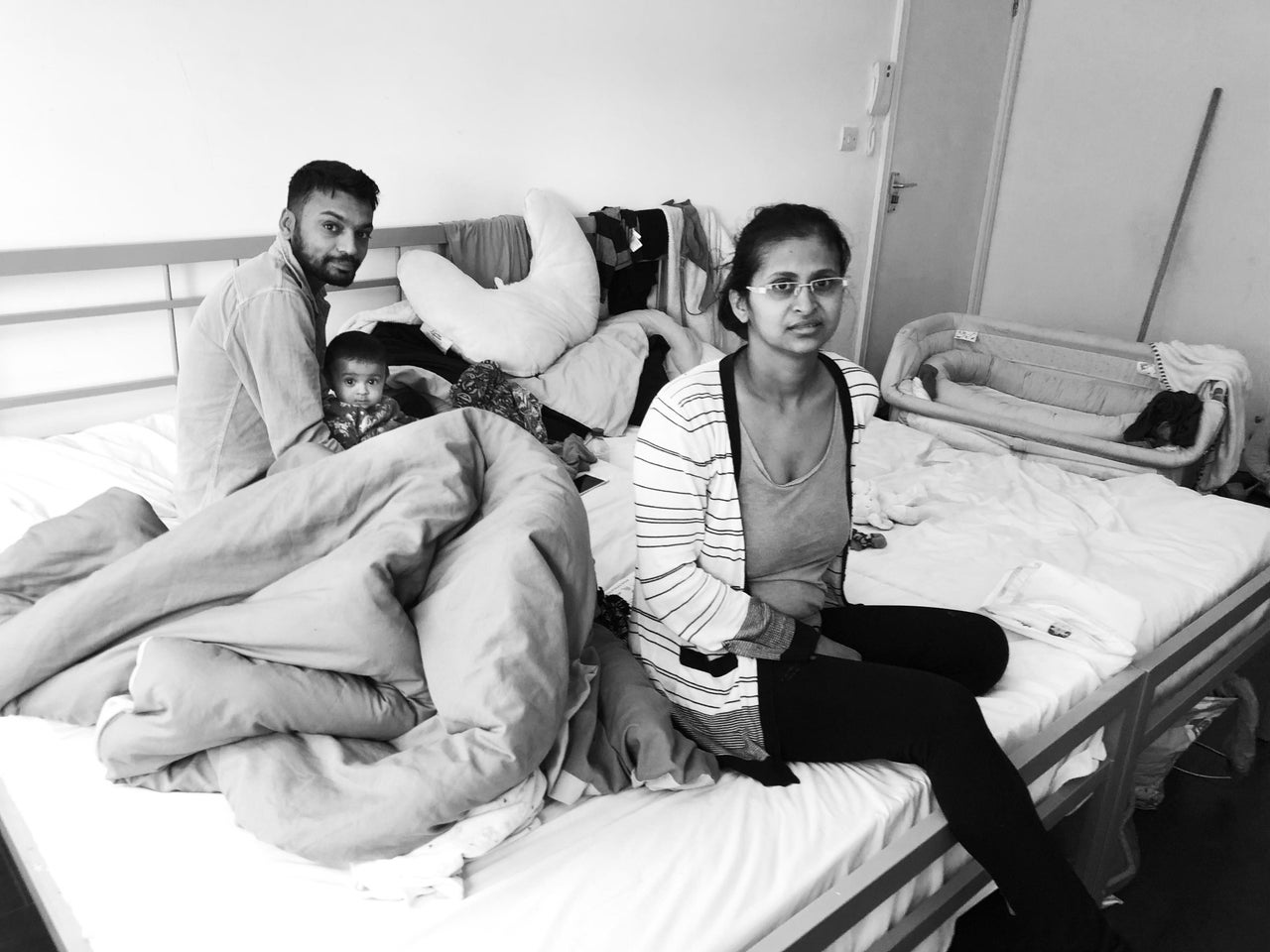 Jankhana's story: September 2019 to February 2020
Jankhana and her family have been living in one room in a building in Plaistow, in east London, for two months by the time we first meet them in September 2019. They have been declared homeless and are forced to rely on the council for housing, which has placed them into this property.
The room, which is the family's only private space, is dominated by two beds and a kitchenette in one corner. As we speak to Jankhana, who is 29, her baby daughter Anaaya is playing on the double and single beds pushed together in the centre of the room.
The family has been homeless since Anaaya was 15 days old. Life in the room revolves completely around the beds and Jankhana fears the impact of this on her five-month-old daughter and four-year-old son.
"It's not normal, if you think about it from the point of view of children, for their development," she says. "What my son sees every day is we eat in a bed, we sleep in a bed, we play in a bed, this is what our life is like.
"I grew up eating in a kitchen, sleeping in a bed, playing outside or maybe in the living room. But his life is not like that. We don't have space for the baby to crawl."
The little floor space available is crammed with the family's belongings, leaving hardly any area for the children to play. There is no table or chair in the room, meaning the family spends most of the day on the bed. There is a small communal kitchen, which is shared with people living in two nearby rooms.
Perhaps inevitably when a space of this size is inhabited by four people, there is some evidence of infestation in the room when HuffPost UK visits in September 2019. Jankhana shows us an insect trap underneath the sink, only a metre from the bed, which has two dead cockroaches stuck inside it. She holds up a packet of rice that has teeth marks in the plastic wrapping where mice have bitten into the family's food.

"When we sleep, the mice just start eating and I always wake up and try to find out where they are. Are they eating or are they licking my kids' food?" says Jankhana. "So it's very difficult. I have nightmares. If I close my eyes the mice start making noises and I'm scared."
Money is incredibly tight for the family, who are surviving on £37 each a week. This means Jankhana cannot afford to replace food or even buy tupperware. Underneath the bed is a large plastic Heinz mayonnaise container with a lid. Jankhana says she begged a local chicken shop to give this to her so she can store food and try to keep the mice out. She is nervous about putting groceries in the shared kitchen because they could be stolen.
While the summer has brought one set of challenges for the family, by February 2020 the winter months have also brought new difficulties. Jankhana says there are no longer mice in the room, but she describes how the family has been left without hot water on four or five occasions over the winter. At times, Jankhana has to bathe Anaaya in cold water.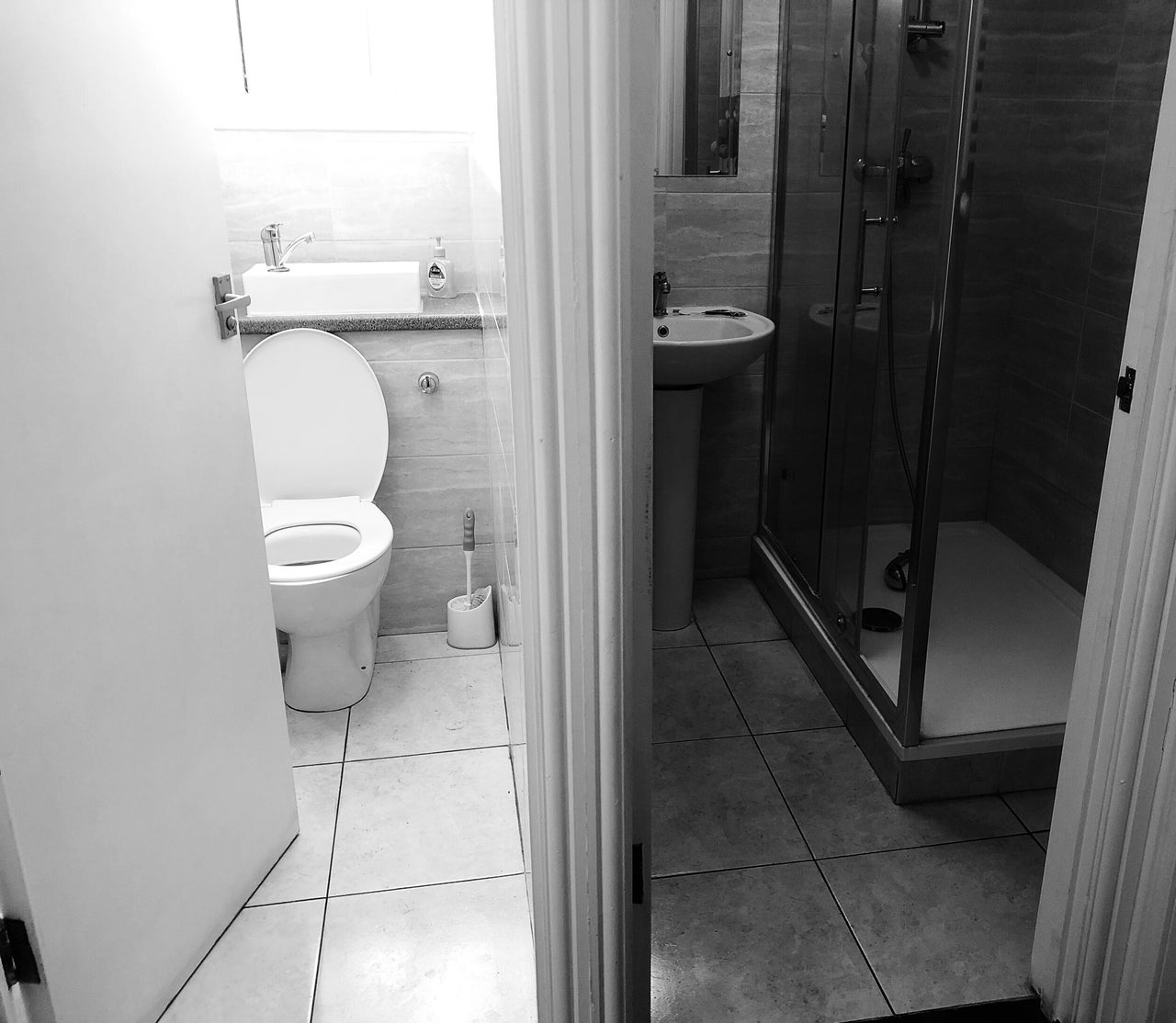 "My kids get sick – they catch cold," she says. "When we need to clean them I have to use cold water, to clean her bottom or her face or her hands. [We could] use another flat, but if we go there then people complain. It's not hygienic for the baby because she's very little. She can catch anything any time."
An elderly man living in the next door room, directly on the other side of the wall, has also been very loud at night since he returned from hospital a couple of months ago. The noise wakes the family and disturbs them. Jankhana says the man is often sick in the shared toilet.
"The toilet gets so dirty and the kids, especially my son, gets infections or diarrhoea," she says. "It's like there's no end for that, even though the amount of times I clean the seat."
The constant mental drain of living in this room takes its toll. Jankhana has previously suffered from post-natal depression and is still having treatment for mental health problems. Being homeless, and the uncertainty of their situation, has left her with little hope for the future.
"I don't know what will happen," she says. "I have a roof, some money to eat. But I am just staying without any hope. Any time I try to be positive or hope for something, if it doesn't happen it puts me into depression, so I stop thinking [about] what will happen next."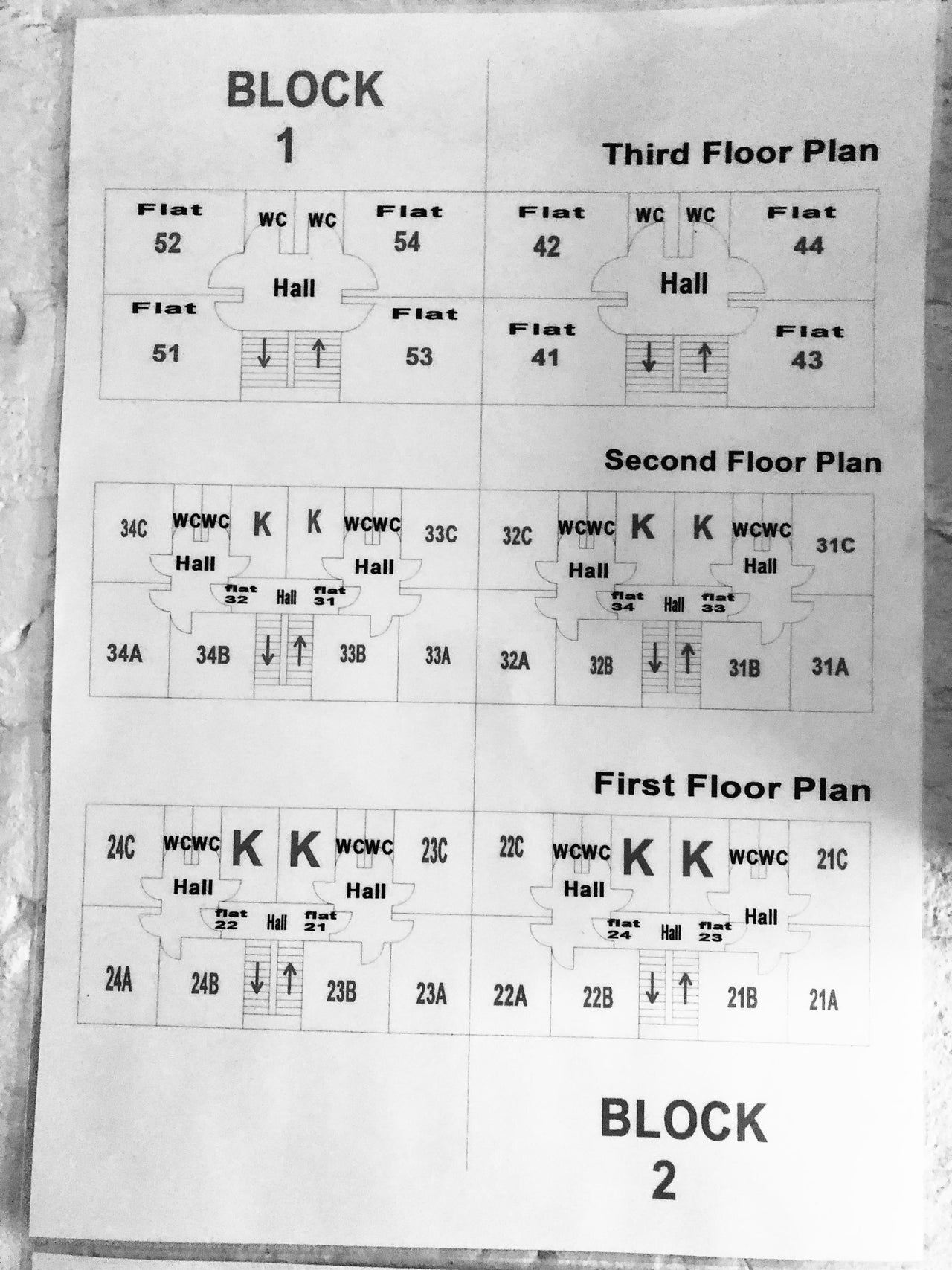 The building itself looks like a classic 1960s housing block that would once have provided flats for families. Now this privately-owned block has been further divided up to provide temporary accommodation to the homeless, and is rented out through the council.
Floor-plans, stuck in the entrance corridor to the building, show spaces that appear to be two-bedroom flats – with a living room, kitchen and bathroom. But each room is now numbered as a separate living unit, creating 32 rooms. Jankhana, Milan and their children live in one of these rooms. The elderly man lives next door and there is a young student in the third room of what would have once likely been a flat. They all share the small communal kitchen and bathroom.
While the units provide adequate accommodation for individuals, it is hard to understand how this room – even though it is bright and freshly painted, with clean floors – is a place where a family of four can live with dignity and respect.
"For a single person it is OK, but for four people – you just feel like it is a prison, four walls," says Jankhana's husband Milan.
Rafiat's story: September 2019 to February 2020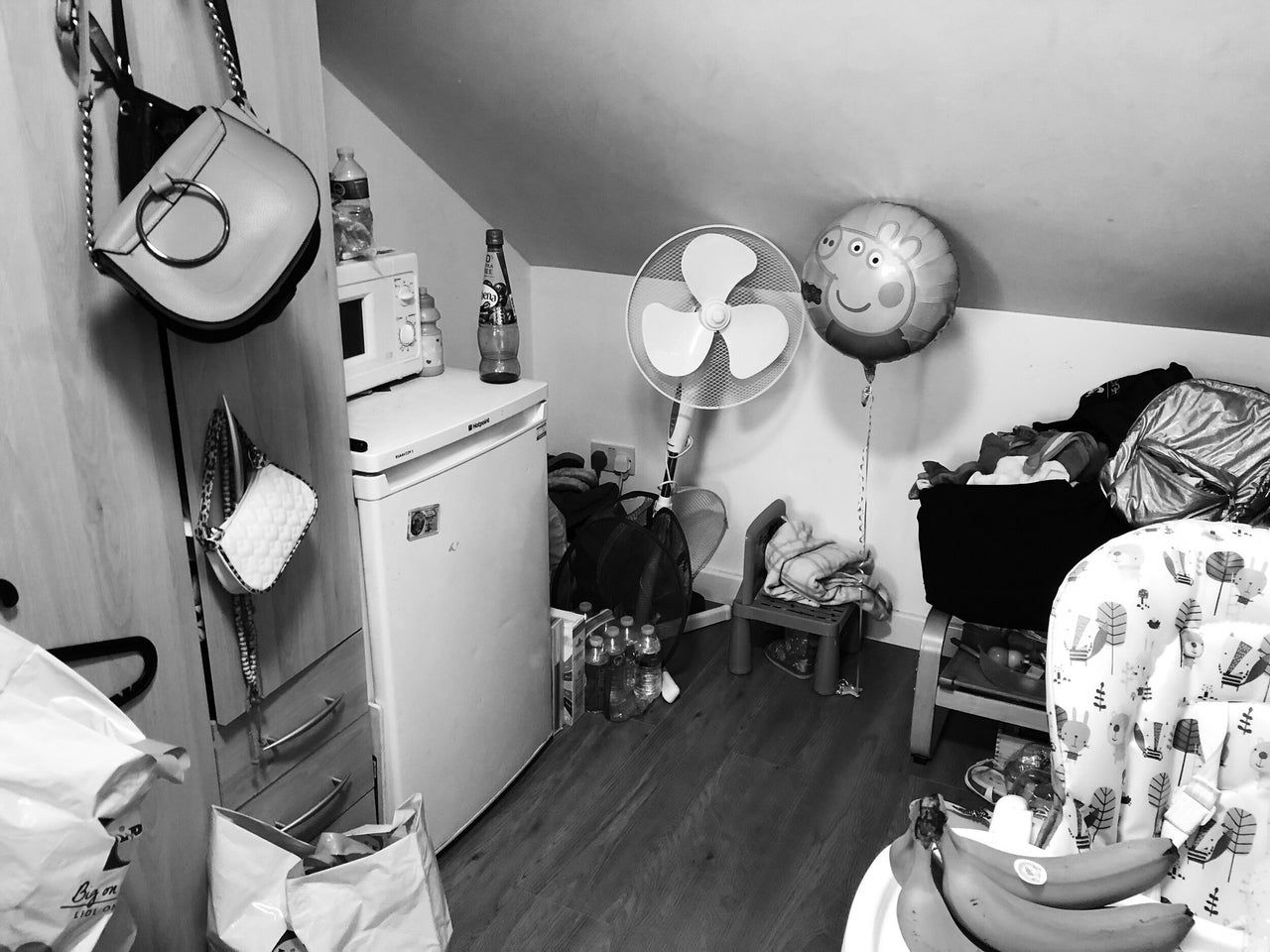 In a small converted loft room in another area of east London, mum Rafiat and her two-year-old daughter Zara live in conditions that echo many of the problems faced by Jankhana's family.
The 31-year-old and her little girl share the tiny attic conversion with another family, who live in another room across the hallway of the house in Ilford. Rafiat's room is just slightly larger than an average UK car parking space. The already small space is made more claustrophobic as a significant section of the room is under the eaves of the roof and not at full head height.
"The first night I got there I cried," says Rafiat. "I cried. I called the council and I said: 'I can't stay here – I'm going to go crazy.'"
This room is dominated by a double bed, which takes up about half the floor space. Rafiat and Zara both sleep in the bed as there is not enough room for a cot. The bathroom is in a cupboard with a concertina door. It is less than a metre wide. There is no space for a table or chairs in the room, and only a tiny amount of floor space for Zara to play. The small kitchen they share with one other family is under the eaves of the loft and only has space for units and a cooker.
"The kids can't be kids, really, because they are really restricted to things they can do," says Rafiat. "They have to play on the stairs, because sometimes they want space but there's nowhere for them to play, really and truly, so they literally just play in the corridor."
Rafiat has done her best to organise the narrow space, and it is homely. But the loft room has only one window and is stiflingly hot in summer and cold in winter. When Rafiat moved in, the bed was pushed up against the window, leaving her terrified Zara may climb up and fall out. Rafiat says the hot water in the building sometimes does not work. When the communal washing machine is broken she has to handwash clothes in the small sink in her room. She resents the £6 service fee that is added to the £780 monthly rent the council is charged.
"It's too much money for this little room," she says. "My friend has got a place through housing accommodation, a two-bedroom in Hackney and she pays £500-and-something pounds. But we're staying in a box and we're paying almost £800 every month. That's not good."
The hot summer months have brought challenges. Rafiat tells us there are "mighty cockroaches" in the building.
"There are cockroaches everywhere, and mosquitoes," says another resident. "I've complained a lot about the cockroaches. They just come out of the holes and sometimes [my daughter] is putting them in her mouth."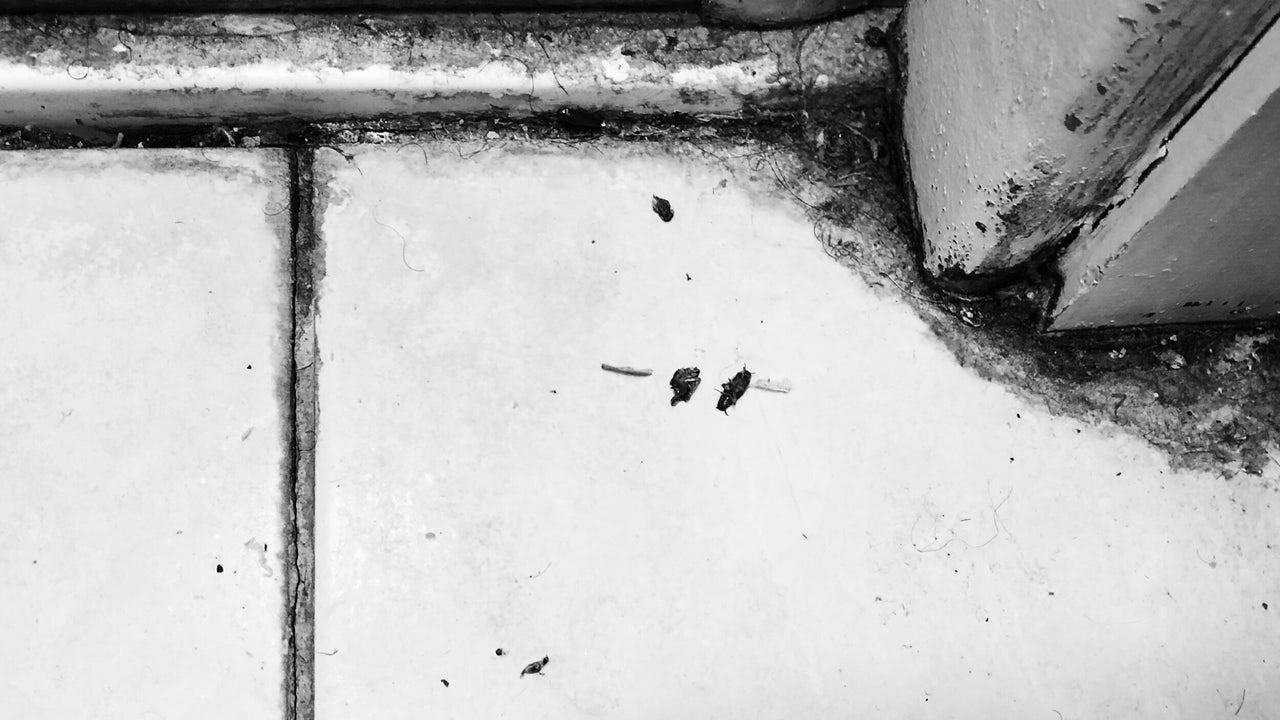 The rooms are within a Victorian villa that looks from the outside like a generous family home. Instead it has been converted into 10 separate rooms – all housing families with children, Rafiat claims. Rafiat has lived in this temporary stop-gap housing for a year. Others have been there for up to two years. Rafiat knows the chances of the council being able to move her are almost non-existent.
"The only time they want to move you, and I'm not saying this is a bad thing, but the only time the council wants to move you or people think you're a priority is when you've got a disabled child who shouldn't be there [in the property]," she says.
Instead, she is doing everything she can to try and improve her situation. She is studying a short course in project management, organised by The Magpie Project – a homeless charity that helps mums with young children. She has an interview for a job at a council and is hopeful that she will get it.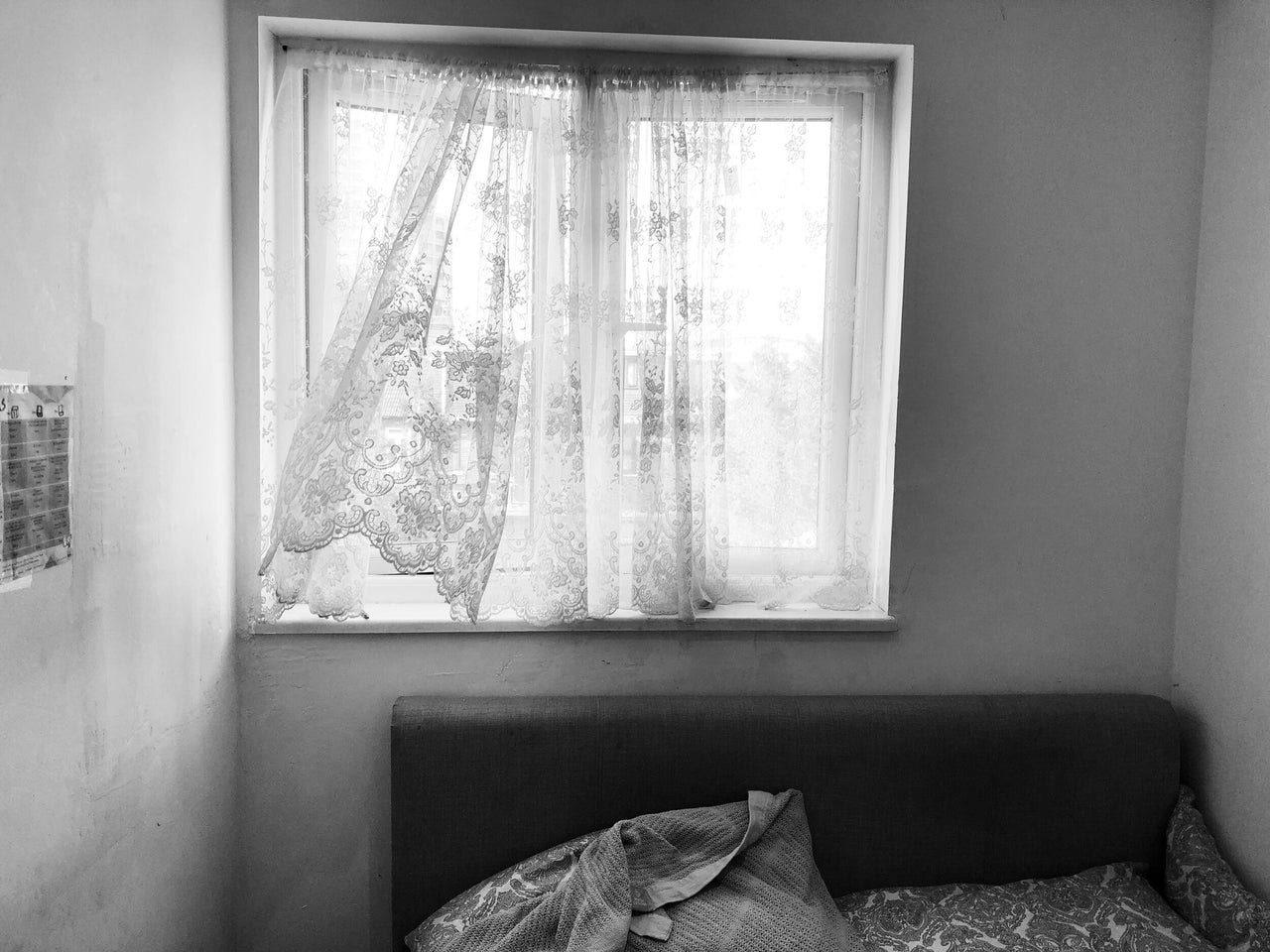 When she has any spare time, Rafiat loves to read and she has just borrowed the novel Jane Eyre from the local library. When she was younger she dreamed of working in one of the City's skyscrapers and was offered a place to study accounting and economics at university, but could not afford to take it up.
She radiates positive energy. But she says being homeless has at times damaged her mental health.
"There are times I just lock myself up inside because I'm ashamed of going out, because I don't want people to see me, because I think I'm kind of like a nobody," she says. "So I just say: 'OK, we'll lock ourselves up inside,' and I try to avoid people as well as much as I can."
Rafiat hopes she will get the job she is applying for. Then the council may be able to help her find a housing association flat – one of the few affordable forms of accommodation.
"The times I have a panic attack," she says. "You are waiting, waiting, and you think: 'There are people on the street, you should thank God for where you are right now,' but…"
Jankhana's story: March 2020 to present
As the coronavirus pandemic spreads globally and the UK is locked down in March 2020, Jankhana and her family find themselves in an impossible situation.
"After lockdown, we spent a couple of weeks all together in the room," she says. "It was so hard. My mental health was getting much worse. Four people in one room and you can't go anywhere – it was very, very hard."
As the country adjusted to staying at home, there was barely anything for the family to do to pass the time within the confined space of the room. "There was no settee and no internet, so we didn't have the chance to watch TV or YouTube because the internet wasn't working well," says Jankhana, who is now 30. "My kids were getting emotionally overwhelmed and frustrated, and me too. I was feeling isolated and lonely and we couldn't go outside. No one was going out and the world was so empty."
The family says during this time social distancing was a physical impossibility due to the shared kitchen and bathroom, heightening their fears of contracting Covid-19.
"Definitely it was a big worry," says Jankhana. "There was so much anxiety because of the virus. Because just a normal cold caused us big worries. When one of us gets a cold it doesn't go for nearly two months, it just circulates between the four of us. So we were both worried, if this virus comes, it will spread between the four of us."
It was also impossible for them to use communal facilities like the washing machine. It wasn't until the country had been on full lockdown for a fortnight that council workers finally moved the family out of the room and into a two-bedroom flat. The new larger space has already benefited the children.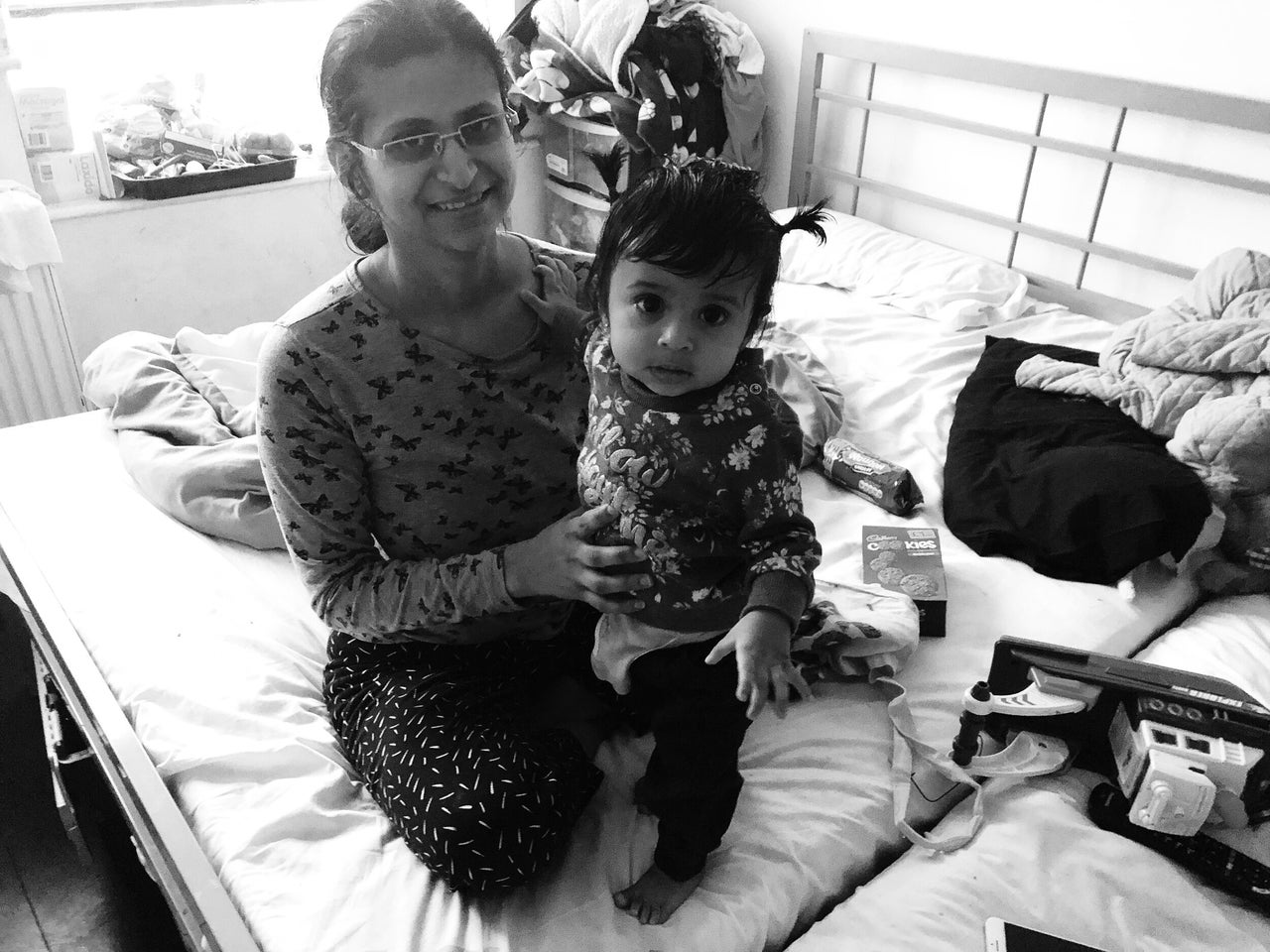 "The kids are much happier and they hit a number of milestones," says Jankhana. "My baby wasn't walking because of the lack of space and now it's like she's out of jail. She just started crawling everywhere super fast, and walking. So that's a huge difference."
Money has been very tight, with food – particularly vegetables – costing more during the pandemic and nothing spare for baby clothes. The food and clothes banks the family relied on are closed. Asked whether it should have taken a global pandemic for her family to be moved out of the room, Jankhana says: "I was thinking that this virus is a blessing for us because they moved us, so for that this virus is lucky for us."
But Jankhana is afraid they could still be moved back into a self-contained flat within one room. "If Covid finishes, it will be OK to maybe move us into one room again," she says. "So that's why we're worried."
Meanwhile, the family is caught in limbo. Jankhana, who is from Maharastra in India, came to Britain to study an MBA at Anglia Ruskin University under a student visa and was due to do an MSC in engineering project management. Milan, also from India, was working here.
Their lives were turned upside down by what appears to be little more than a "silly" admin error by the government. They say the Home Office refused to extend her student visa, claiming she had missed a deadline, but the couple contest this and have taken legal action to challenge the decision. Now, with no immigration status, the couple are unable to work or volunteer.
But social services still have a legal duty to house their children. So while the state pays to keep the family in temporary housing, it has also blocked any avenue they have to escape it, as they cannot earn a living.
"We don't want money from the council," says Milan, also aged 30. "If I was able to work I don't want a single penny from anyone. I can earn my own money. We are not blaming the council – it's just the situation. Yes, we are in destitution, but we don't want to be there."
Old pictures of the couple show them both smiling and happy, living productive lives in the UK. Both worked here legally – Jankhana as an administrator and Milan as a manager at Tesco. They lived in a four-bedroom house, sharing with friends. The couple are trying to challenge the Home Office decision so they can win back the right to work, but in the meantime they have no recourse to public funds. Jankhana looks back on her old life and barely recognises it.
"My old friends now – it's been five years – are in good positions, they are doing very well, they have good jobs and I'm still just nowhere," she says. "Even though I'd like to do something I cannot. I am just stuck and I feel I am going down and down.
"I lived a very good life. But this past five or six years, the way I live, it's like I've spent 100 years in black days."
The family is still living in temporary accommodation. In the first week of December, they were moved by the council into a self-contained two-bedroom flat in another area of east London. They hope they will be able to stay there in the longer term.
Rafiat's story: March 2020 to present
The arrival of lockdown also coincides with significant changes in Rafiat's life. In February 2020, the 32-year-old finds out she has got the job she applied for at the council. She also receives a letter saying she will be moved out of the loft room.
But by June 2020 this still has not happened and she has spent three chaotic months during lockdown living and working in the tiny attic while looking after Zara.
"I'm not able to take my daughter to nursery and we're spending all the time together," she says. "She's getting older now and I've started work as well. So I'm working from home and it's not really ideal to work in a room with a child.
"She wants something, I'm trying to do work, she's screaming when I'm on the phone. It feels like you're in a box and you know sometimes your head just feels really tight in a tight space."
The restricted head height in the room means Rafiat has to sit on the floor with her laptop while working. She has a backache continuously. Social distancing is also impossible in the building as the neighbouring room is less than two metres away across the hallway.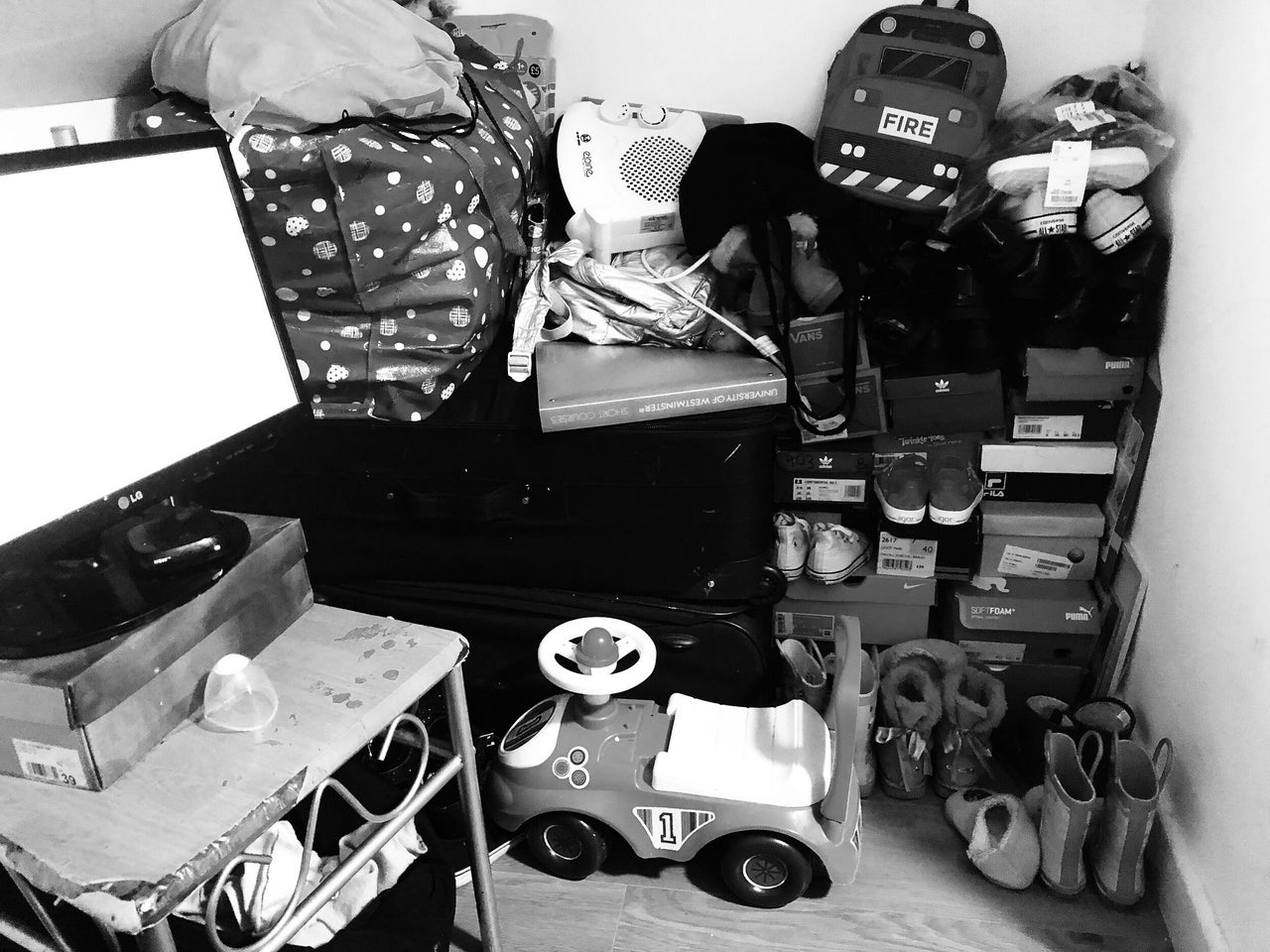 "There was one time when everyone was sick in the whole building," says Rafiat. "I was sick and Zara had a cough for more than three weeks non-stop."
Rafiat was struggling to see a way out until she contacted the homeless charity Shelter and a caseworker intervened on her behalf with the council. She was moved into a two-bedroom flat in east London on a private rental contract for two years in June.
"Within two days they moved me," she says. "They called me an emergency and said I had to move."
Rafiat says the new flat is "a decent property" but the move was a struggle as the flat is unfurnished and she doesn't have many belongings. Zara has her own room, although she struggles to sleep in it after sharing with her mother for so long. Rafiat believes being in full-time employment helped her finally escape the loft, but she worries for others living there.
"There are other mums still there and the council keeps telling them the same thing, that they're not moving them," she says. "So I just feel sorry for quite a few people and I just feel like I'm blessed."
In September 2020, a year after HuffPost UK first met Rafiat, the family celebrates Zara's third birthday. Lockdown has been eased, and Rafiat says this year she will put presents in her little girl's room, invite family around and spoil her. She can already see the difference living in a home with sufficient space is making to their lives.
"When I went back to the other property to visit they said: 'You look so different, you look so happy now,'" she says. "Yes, I feel much better. I'm really happy and thank God."
She adds: "I still cry sometimes. But when I look at Zara it's like, you know what, I've done well and it's been worth it. Even through the pain, I look at my daughter and I have a happy child."
Rafiat lived in temporary homeless housing for 18 months before she was finally moved.
The families featured in this story were supported by The Magpie Project, a charity that helps mums and under-fives living in temporary accommodation through its drop-in centre and by providing food parcels and access to benefits and immigration advice.
TOMORROW: Read the second part of HuffPost UK's investigation – revealing the £1.2bn cost of Britain's spiralling temporary housing crisis and how it is being exacerbated by the pandemic.