Campaigners want empty commercial buildings to become makeshift shelters this winter as social distancing severely impacts the number of beds available for the expected "tsunami" of homelessness.
Outreach teams are predicting a sharp rise in the number of people sleeping rough due to a perfect storm of factors caused or exacerbated by the coronavirus pandemic – not least, the end of both the eviction ban and the furlough scheme.
And with more space needed for Covid-secure shelters, innovative measures are being put forward to tackle the crisis, such as taking advantage of the empty office blocks and commercial buildings in town and city centres across the country.
Jon Glackin, founder of outreach group Streets Kitchen, told HuffPost UK: "We're going to have to start thinking about unorthodox methods. There are lots of empty buildings that could be reappropriated and put to good use – that's the simple answer."
The economic toll of the pandemic, and the social distancing measures in place to tackle it, mean already stretched shelters will likely see more people asking for help, but be severely limited in how many they can take in.
Lucy Abraham, CEO of Glass Door Homeless Charity, told HuffPost UK: "The current advice is that accommodation with communal airspaces is not allowed because of the risk of the spread of Covid. So that means any shared night shelters, dormitory-style accommodation can't operate under current government advice guidelines.
"Our normal service would be five night shelters on any one night of the winter, operating across London and we would normally accommodate 170 people every night.
"So our challenge now is what do we provide to people? And that's not just us – there are thousands of night shelter places across the country."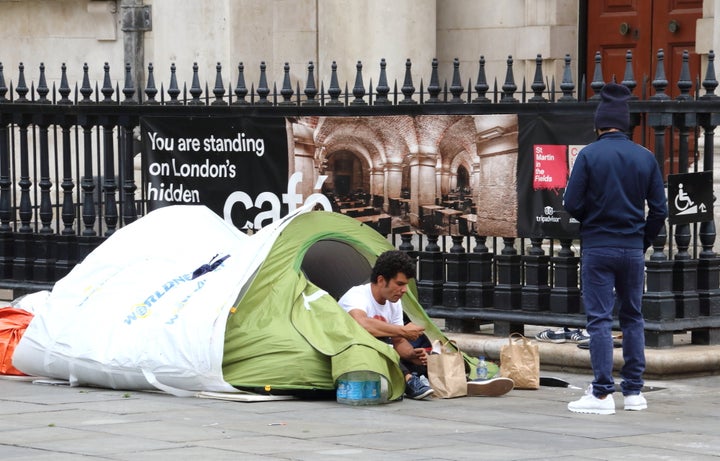 The coming 'tsunami'
The government's Everyone In scheme, launched in March, housed almost 15,000 in emergency accommodation such as hotels and was hailed as a successful – albeit temporary – programme.
″[The Everyone In scheme] definitely made a big impact, no doubt about it, but you have to remember that homelessness is only increasing," says Glackin.
"There's illegal evictions; we've had all the backpackers' hostels closed during the pandemic; the hotels closed down and B&Bs, even sofa-surfers, [were] being kicked out – so there was always an increase in homelessness which we were seeing from day one but it's only just being recognised now.
"And then you've got the eviction ban lifting. We're going to see a tsunami."
According to the latest figures from the Greater London Authority (GLA), sleeping rough in London increased 33% year-on-year between April and June, while the number of new rough sleepers rose by 77%.
A government source suggested the rise was due to the increased reporting of people on the street so they could be housed, with most only spending one night sleeping rough. The number of people deemed to be "living on the street" was down 33%.
But there is also a larger problem on the horizon than the number of people already homeless or rough sleeping. The furlough scheme, which has frozen nearly 10m pre-Covid jobs, and the eviction ban will expire in the coming weeks.
Both will almost certainly result in a huge rise in unemployment – which could in turn lead to a rise in people being forced onto the streets.
"The big question is: what about the new rough sleepers?" says Abraham.
"We know the demand is going to be there this winter. We're already seeing people who are losing their jobs because of Covid.
"I strongly believe that the economic impact of Covid at the moment is just being kicked down the road."
The planning problem
The end of August is one of the busiest times for homeless charities as they plan operations for the coming winter – but, this year, everything is effectively on hold.
"At this point we're not able to plan ahead. We're getting no guidance from central government," says Glackin.
"It's not a good position to be in in August. Normally we would have planned ahead and started working towards opening the winter shelters in October but that's just not going to happen this year. Nobody knows what's happening."
A spokesperson for the mayor of London told HuffPost UK guidance on night shelters and social distancing would be issued "in the next couple of weeks".
But even if shelters can operate, they will be severely restricted in how many people they can take in.
"The winter shelters as we know it won't exist this year," says Glackin. "At the moment we're looking at a capacity of a third. Even with the shelters last year, there weren't enough."
Charity Housing Justice has published a report titled A New Season, detailing the actions some shelters have already taken to adapt. For example, the Selig Suffolk Trust runs the Ipswich Winter Night Shelter, which used to operate in rotating venues but – after cross-agency working to find a fixed home – will now be based in a Covid-secure location, albeit with a reduced number of beds.
A possible solution?
Homelessness and rough sleeping is just one of a number of consequences of the pandemic – another being the huge drop in commuters as people continue to work from home.
Boris Johnson has been calling for employees to start returning to their place of work for more than a month amid fears town and city centres are becoming ghost areas as commuters stay away.
"There already were loads of empty buildings; there'll be even more now," says Glackin.
"There are plenty of buildings that could be put to good use."
A spokesperson for the mayor of London told HuffPost UK: "Converting free space is rarely as simple as it seems but our rough sleeping team are working with LandAid to look for buildings to allow us to continue the work we've been doing with hotels, as well as sites for more homelessness hubs and No Second Night Out triage centres."
Another lockdown?
Regardless of planning or advice from the government, one possible scenario would make it all moot anyway – another lockdown.
Last week health secretary Matt Hancock said he could not rule out "extensive lockdowns" this winter and whether regional or national, any shelters in those areas would have to close.
"I would be hopeful that the government would step in like they did earlier this year because if there is a local lockdown there is no way we can operate any of our services," says Abraham.
"The government has provided the £105m towards the Next Steps programme. That's about ensuring that everyone who has come in as a result of Everyone In stays in accommodation and doesn't go back on the streets and that's obviously a really positive step.
"But I think the real challenge is, without the central pan-London response that there was – like the GLA procuring a number of hotels and running them on scale – that the funding just won't be enough."