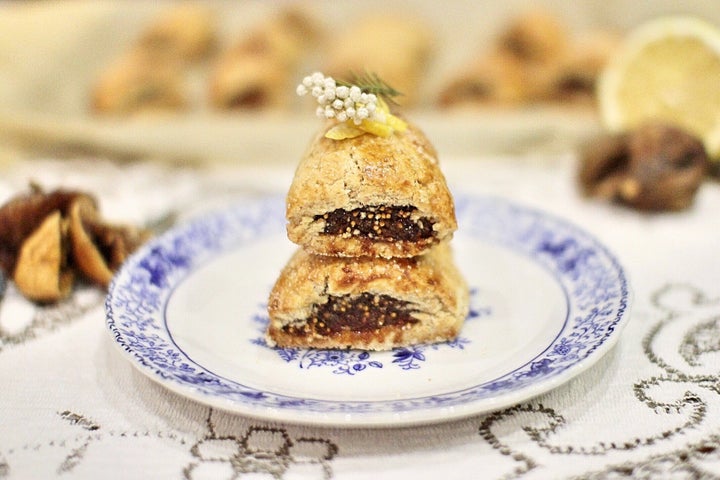 It's biscuit week! Episode two's technical challenge saw Great British Bake Off contestants getting flustered over a controversial 'biscuit' choice: the humble fig roll. (Really though, is it a cake or a biscuit?!)
After Dan's speedy exit in week one, the remaining 12 contestants kicked off this week's flour-filled instalment with an ambitious-looking bunch of decorative chocolate biscuit bars. And there were issues a-plenty as Alice forgot to turn the oven on and Jamie's biscuits refused to set in any way, shape or form – a real "dog's dinner", as he put it.
But it was the technical challenge that sent the room's sweat glands into overdrive. Paul Hollywood revealed fig rolls are his dad's favourite (no pressure) and bakers were asked to make 12 identical rolls (not 11, Helena!) made from soft biscuit dough, filled with a lightly-spiced fig filling.
The recipe provided to bakers was equally vague, leaving plenty of panicked expressions and furrowed brows around the room.
If you're up for recreating the challenge at home, we asked the marvellous Emily Findlay, of Emily Bakes, to share her (more detailed) homemade fig roll recipe – and it doesn't disappoint.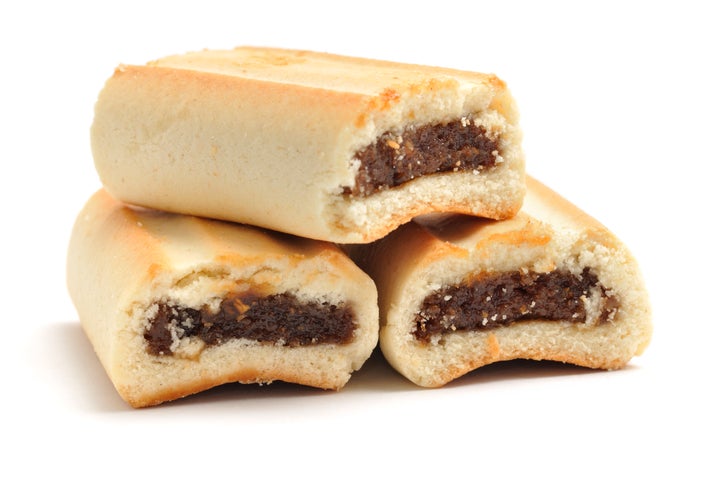 Ingredients:
For the pastry dough:
110g cold unsalted butter, softened
75g caster sugar
2 large egg yolks
½ teaspoon good-quality vanilla extract
75g plain white flour
75g wholemeal flour
50g ground almonds (also known as almond flour)
Pinch of cinnamon
Pinch of ground allspice
Pinch of salt.
For the filling:
6 tbsp cold water
200g semi-dried figs
Juice and zest of ½ lemon
Thumb-size piece of fresh root ginger, peeled and grated (optional)
2 tbsp dark brown sugar
Pinch of salt.
For the glaze:
1 medium egg yolk
1 tbsp milk
Granulated sugar, for sprinkling.
Method:
1. Make the pastry.
:: Place the butter and sugar in a large bowl and whizz with an electric mixer until creamy. Add the egg yolks and vanilla, blending well after each addition.
:: In a separate bowl, place the plain white and wholemeal flour, ground almonds, spices and salt. Mix together with a fork and add to the butter mix.
:: With clean hands, mix everything together to form a ball of dough. Flatten the dough into a flat disc shape, wrap in film and place in the fridge to cool for at least 30 minutes while you make your filling.
2. Make the filling.
:: Preheat the oven to 170°C and line a large baking tray with non-stick paper.
:: In a medium-sized saucepan, place the water, figs, lemon zest and juice, ginger and sugar. Bring to a simmer and cook gently for approximately 10 mins or until sticky with a chutney-like texture. Leave to cool slightly, then blitz in a food processor.
:: Leave the mixture to cool completely.
3. Roll out your pastry.
:: Remove the chilled pastry from the fridge. Dust your work surface with flour and then roll the dough into a large rectangle (about 30cm x 40cm), before cutting lengthways into four equal rectangles.
:: Spread one quarter of the fig mixture down the middle of each rectangle. Brush one of the long edges with a small amount of water and roll up the dough lengthways.
:: Repeat with all four rectangles, then use a sharp knife to cut into pieces (3-4cm wide).
4. Prepare your glaze.
:: Combine the egg yolk and milk in a mug or small bowl. Brush over the top of each fig roll. Finally, sprinkle with a little sugar then place on your prepared baking trays.
:: Bake for about 20 minutes or until golden brown on top and the filling is beginning to ooze.
:: Allow to cool on the trays for 10 minutes and then transfer to a wire rack to cool completely. These fig rolls will last in an airtight container for up to a week.
Follow Emily on Instagram @ems_bakes for more baking inspiration.