It's back! The return of Channel 4′s Great British Bake Off on Tuesday evening saw the nation reunited with Sandy and Noel, plenty of awkward cake puns, and 13 bakers trying to keep their bottoms dry (at least, for the first episode).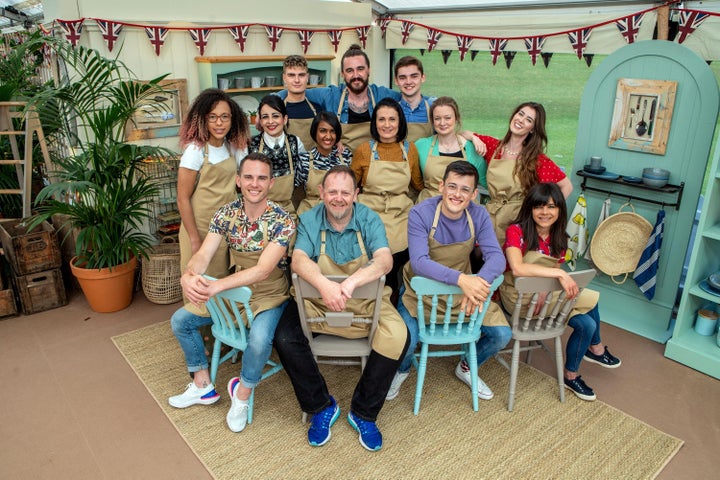 This is the 10th series of the show and although it kicked off with one more contestant than previous years, the rest of the format remained unchanged: a signature bake, a technical challenge and finally, a showstopper. Each present a different challenge – or a chance to show off your perfect marzipan-animal-moulding skills (ahem, Kim-Joy).
For week one, Paul and Prue didn't hold back from making the technical challenge, well, challenging. They gave Mr Kipling a run for his money and asked bakers to make the childhood classic: angel cake slices.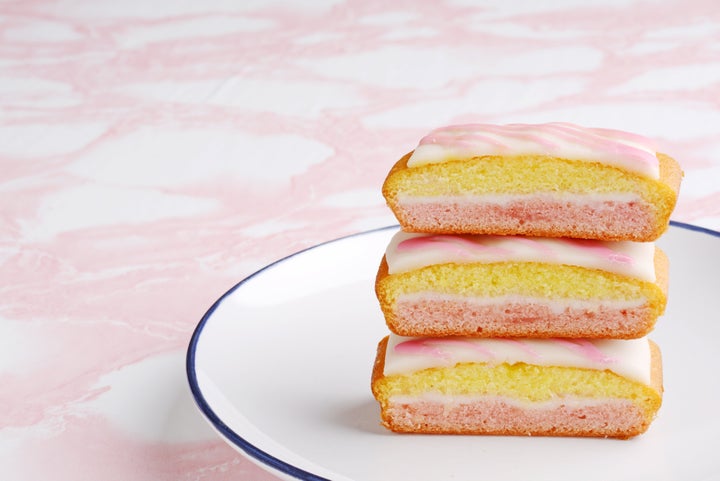 Angel cake slices in the UK, not to be confused with the American angel cake, are typically a three-layered sponge cake in multi-coloured stripes (normally yellow, pink and white) sandwiched together with butter cream.
In Prue's assignment, the bakers had to make six identical angel cake slices from Genoise sponge (a sponge leavened naturally with eggs by gently warming and foaming the mixture) and Italian meringue butter cream. They also had to be three separate flavours – raspberry, lemon and vanilla – and topped with icing.
But if you want a slightly simpler version to make yourself at home, look no further: Marie Rayner at The English Kitchen has provided us with an angel cake recipe she uses below, which serves around eight slices.
Ingredients:
For the cake:
200g butter, at room temperature
270g caster sugar
3 large free range eggs, beaten
270g plain flour
1 1/2 tsp baking powder
Pinch of salt
225g sour cream
Red and yellow food colouring.
For the icing:
140g icing sugar, sifted
60g unsalted butter, softened
1 tablespoon of milk
A few drops of vanilla extract
Icing sugar to dust (optional).
You will also need three (8x4 inch) loaf tins unless, like the bakers, you fancy dividing one (9x13 inch) tin into three, equal-sized rectangles using greaseproof paper or kitchen foil. No, us neither.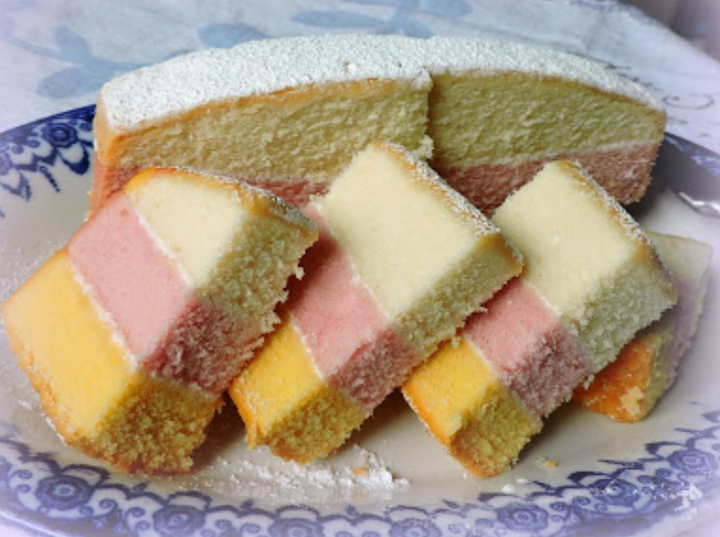 Method:
1. Preheat the oven to 180*C/350*F/gas mark 4. Butter and line tins with baking parchment (either your single larger tin or three smaller ones, as above).
2. Sift the flour and baking powder together in a bowl. Set aside.
3. Cream together the butter and sugar until light and fluffy. Beat in the eggs a little bit at a time. If the mixture starts to curdle, beat in a tablespoon of the flour mixture.
4. Once all of the eggs have been incorporated, stir in the flour mixture, alternately with the sour cream, beginning and ending with flour.
5. Divide the batter into three equal portions, placing one third of the cake directly into one of the prepared cake tins.
6. Tint one third of the remaining batter with red food colouring to give you a pink batter and the remaining third with yellow to give you a yellow batter.
7. Place each of these into the remaining tins. Bake in the preheated oven for 30 to 40 minutes until the tops spring back when lightly touched.
8. Remove to a wire rack to cool completely before proceeding. Once cool, make the butter cream by beating together the icing ingredients until smooth and creamy – only adding enough milk to give you an icing of spreading consistency.
10. Using a sharp knife, level off the pink and yellow layers, slicing off any domed portions. Place the yellow layer on a plate.
11. Top with half of the butter cream, spreading it out evenly. Add the pink layer and then evenly spread the remaining butter cream. Place the white layer on top.
12. Dust lightly with icing sugar and cut into one inch slices to serve.
Head to Rayner's blog to see pictures of her angel cake slices here.