A record number of Britons are now using foodbanks, new analysis has revealed, with many of their customers being skilled workers or disabled people unable to hold down a job.
Foodbank use in the UK rose 2% last year to a new high, according to the latest figures from The Trussell Trust, which show that it has handed out over a million three-day emergency food supplies since April 2015.
Data mapping from the University of Hull also suggests that foodbanks are used most in areas where people are in skilled manual work - meaning they are are likely to have studied at college, university or technical school - or are unable to work due to a long-term illness or disability.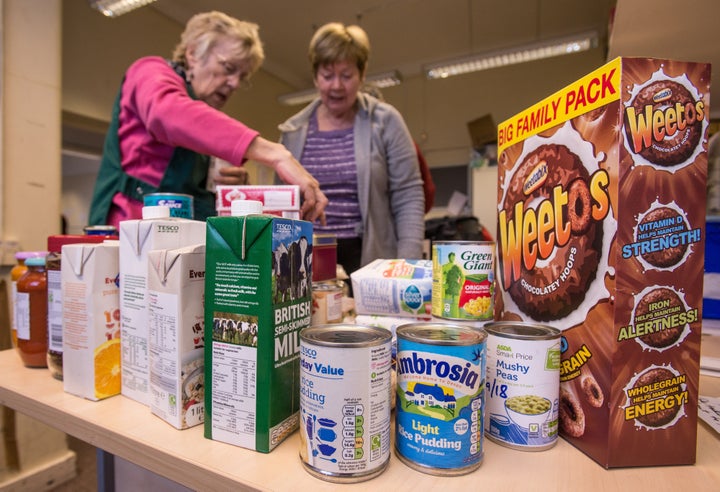 Benefit delays were the biggest reason for needing a foodbank, but low income follows shortly after that, challenging the idea that people who use foodbanks are all 'work-shy' or 'scroungers'.
But Simon Raper, a data scientist at Coppelia, says findings from data mapping showed a "strong correlations emerging at an electoral ward level between foodbank use and the percentage of the population with long term health problems or disabilities or in skilled, manual work."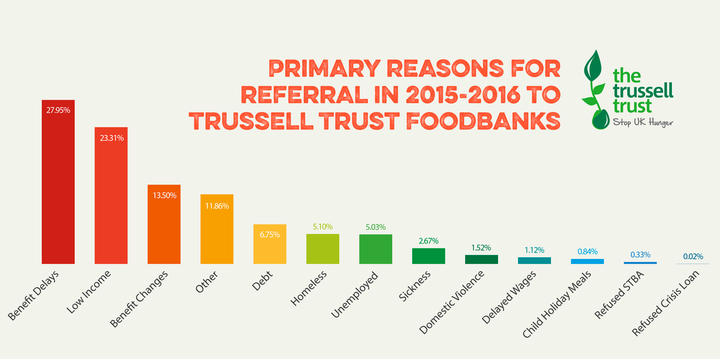 Teaching assistant Kane used a foodbank after mental health issues meant he had to leave his job. At the same time his wife, who is a nurse, experienced serious pregnancy complications and also had to stop work.
Kane found insecure contract work, but his wife's delayed sick pay meant that on weeks when Kane couldn't get any hours of work, the couple were unable to afford food.
"People stereotype people at foodbanks," he said, "But both myself and my wife are professional people who needed help. We never expected to need a foodbank, but our lives completely changed in two months."
Kane says he would go without food to make sure his pregnant wife had enough to eat, until they were referred to a foodbank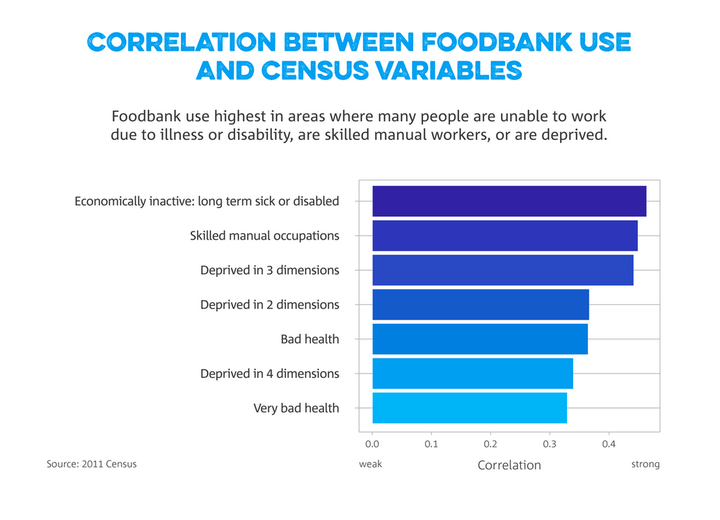 "You're only two missed pay cheques away from being in poverty. Just five minutes to breathe can really make all the difference, that's why foodbanks are such a lifeline."
"We know the system is broken when some people working in the food and farming industries are being paid wages so low that they cannot afford to eat the food they are packing or picking," McCarthy wrote.
The Labour MP also took aim at food waste: "In the UK, only 2% of our good surplus food is currently redistributed to charities. If we diverted just a quarter of all this wasted food for redistribution, it would make surplus food the second largest supporter of charity after the Big Lottery.
"My Food Waste Bill could go a long way towards tackling the huge amount of food waste in Britain and redistributing more than half the nation's food waste. This would be a step in the right direction but we need to do far more to address the root causes of food poverty," McCarthy added.
The Trussell Trust gave out 1,109,309 supplies form foodbanks around the country in the financial year 2015-2016 up from to 1,084,604 the previous year.
Of this number, 415,866 went to children.
On average, people needed two foodbank referrals in the year, suggesting around 550,000 people needed their services.
A 'heatmap' of the UK shows that the north west of England received the most foodbank support, followed by Scotland, while the East Midlands and Northern Ireland received the least.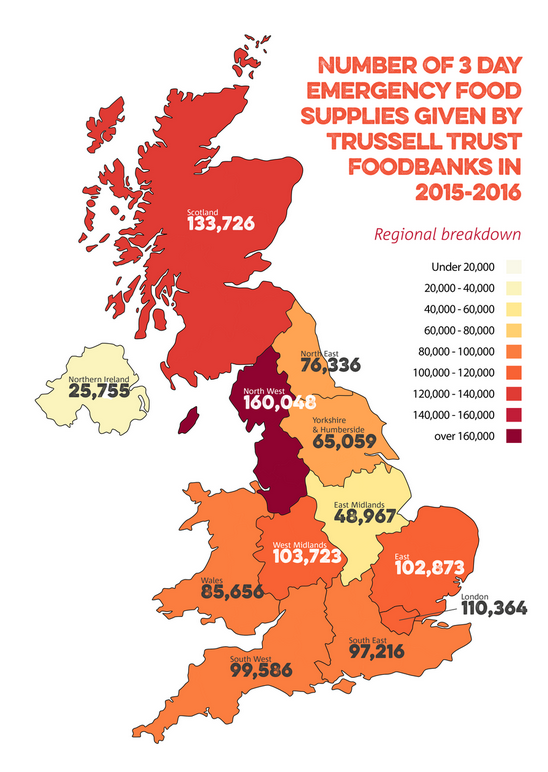 Trussell Trust said after the announcement that it would not be appropriate to have a jobs adviser in a foodbank, as many people were struggling to eat at that point.
The charity, which runs over 420 foodbanks, said it had no conversations with the DWP or Duncan Smith about the announcement and has no plans to roll out this idea. It later transpired following clarification in parliament from the DWP that the advisers were visiting a job club rather than a foodbank session.

"So just saying it is to do with benefits is quite wrong.
"What I do say is there are lots of other reasons lots of people go to food banks."
David McAuley, Chief Executive of The Trussell Trust said the new figures showed "the numbers of people hitting a crisis where they cannot afford to buy food are still far too high."
"One million three day food supplies given out by our foodbanks every year is one million too many. This must not become the new normal.
"Reducing UK hunger will require a collective effort from the voluntary sector, Government, DWP, businesses and the public, and The Trussell Trust is keen to work with all these groups to find solutions that stop so many people needing foodbanks in future."