Milk, yoghurt, cheese, buttery spreads: everyday fridge essentials we don't pay too much attention to. In the midweek supermarket dash, pausing to reflect on what we pick up isn't exactly on the top of our agendas.
Which is why, here at HuffPost, we challenged six of the country's tastiest food bloggers to take up a two-week #LactofreeChallenge, with Arla Lactofree. Natural and fruity yoghurts, hard and soft cheeses, milks and buttery spread that are real dairy – but minus the milk sugar lactose – have been sipped and stirred so that the bloggers can pass on how they found the range. With all of the nutritional benefits of traditional dairy, the team knew they were still dosing up on a shot of wellness, even though they were trying something new.
As to why the lactose has been removed from the products? It triggers digestive discomfort in people who are lactose intolerant, which up to 15 per cent of UK citizens are thought to be.* Among those are many people who are unaware that lactose is the cause of their woes – making this a pretty pertinent issue.
But does all of this affect the taste or usability of the dairy deliciousness? Spoiler alert: nope. From the bloggers themselves, here's the inside track on how they got on.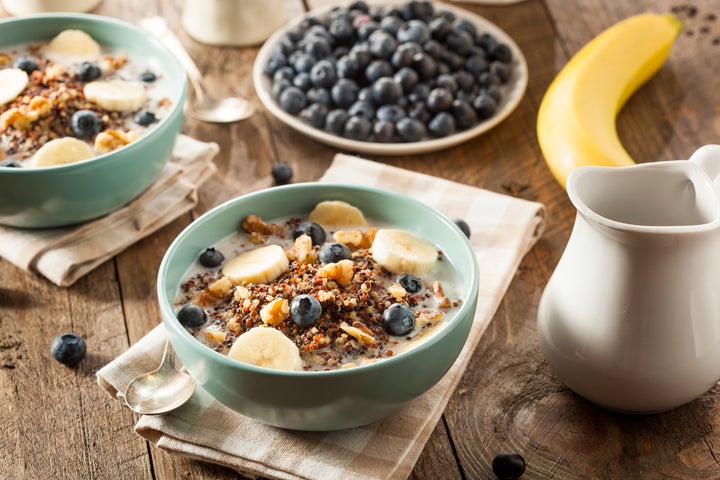 "While I knew that Arla Lactofree existed, I had no idea that the range is so big. Over the past two weeks, my family and I have been enjoying the milk (I'm a coffee addict, so have been drinking a lot in my daily cups), the little yoghurts as a snack (the strawberry ones were especially nice, as they truly tasted of fruit, not of anything artificial), the plain yoghurt with fajitas, the spread and soft white cheese on the kids' morning bagels and the grated cheese on top of some nachos. The whole family have loved it all, so we're really pleased.
I've also felt slightly less bloated, which can often happen when I feel stressed, so that might be something to do with the milk switch. Plus, my neighbour's son is lactose intolerant, so I've recommended the products to them and she's really pleased with the range."
"Having never tried Arla Lactofree, I wasn't sure what to expect. But the first time I tried the milk in my tea, I realised there was no discernable difference in the taste at all. I've tried the strawberry yogurt with banana for breakfast and it was so lush and unctuous and creamy. We've had the cheddar in a cauliflower cheese and sandwiches and the cream over puddings. I'm also going to try the soft white cheese in a bread recipe today. I've been giving all my guests the products when they've come round and they haven't noticed any difference in taste.
One interesting thing that we've noticed is that after having a couple of cups of tea in the morning, my husband and I no longer have a slightly 'iffy' feeling that we always used to get. We thought it was because of the tannins in the tea or perhaps the caffeine, which I'm sensitive to, but maybe it was the lactose all along."
"I'd seen Arla Lactofree in the shops but never tried it, so I was intrigued by the #LactofreeChallenge. And I was surprised – normally, when a product has something taken out, it affects the taste. But the products were a match to standard dairy, even though the lactose has been removed. My whole family has really been enjoying everything.
"For me, it's all about the milk in my morning smoothie and on my breakfast granola, in cups of tea, plus the natural yoghurt with berries and a drizzle of honey for a healthy dessert in the evening. My son is two and teaching him healthy habits is a big priority for me, so he's been having sweet potatoes topped with the grated cheddar cheese, which he loves.
Cooking-wise, we've tried a wholewheat pasta dish with the soft white cheese, smoked salmon, mushrooms, spinach and cracked black pepper, which was rich and delicious. I don't have a problem with lactose, but I'm really impressed by how the range slots into everyday life for people who are lactose intolerant or who think they might be – I'd definitely recommend the products."
The Arla Lactofree® range includes; skimmed, semi-skimmed, whole and chocolate dairy drink, mild and mature cheddar, soft white cheese, natural and fruit yogurts, long-life semi-skimmed portion packs, cream and spreadable. For more information about lactose intolerance and Arla Lactofree® please visit lactofree.co.uk.
*Am J Clin Nutr February 2001 vol. 73 no. 2 421s-429s