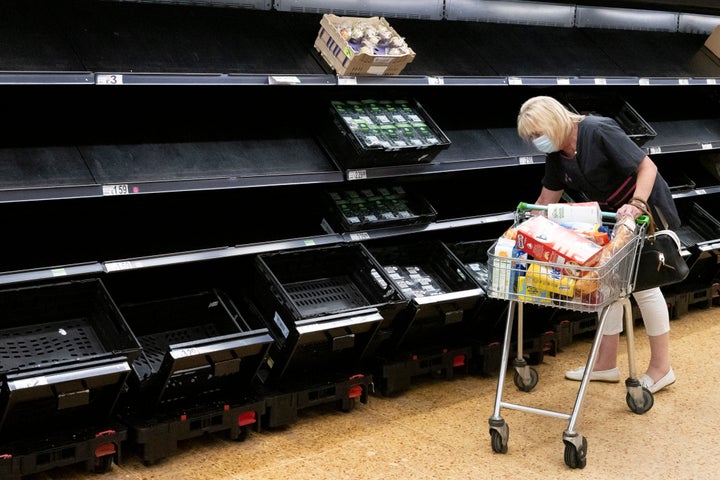 Fears that Britain is on the cusp of a food shortage have alarmed some people recently.
For every tweet claiming supermarket shelves are empty, there's another claiming there are no shortages. And, somehow, it has descended into yet another row about Brexit, leaving everyone confused.
Supermarket bosses are uneasy
Supermarkets have expressed some concerns about accessing food supplies in recent weeks, primarily due to Covid and a shortage of drivers.
On Wednesday, chief executive of the Co-operative Group Steve Murrells told The Times: "The shortages are at a worse level than at any time I have seen."
He said the problem stemmed from "Brexit and issues caused by Covid".
Earlier this summer, a Sainsbury's spokeswoman said: "We are working hard to ensure customers can find what they need.
"While we might not always have the exact product a customer is looking for in every store, large quantities of products are being delivered to stores daily and our colleagues are focused on getting them onto the shelves as quickly as they can."
Tesco claimed it had access to plenty food and that deliveries were continuing across the UK.
But in June the supermarket chain noted vacancies meant there was now 48 tonnes of waste each week, and that the greatest impact was on fresh food with a short shelf life.
M&S said its Covid cases among staff were doubling every week, and Iceland admitted it was also experiencing a similar problem.
Restaurant chain McDonald's confirmed on Tuesday it was experiencing a shortage of lorry drivers, meaning it had run out of milkshake and some bottled drinks. These supply chain problems meant the items had to be pulled from its menu.
Nando's confirmed it was experiencing a chicken shortage this month, too.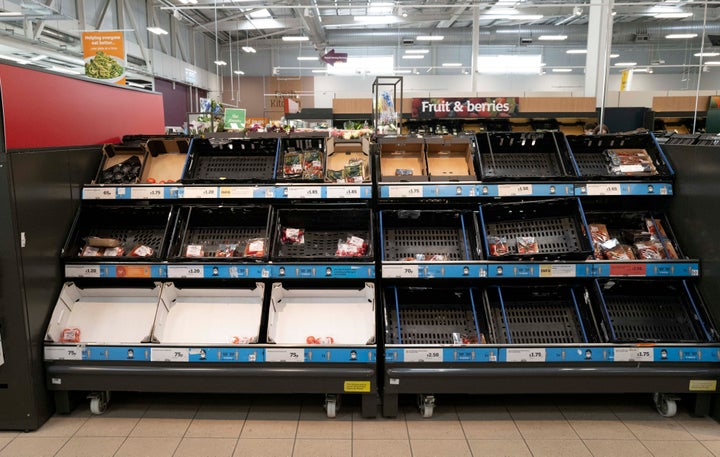 Why has #foodshortages taken off now?
The hashtag #foodshortages seemed to trend following news the Army has been put on standby to deliver supermarket supplies, as the UK is struggling with a huge shortage of truck drivers.
This does not mean there is not enough food in the UK, but that there are difficulties with getting food to the right destination.
A source told The Sun on Sunday that approximately 2,000 Army personnel who are qualified HGV drivers are on a five-day notice to help, as the government is expected to make a formal plea for "imminent" help by the end of September.
No.10 is reportedly expected to deploy the Army to help with food distribution, just weeks after the warning from supermarkets that it might suffer with shortages in the months to come.
The source said: "Soldiers will be put up in hotels where necessary and will be working extended hours to assist with the crisis."
This is called Operation Rescript and is part of the military's ongoing efforts to help mitigate the effects of the pandemic.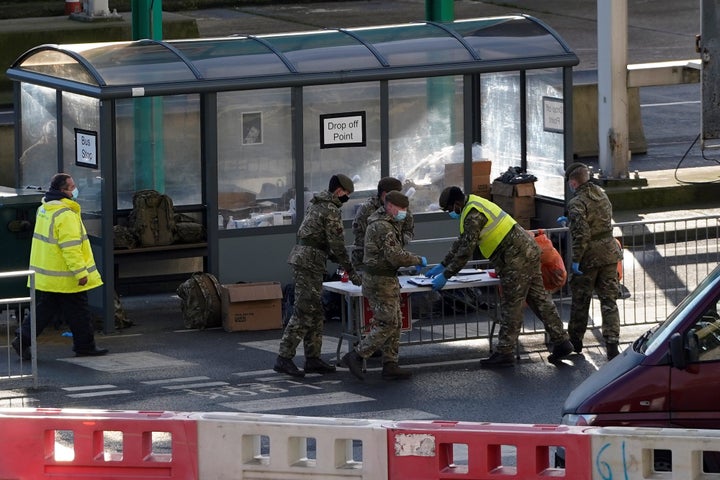 Why is there a shortage of drivers?
The coronavirus lockdown created a huge backlog of lorry drivers who have been waiting to take their HGV tests.
The Road Haulage Association (RHA) said this has subsequently created a shortage of 100,000 drivers.
RHA managing director of policy and public affairs Rod McKenzie noted that this shortage poses a "very serious threat" to the supply chain.
The situation has been worsened by the so-called Test and Trace 'pingdemic', which has forced drivers to abstain from working after being in contact with a positive Covid case.
Transport secretary Grant Schapps tried to tackle the issue recently and temporarily increased the maximum amount of time a lorry driver can spend on the road from nine to 10 hours.
Critics were quick to label the change as "stupid and dangerous".
McKenzie added that the Army drivers will not be used to driving civilian vehicles either, dubbing it another "short-term fix" from the government.
However, James Bielby, head of the Federation of Wholesale Distribution, appealed for help from Army trucks back in July.
He said: "The situation has reached crisis point and it is likely to get worse as more hospitality venues open and demand increases.
"The government needs to act very quickly."
So, is it to do with Brexit?
Many believe Covid has just exacerbated supply chains already overstretched by Brexit.
McKenzie told CNN: "If the 'pingdemic' hadn't happened we'd still be in trouble."
On Sunday, Lord Andrew Adonis, chief of the European Movement UK, took umbrage with the government spokesperson who said, "We have to be prepared to respond to unexpected events" in reference to responding to Covid and potential future lockdowns.
In response, Adonis tweeted: "Never has a catastrophe been more 'expected' than with Brexit."
The Remainer's tweet received more than 15,000 likes, as others joined him in putting the blame on Brexit.
Industry heads also sent a joint letter to the prime minister asking for an urgent intervention which would allow eastern European drivers back into the country on special visas back in June.
They warned that worker shortages in warehouses and food processing centres was going to affect supermarket shelves.
The RHA's chief, Richard Burnett, said at the time: "We are weeks away from gaps on the shelves, it is as serious as that."
He also pointed out another Brexit-related issue, explaining: "We need to get a pool of labour quickly because we cannot train them quickly enough and we need to plug this gap.
"We don't know if it's because Europeans who would traditionally be in these roles have left because of Brexit or because of Covid"
"We'll have British HGV drivers on summer holiday soon, which means no backfill at all."
Burnett continued: "We don't know if it's because Europeans who would traditionally be in these roles have left because of Brexit or because of Covid and aren't able to come back yet because of the pandemic, but it is a very real problem."
He then warned food supplies from outside the UK could be affected too, explaining: "If you overlay the end of the grace period for checks on food products and the Europeans are not yet ready to do paperwork, we could be facing a really significant problems here in terms of food supply chain.
Brexit checks were introduced from January 1, although they are being phased in throughout the year in some lorry parks.
Brexit did cause a shortage of food to Northern Ireland just days after the end of the transition period in January, as suppliers struggled to get to grips with the new systems in place.
The UK is also reliant on its European neighbours for its vegetables, getting approximately 31 percent of its national supplies from Spain in 2019 according to Defra, and 26 percent from the Netherlands.
What's the government's plan?
The government has not yet confirmed it will use the Army, but reports claim ministers are examining every option to keep Britain supplied.
If No.10 does use 2,000 military HGV drivers to help out with distribution, that will not go far enough to fill the shortage of 100,000 workers, even if they do all work one more extra hour on the road as the transport secretary planned.
Prime minister Boris Johnson tried to soothe fears last month, and said: "We're obviously aware of the impact that is being felt by some industries and we are obviously working closely with them, specifically on supermarket shelves and food."
He added: "We have a robust and resilient food supply chain in the UK."
Business secretary Kwasi Kwarteng told Sky News that the government was "very concerned" about the unfolding situation and promised they would introduce a list of workers who were exempt from isolation.
The government announced in June that more than 10,000 workers in the food industry would not have to isolate if pinged, including those in supermarket depots and manufacturing sites – supermarkets themselves were not included.
A Department for Transport spokesperson also said in June that the new points-based immigration "makes clear employers should focus on investing in our domestic workforce, especially those needing to find new employment, rather than relying on labour from abroad".