But not all prospective parents are able to access IVF for free on the NHS.
New data released by the organisation Fertility Fairness suggests women across England are being denied NHS IVF treatment depending on where they live.
Almost half (48 per cent) of clinical commissioning groups (CCGs) do not offer NHS IVF to women aged 40-42, according to the report, despite this going against guidelines set out by the National Institute for Health and Care Excellence (NICE).
What's more, 10 per cent of CCGs refuse access to IVF on the NHS if women are over 35. Some NHS clinics are also excluding couples based on the age and BMI of the male partner, the report suggests, which also goes against NICE recommendations.
But if you're denied NHS IVF, paying for the treatment comes with a hefty price tag of between £3000 and £5000 per cycle, according to the Human Embryo and Fertilisation Authority. So, who is eligible for free treatment?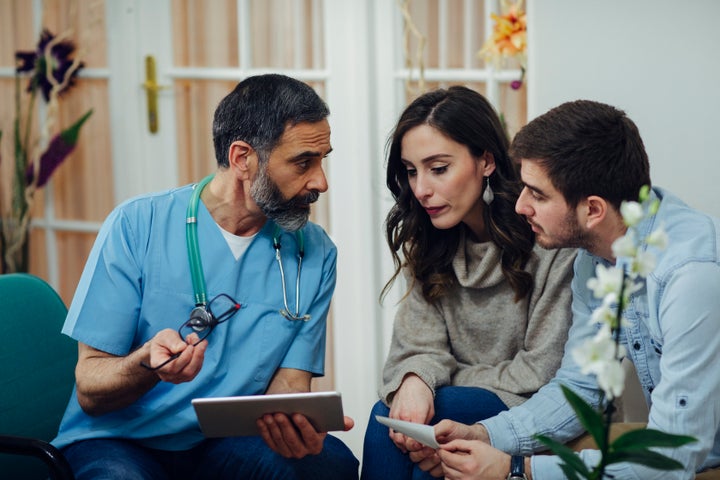 Nice guidelines recommend IVF is offered on the NHS to women under the age of 40 who have not conceived after two years of regular unprotected sex, or who have had 12 cycles of artificial insemination. These women should be offered three full cycles of IVF, it says.
If the woman reaches the age of 40 during treatment, the advice is that she should complete the current full cycle, but not to offer further full cycles.
However, IVF is also recommended on the NHS for women aged 40–42 years who have not conceived after two years of regular unprotected sex, or 12 cycles of artificial insemination. These women should be offered one full cycle of IVF, it says, providing the following three criteria are fulfilled:
They have never previously had IVF treatment

There is no evidence of low ovarian reserve

There has been a discussion of the additional implications of IVF and pregnancy at this age.
Crucial to note here is that the NICE advice is simply a set of guidelines – these recommendations do not legally have to be followed by the NHS. The provision of NHS infertility treatment is decided by local CCGs, which is where some of the access problems arise.
According to the Fertility Fairness data, access can vary greatly across England and the report includes a ranking of CCGs across the country so patients can see how their area compares to others.
The top four areas for access are all in Greater Manchester: Bury, Heywood, Middleton and Rochdale, Tameside and Glossop, and Oldham – the birth place of IVF 40 years ago.
Meanwhile, the worst areas do not offer any IVF on the NHS: Herts Valleys, Cambridgeshire and Peterborough, Croydon, South Norfolk, Basildon & Brentwood, Mid-Essex and North East Essex.
Aileen Feeney, chief executive of Fertility Fairness, told HuffPost UK couples turned away from NHS clinics have very few options.
"Unfortunately there are not many options open to patients who live in a CCG area that rations treatment unfairly. There is an individual funding request process available that people can follow," she said.
"We have been contacted by many people impacted who find they have had to move to another area where the CCG has more generous provision or go abroad for treatment – this is evidently not fair. We would also recommend people write to their MPs to highlight this unfair situation."
Sarah Norcross, co-chair of the organisation, also called for an end to postcode lotteries for NHS IVF.
"The scale of disinvestment in NHS fertility services is at its worst since NICE introduced national fertility guidelines in 2004," she said. "Fertility Fairness is calling for full implementation of the NICE guidelines, standardisation of eligibility criteria across England and the development of a national tariff in England for tertiary fertility services – eliminating regional cost variants and removing a key barrier to CCGs' compliance with national guidelines."
Commenting on the figures, a Department of Health and Social Care spokesperson said: "All decisions on IVF treatment should be made by doctors based on a patient's individual clinical needs and in line with NICE guidelines. While provision of NHS infertility treatment is decided by local Clinical Commissioning Groups, we are clear that blanket restrictions on treatment are unacceptable."