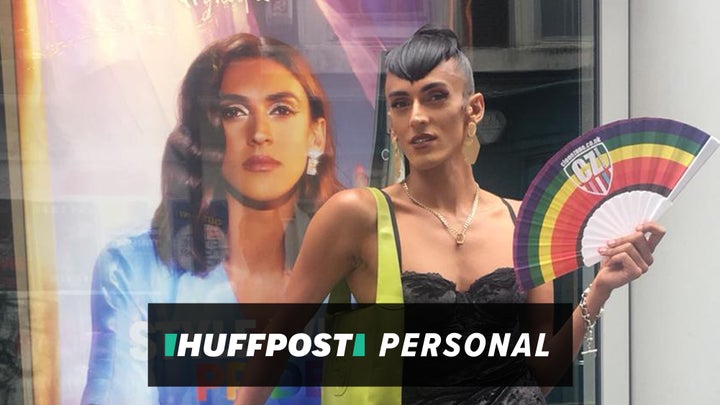 Hey, I'm Shea Khan. Or Omar, depending on which day you catch me.
I was born and bred in Leeds as Omar, in a Pakistani, Irish and English family. Growing up, I knew I was gay but always felt something different – and so did everyone around me.
From the age of 11 until 16 I had the all too typical negative reaction from all my peers. I was verbally and physically assaulted all through school – all because who I truly was inside such a strong feeling I couldn't mask it.
The abuse sadly carried on throughout my adult life. I remember the last time I was physically assaulted was the night after the Grenfell fire – after donating a suitcase of clothes, I was held at knifepoint in west London. Even so, I've never stopped being me. Blending in or being invisible sometimes sounds like a dream but I always come back to asking this: why can't I be visible, and just be left alone?
I've never quite felt fully a man or a woman, and I've always been interested to know more about myself. It was only a few years ago when a friend simply said "Omar, you're genderfluid" that I finally had the vocabulary to understand myself a little more.
And now, the transformation I feel when I go from Omar (using he/him pronouns) to Shea Khan (her/she) is a feeling of true happiness, a feeling of freedom, armed with a new look and packaged under the perfect new, name of Shea Khan. I feel beautiful and I feel empowered.
"Sometimes I wake up feeling like Omar, who's male, and sometimes I look in the mirror and I cannot see anything but a beautiful woman"
I see my gender as a spectrum. Sometimes I wake up feeling like Omar, who's male, and sometimes I look in the mirror and I cannot see anything but a beautiful woman. How lucky are my friends? They truly get a two-for-one (although Shea is the one they always request when it comes to partying).
In living as an outwardly genderfluid person, I've faced all sorts of reactions. Although I'm lucky most people have been understanding, others can be ignorant, right down to telling me I must surely be suffering with some mental illness and should seek professional help.
When I'm Shea Khan, I'm usually in a safe queer space or somewhere surrounded by open and like-minded people. It's usually when I leave those places that I come across those negative people. Just this month, on the way home from London Pride, I was sexually harassed at Tottenham Court Road station. I've noticed that when I'm representing myself as female, cis men see me as a fetish, a sexual object. As someone who has always played around with gender it's no longer surprising, but it's eye-opening to friends beside me.
What seems to confuse people the most is how the way I can mix masculinity and femininity together, often at the same time. That usually results in photos been taken of me, especially on public transport. And it's never subtle too; I will admit to having even grabbed a few phones out of frustration. But again, why am I the one who should be made to feel embarrassed about myself?
In fact, public transport in general can be a struggle. The stares, whispers and comments can be overwhelming, to the extent I never leave the house without earphones – when I do it's cause for anxiety, and I will sit counting down the stops until I reach my destination.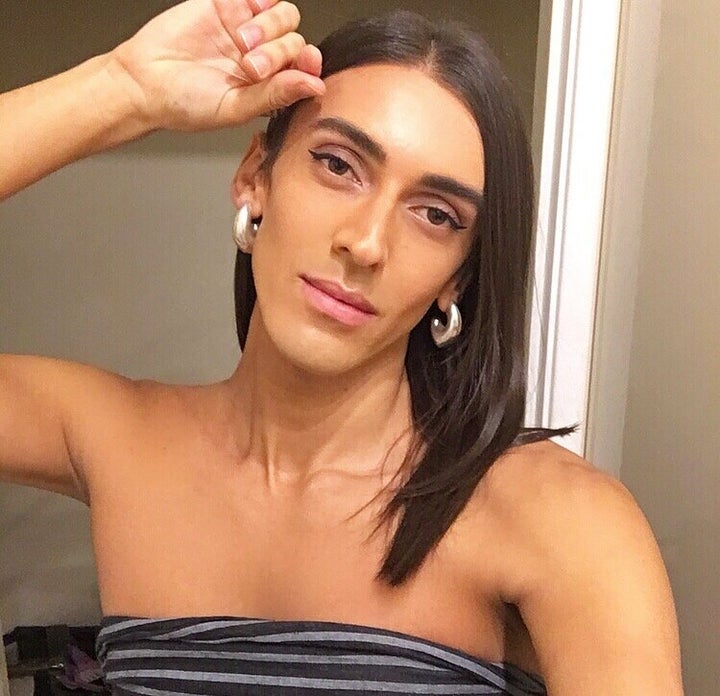 On the flip side, I have had countless strangers compliment me on my aesthetic, or for inspiring them, or just being brave. Although I have and will always live my life for myself, it fills my heart when someone is touched by the freedom with which I live.
As Omar I work as a model scout and by night. I become Shea and host queer club nights in London such as Jungle Kitty and Love Games. More recently, I work to increase awareness and protection of sexual health for the BAME LGBTQ community through incredible charities dedicated to delivering culturally specific, sexual health services to those of us historically left behind.
After years of torment and isolation, 2019 has come around, slapped me in the face and turning out to be the biggest year of my life as Shea.
Ironically for a model scout, I was given the opportunity to appear in campaigns myself. When I embraced that opportunity, all the negative comments and violence I've lived through melted away. Seeing myself on a national TV commercials or in hair campaigns have truly left me feeling beautiful from the inside out. More importantly, it's left me feeling validated in living as my true authentic self.
"I hope that by telling my story I can encourage others to continue the fight in equality and people to discover their gender identity"
I hope that by telling my story I can encourage others to continue the fight in equality and people to discover their gender identity. After these years I'm still on a self-discovering journey, but day by day, what it means to be genderfluid really does get clearer and clearer.
Thankfully, the LGBTQ community has made it so our voice can no longer be ignored. Social media platforms like Instagram have allowed me to connect with people that are sharing similar journeys; we talk, we connect and we discuss the issues we face.
I have spent the last decade discovering my gender identity, running down the yellow brick road from Leeds to London, but this Pride Month changed me forever. I've just got back from New York Pride, where I got to see myself sparkling, on a huge, electronic, billboard campaign in Times Square. And just this month, I got to lead London Pride, marching with #LwiththeT behind Sadiq Khan.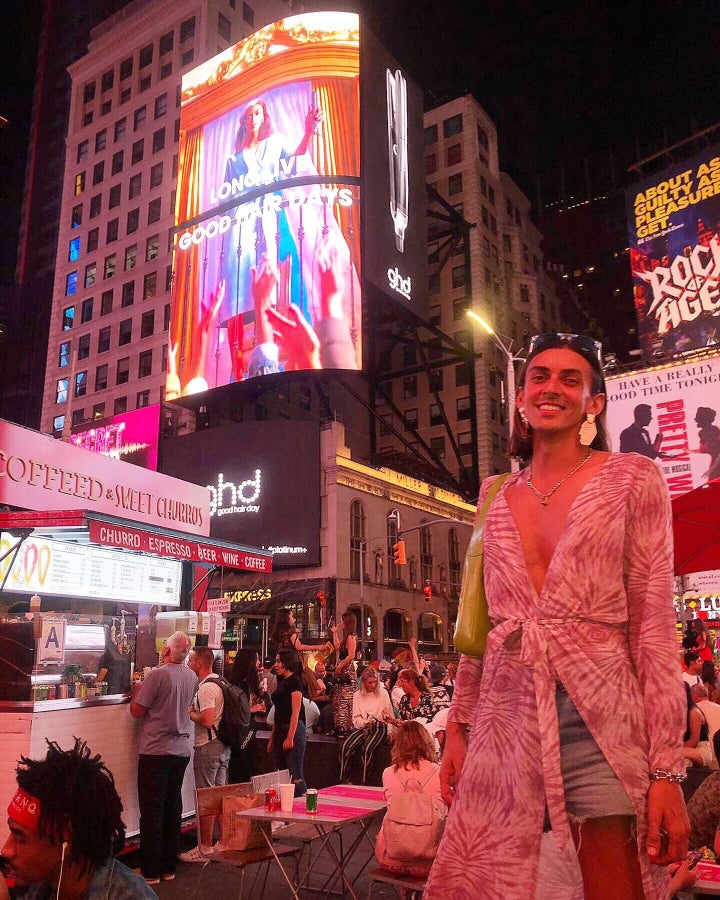 Supporting our trans siblings was an uplifting enough day, but heading into Soho and spotting myself in the GHD store window in the heart of Pride celebrations was a reminder of how far I've come. Ten years ago, I was so lost in my gender identity as a northern 'Gaysian' but now, with the support of so many incredible people around me, I feel like the most beautiful woman in the world – after Linda Evangelista, of course.
It's a truly indescribable feeling that I only wish I could go back and share with 15-year-old me, a Northern boy that got bullied for being different in every way. I'd tell him that dreams do come true and that all the things you're not comfortable with now will be the same things you eventually harness and that give you your sparkle later in life.
And if seeing me plastered 30ft high in Times Square neon inspires just one little kid (or indeed grown adult) to live a little bit more as their authentic self, then I will have done my job.
Shea Khan is a genderfluid model and performer