This has been called the election where young people turned out to deliver a shock result.
The shock result has been attributed to a surge in turnout among the young, which denied the Tories their expected landslide result, humiliating Theresa May with a hung parliament.
The view was encouraged by Labour's manifesto policies aimed at the young, such as free university tuition.
As the shock result came in, it became conventional wisdom, with celebrities like Lily Allen tweeting "respect your youngers" in celebration and journalists writing the result was "driven by a high youth turnout".
The turnout has not yet been broken down by age but overall it was up to 68.7%, two points higher than 2015.
But early analyses of the vote suggest that, while more young people likely voted this time compared with 2015, neither this election's result nor higher turnout was down to them.
Other factors played a role while other age groups also voted in ways pundits did not expect when they forecast a Tory landlside.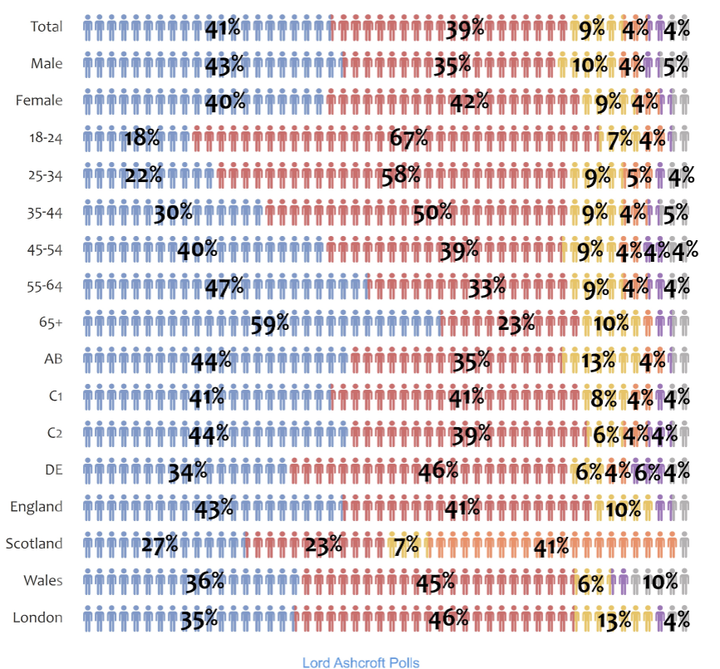 Lord Ashcroft's final poll, which interviewed 14,000 people from Wednesday to Friday last week, found people aged 35 to 44 swung to Labour - 50% voted for them while just 30% voted for the Tories.
This is compared to 36% of them voting Labour and 26% backing the Tories just two years ago.
Sky News' political editor Faisal Islam said this "should terrify" the Conservatives, who have always sought to position themselves as the most credible on the economy to homeowners and parents.
Pollsters YouGov estimated that the 30-44 age bracket saw the biggest swing from Tories to Labour, with 30% of them defecting.
Bristol University academic Paula Surridge found that diversity, not young people, was more important in driving higher turnout in constituencies.
She investigated whether there was a correlation between the number of young people in an area and turnout. She found a "very weak" correlation between the number of 18 to 24 year olds and turnout. She also saw a slightly stronger correlation between turnout and the number of 18 to 29 year olds.
But when age was measured against an area's diversity, the correlation between age and turnout disappeared.
Ethnically diverse areas tend to have younger populations but diversity was the more important factor in driving turnout, Surridge concluded.
"My reading of that is it's more about the diversity of the area than about young people per se," she told HuffPost Uk.
She said this did not mean ethnic minorities had delivered the election result, as many diverse seats were already held by Labour.
"There's no evidence that places with lots of young people saw big rises in turnout. That's not to say that young people didn't turn out," she told HuffPost UK.
"Youth turnout will be higher (than 2015) but then it looks like turnout in the 30 to 45 age group will be higher as well. So it isn't about these hyper-engaged very young voters."
Related