Young people have been warned not to get distracted by Glastonbury and forget to vote in the European Union referendum.
Lord Kinnock, a former leader of the Labour Party, said on Thursday the government should use social media to remind people to register to vote in the June 23 poll.
"Polling day coincides with the Glastonbury festival, which through broadcasting, could rather preoccupy the attention of millions of young people whose votes are not only vital to their future but to the future of our country," he said.
He added: "It would be an awful pity if instead of voting they were rocking."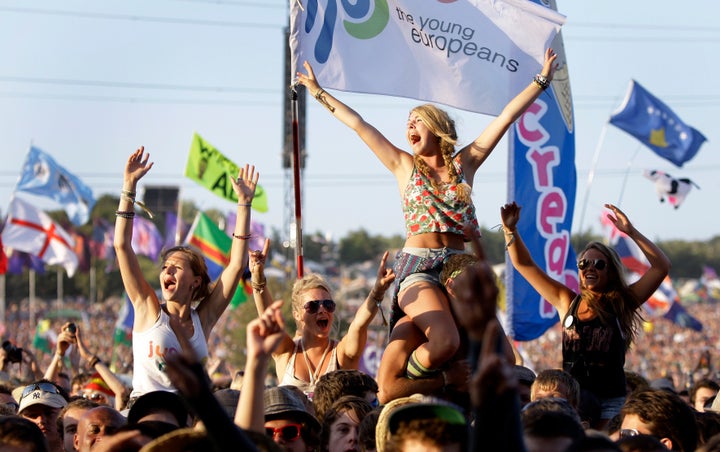 Replying to Lord Kinnock on behalf of the government, Baroness Chisholm of Owlpen said £7.5m had been allocated to encourage people to register to vote.
And she joked Kinnock should take a group of peers to the festival to "appear on stage and sing 'no satisfaction unless there's registration'".
Glastonbury organisers have also urged young people to cast their ballot before the big event.
The 135,000 revellers attending this year's could find themselves unable to vote on Referendum Day.
As there will be no polling stations inside the site, Glastonbury organisers have urged people to register to vote, request a postal ballot or apply for someone back home to vote on their behalf instead.
All those finding out this week that they have successfully secured tickets to the popular festival are "strongly encouraged" to ensure they still have a say on the UK's membership of the EU.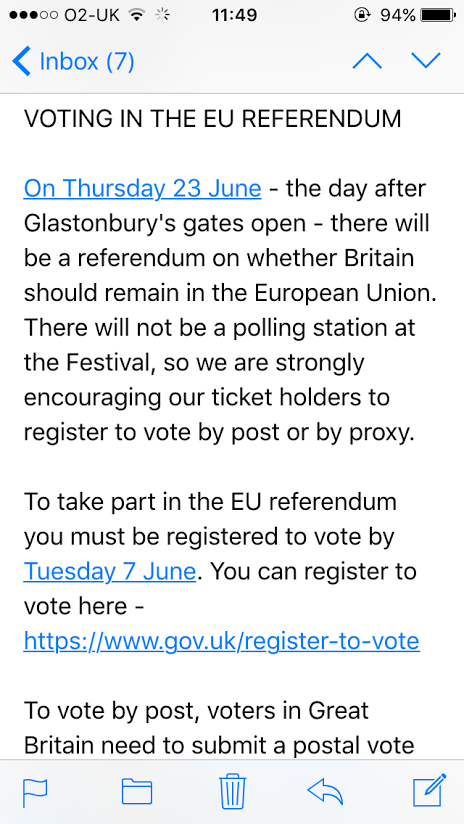 Organisers have written in confirmation e-mails to festival-goers.
"On Thursday 23 June - the day after Glastonbury's gates open - there will be a referendum on whether Britain should remain in the European Union. There will not be a polling station at the Festival, so we are strongly encouraging our ticket holders to register to vote by post or by proxy.

To take part in the EU referendum you must be registered to vote by Tuesday 7 June. You can register to vote here.

To vote by post, voters in Great Britain need to submit a postal vote application by 5pm, Wed 8 June 2016, while voters in Northern Ireland need to submit a postal vote application by 5pm, Friday 3 June 2016. You can download the form here.

The deadline for applications to vote by proxy in Great Britain is 5pm, Wednesday 15 June. The deadline for applications to vote by proxy in Northern Ireland is 5pm, Friday 3 June 2016. You can download the formhere."