With 21 years of experience between them, beautician Rachel De Caux and hairdresser Paula Short were running a successful salon in Lincoln. But it was their spur-of-the-moment product invention, Glitter Lips, that led to a booming cosmetics brand now stocked in Topshop and Superdrug.
The Huffington Post UK caught up with the pair - who appeared on Sunday night's episode - to discover the story behind their success, and why the Dragons' rejection was "the best thing that could have happened" to their business.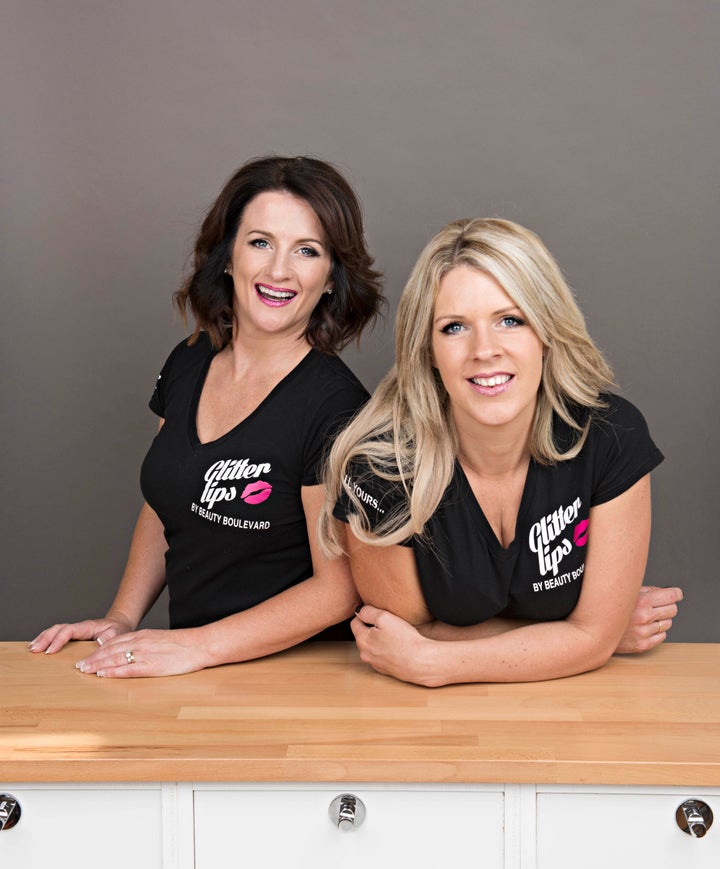 What made you decide to go on 'Dragons' Den'?
Rachel: We didn't actually apply, they rang us to see if we were interested in taking part and we thought: "Let's go for it".
Paula: When they first called, I originally thought Rachel was just winding me up and had got one of our friends to ring us!
How did you find the filming experience?
Paula: The build-up was petrifying, it was like going in front of a firing squad.
But once we were in there, I found it amusing. It was surreal – two women who hadn't planned on this, standing in front of five people who have the ability to annihilate you on national television.
Rachel: Everyone thinks you must know the outcome or that you get to meet the Dragons before, but it's genuinely just like you see on TV.
Those doors open, the camera's rolling, you walk in and they're just sat there staring at you.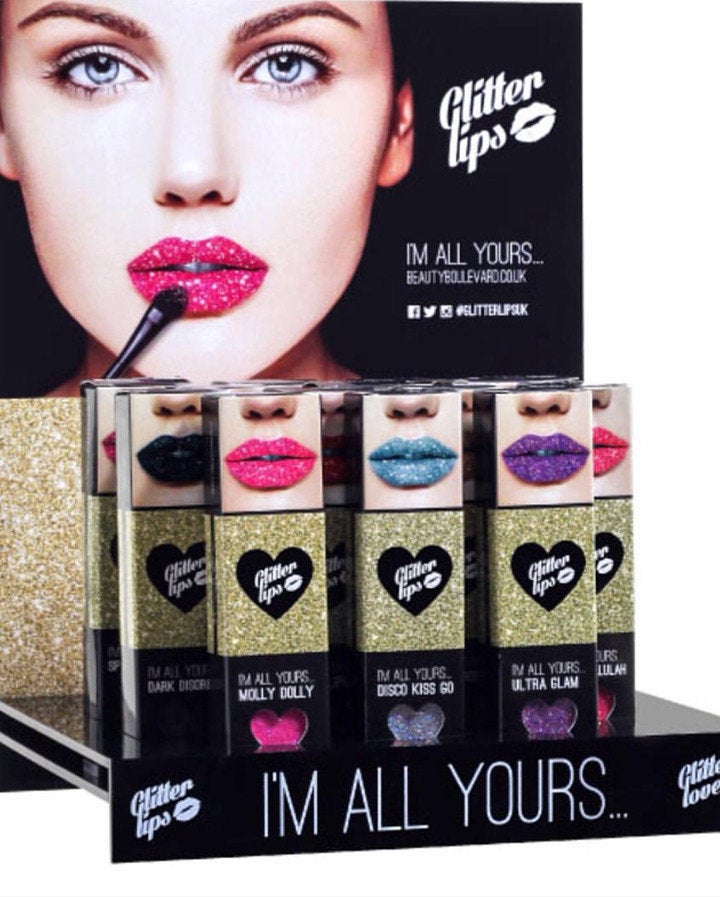 How did you feel when you didn't get investment?
Rachel: We were obviously disappointed, but we think it's the best thing that could have happened to us.
We've seen other people who haven't been successful in the Den, but have been in other ways. [The Dragons famously rejected the Tangle Teezer nine years ago. It's now worth £200m.]
In a way, we feel like we've dodged a bullet. The business is still ours and we've gone from strength to strength since we left - getting huge orders, selling out of our best-selling shade – we're glad we haven't got to share that with anyone else.
We are still flying without the Dragons.
Where did the inspiration for Glitter Lips come from?
Rachel: It all started with a conversation over a couple of glasses of wine - we were talking about makeup trends and models on the catwalk with glittery lips.
They created that effect by applying lipstick, then pressing loose glitter on top. It's a beautiful look but in real life the glitter would go everywhere!
We thought that surely there must be a way to turn the idea into a product people could use in their everyday lives - then we just went for it and tested out formulas.
How did you go first go about selling your creation?
Paula: We used to wear it on the shop floor and people were always asking what it was, but initially we didn't tell anyone it was ours so if it failed we wouldn't look like fools!
Before the first batch arrived in the salon we had a waiting list, and in the first month they sold on average of one an hour.
That was without any Facebook ads or posters, we didn't really understand what marketing was at that point. People were wearing it on nights out and so it kind of created its own buzz through word-of-mouth.
Rachel: We initially thought it would just be a way to get more customers into the salon, but when we realised the sales possibilities we thought: "We need to work with this".
Why do you think Glitter Lips has been so popular?
Paula: I don't think there's anything quite like ours on the market. You can get glitter and lipstick, but not the combination of the two.
One application can last up to eight hours - it's drink proof, kiss proof, party proof. It doesn't move on a night out.
Rachel: Glitter is massive on Instagram and Pinterest. People look at the makeup looks and think: "I want that", but it isn't readily available. We want to be the people who can bring it to them.
I don't know if we're all magpies at heart but people are fascinated by glitter. It's just a bit of fun - letting go, throwing off your nine-to-five and being someone completely different.
Are festivals a big marketplace for you?
Rachel: Everyone at a festival has glitter on them in some shape or form! We go to places like V Festival and Reading & Leeds to showcase the range and are hoping to team up with Notting Hill Carnival this year.
Paula: Regardless of how demure or quiet or reserved someone is, we always get people at festivals saying: "Just do me a little bit of glitter". Everybody wants it!
What's next for Beauty Boulevard?
Rachel: We're more than just glitter - we have new non-glitter products that are going to blow people away. We just didn't have time to show them on the Den.
Our upcoming collection is called 'Confessions' and includes the 'Trinity', a tri-colour moisture lip tint, and the 'Divine Hydrogel Lip Mask', which plumps and moisturises your lips.
One of the comments about Glitter Lips from the Dragons was: "You've checked every box, short of getting this on Amanda Holden", so we've now made it our life's work to get her wearing it.
Amanda Holden if you're reading this, we're coming for you!
Paula: We've also teamed up with breast cancer charity CoppaFeel!. We do makeovers at their events and donate £2 for every Stardust glitter sold in the shade 'Babylon Zoo'.
It's kind of a play on checking your boobs/checking your 'babylons', which makes people laugh but also gets the message across - to check yourself and make sure you're ok.
What advice would you give to people starting their own beauty business?
Paula: Don't look at money. We're doing this because we love it. If you work at what you love, you don't really work a day in your life.
We're adoring the journey that we're on. We didn't set out to become a big brand or turn over a quarter of a million, we just want to enjoy work, bring some fun and interact with our customers.
Rachel: If you're passionate about your products and truly believe in them, keep pushing them out there.
Grab any opportunity that comes your way and don't take no for an answer - keep pushing until they say yes, or go somewhere else who will.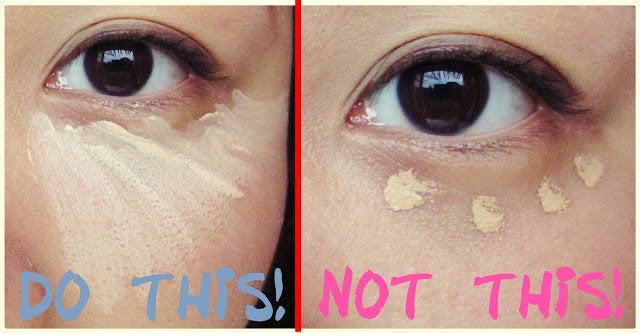 Life-Changing Beauty Hacks
Popular in the Community