The Royal Free NHS Trust has signed a five year deal with Google to process 1.6 million patients' data in a radical attempt to save lives.
The tech giant's British artificial intelligence wing DeepMind will analyse data via a mobile app, Stream, which sends alerts about patients in need of urgent care.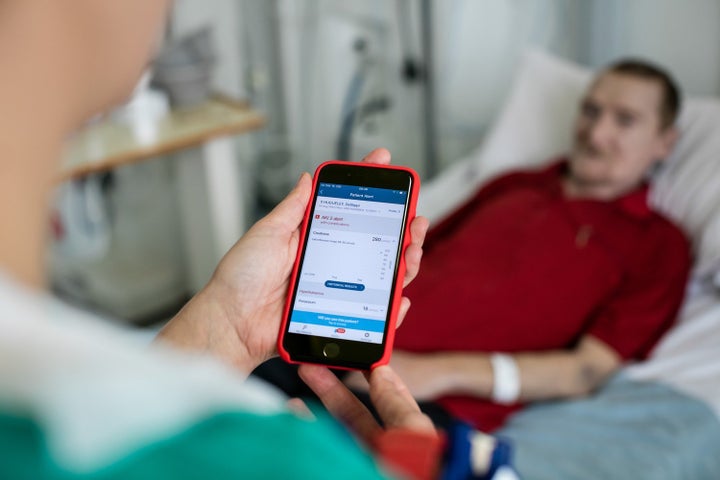 What is DeepMind?

DeepMind is a secretive artificial intelligence firm founded by Demis Hassabis (CEO), Shane Legg and Mustafa Suleyman in 2010. Hassabis, a former chess prodigy with a double first in computer science from Cambridge, met Legg at UCL's Gatsby Computational Neuroscience Unit as a Phd student.

The firm was acquired by Google for a reported £400m in 2014. It's best known for developing an AI which beat a grandmaster of Go, the world's most difficult board game, in March this year. DeepMind machine learning is gradually being integrated into Google's core business operations. Over summer, the tech giant announced that DeepMind AI had reduced energy consumption in data centres by up to 40 per cent.

It has ambitions to revolutionise healthcare. In addition to the deal with the Royal Free Hospital Trust, DeepMind has partnered with Moorfields Eye Hospital to explore how artificial intelligence could spot early signs of common eye conditions.
Doctors at Royal Free say the technology could save thousands of lives and free up more than half a million hours every year currently dedicated to paperwork.
Mustafa Suleyman, head of DeepMind health and the company's co-founder, told the Financial Times: "10,000 people a year are dying from acute kidney injury, these are entirely preventable deaths."
"We can trigger an alert that allows nurses or doctors to take preventative action, like giving intravenous antibiotics when your kidneys are dehydrated, to prevent escalation to the ICU."
Streams will be rolled out from early next year, and will alert clinicians to signs of the early stages of acute kidney injury.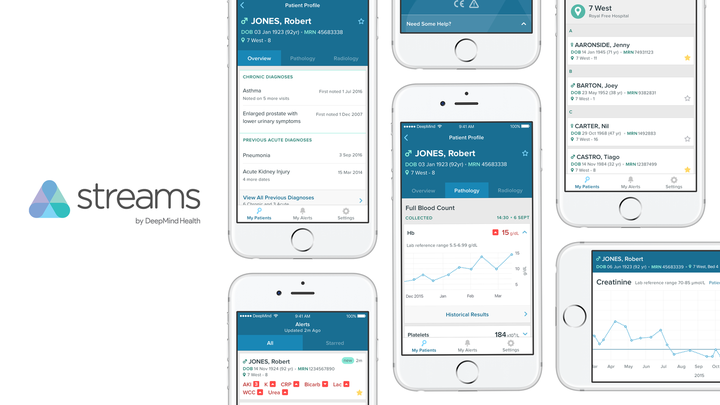 If it proves successful, the scope of the technology, which doesn't use artificial intelligence, could be expanded to cover other life-threatening illnesses.
DeepMind hopes to be reimbursed if the software is proved to lead to better outcomes and currently gets a "modest" service fee, Suleyman said.
The new deal replaces last year's, which was first revealed by the New Scientist in April. The partnership is currently being investigated by the UK Information Commissioner's Office (ICO) to ensure it complies with the Data Protection Act.
While the data is encrypted and won't be shared with Google, DeepMind's parent company, some privacy advocates have raised concerns about the breadth of data the NHS is handing over.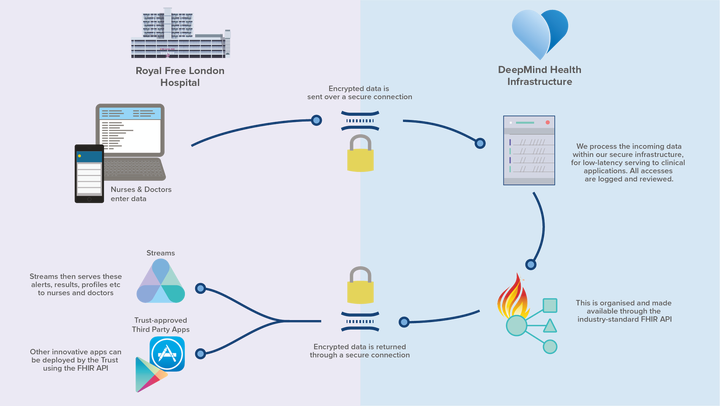 Phil Booth, coordinator of medConfidential, said: "Our concern is that Google gets data on every patient who has attended the hospital in the last five years and they're getting a monthly report of data on every patient who was in the hospital, but may now have left, never to return."
In an interview with Wired published, Suleyman defended the project from critics: "Go ahead and talk to any of the other trusts and look at their agreements, look at any of the other software provider agreements. What we're doing is entirely standard and entirely conventional."
He added that the firm was holding itself to an unprecedented level of oversight.
One of the new safeguards included in the updated partnership is the appointment of nine independent governors.
Their remit is to ensure to the project is transparent and can prove the benefit to patients' health.
Patients who wish to up out of data-sharing systems in the NHS can do so by emailing the data protection of officer of their local trust.