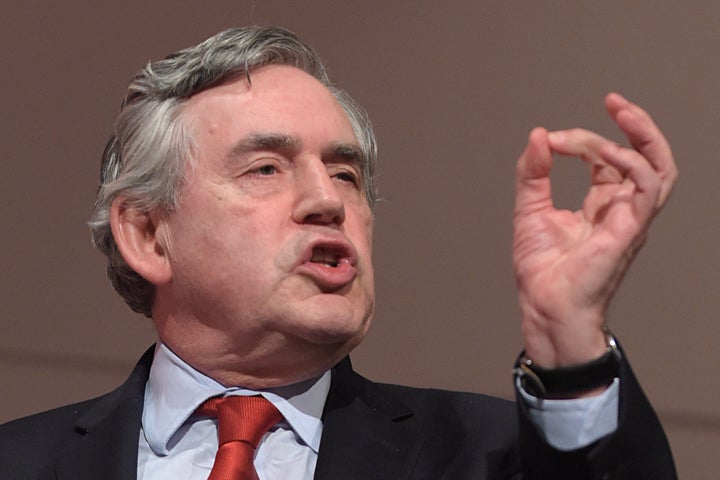 Gordon Brown has criticised the BBC for having an "agenda" to focus on immigration during the EU referendum campaign.
Today the former Labour prime minister will tell Labour supporters they have "most to gain" from British membership of the EU.
His intervention comes amid concern in the 'Remain' campaign that too many Labour voters are tempted by Brexit.
In an combative interview with BBC Radio 4 Today programme presenter John Humphrys, Brown was quizzed about his infamous 2010 run-in with Labour voter Gillian Duffy.
"I expected to have an interview all about immigration, that's the BBC's agenda," Brown said.
Brown said "the heart" of the problem with migration was illegal immigration rather than the legal free movement of people across the EU.
"believe that in Britain we have managed migration, it is not uncontrolled immigration. I also believe that the biggest problem is going to be illegal immigration," he said.
The prime minister also defended Jeremy Corbyn's actions in the referendum campaign. The Labour leader has been criticised by some in the party for not appearing to be enthusiastic enough.
"When all the forces of Labour get together, it's a very powerful voice in the country," he said.
Brown - whose late intervention in the Scottish independence referendum was considered an influential factor by some observers - will set out his "positive" message in a speech this afternoon.
The UK would be "in pole position" to champion change when it takes the rotating presidency of the EU in 2017, he will say.
"From now until 10pm on June 23 we will not rest and I will not stop explaining why nine million Labour voters have most to gain from remaining in the EU," he will say.
"Today I am setting out a positive agenda for Labour voters - reasons why Labour voters should vote Remain and the patriotic case for remaining in Europe.
"But we shouldn't just be a member of the European Union. We must be the leader of the European Union."
But Labour backbencher Gisela Stuart - who chairs Vote Leave - said "no amount of hastily cobbled together relaunches" would win back Labour supporters who have "seen through the spin of the Government".
Some 20 of the party's MPs have signed a letter calling for Labour voices to be given more media airtime amid complaints coverage has centred on Conservative-led "fear" messages.