In as little as five years time the NHS could be short of 70,000 nurses and 7,000 GPs, according to a new report. Co-authored by the Nuffield Trust, the King's Fund and the Health Foundation, the analysis estimates the budget for training staff will need to rise by at least £900 million to tackle the issue. Is it any wonder then that people are turning to privately-run GP apps?
At 8am, my colleague registered with a new NHS doctor. By 10.30am, she was sitting in a meeting room in our office, having a FaceTime appointment with a GP. By 11am, she was back at her desk, prescription in hand.
In an age where one in 10 of us has to wait at least three weeks to see a GP, accessing medical treatment so quickly is practically unheard of. But tech company Babylon has teamed up with a group of London GPs to give patients fast and free access to fully-trained professionals.
Could this be the future of seeing your GP? Here's what you need to know.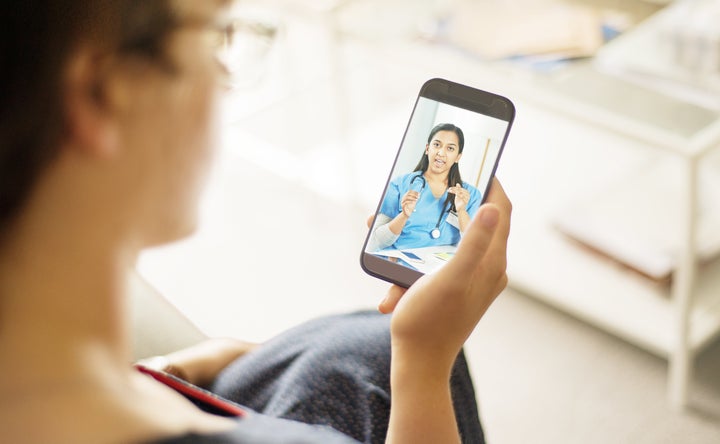 What Is Babylon?
Babylon is a private company that offers online healthcare support for people all over the world. In 2017, the company partnered with a group of London-based NHS GPs to launch 'Babylon GP at Hand' – a digital-first free NHS GP service.
The service provides video consultations via smartphones with NHS GPs in London 24 hours a day, seven days a week and is designed to make healthcare more accessible to busy individuals.
Other GP surgeries may offer Skype or telephone appointments, but NHS England confirmed Babylon is the only digital-first appointment app using NHS GPs in this way. Other companies offer similar services at a cost nationwide.
How Do I Use It?
To get an appointment, you'll need to register on the app and make it your chosen GP service by providing a few personal details and a photo ID.
In doing so, you will no longer be registered at your usual GP surgery (NHS rules stipulate that you can only be registered to one service at a time). Your medical records will also be transferred to Babylon GP at Hand. If you don't switch from your current GP practice, you can still use the app but you'll have to pay.
Once registration has gone through, you will then be able to book an appointment time slot. The NHS GP will call you at that time for your video consultation, which you can complete from the comfort of your own home or in a quiet corner at the office.
What Happens During Appointments?
Like most other GP appointments, your doctor will ask you to describe your symptoms, whether your concern is about your physical or mental health. They may ask you to direct physical symptoms (such as a rash) towards the camera, so make sure you find somewhere private to chat if you're at work.
Your GP will make their diagnosis and if you require a prescription, they'll write this and send it to a pharmacy of your choice, ready for you to collect.
All video appointments are recorded and you can watch them back when you need to – an added bonus if you struggle to remember everything that was said.
What Happens If You Need To See A GP Face-To-Face?
Sometimes you'll need to see a GP in person, either because they've decided during your video consultation that they need to conduct a physical examination, or because the appointment is specifically for a physical examination (such as a smear test or contraceptive pill check – the latter of which requires you to have your blood pressure taken).
In these instances, you can book a face-to-face appointment with an NHS GP in one of five partnering GP surgeries in London, at locations including Fulham, Westminster, King's Cross and Canary Wharf. Face-to-face appointments can be booked via the support line on 0330 808 2217.
How Do You Leave 'Babylon GP at Hand'?
If the app isn't for you, there's no cost or obligation to stay. You don't need to tell Babylon if you want to return to your previous GP, simply visit, call or email your previous practice and re-register with them.