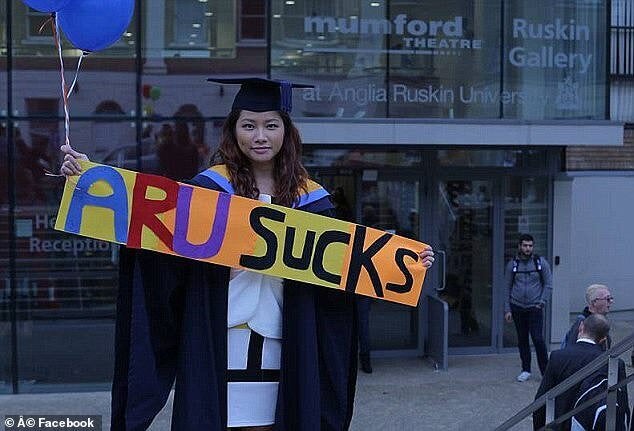 A graduate has been awarded thousands of pounds in damages from her former university after claiming that her degree was 'fraudulently misrepresented' in the prospectus.
Pok Wong, who also goes by the name Fiona, settled out of court with Anglia Ruskin University for £61,000 after complaining that the university 'fraudulently misrepresented' a business course for which she enrolled in 2011.
The 30-year-old, who now lives in Hong Kong, graduated with a first-class degree in international business strategy in 2013 but took issue with the university's standard of teaching and the degree's quality.
The institution's prospectus said it 'renowned centre of excellence' that offered a 'high quality of teaching' - which Wong has argued to be untrue and grounds for breach of contract.
Anglia Ruskin, which has campuses in Chelmsford, Cambridge and London, disputed her allegations but has now agreed to pay the student a £15,000 settlement and £46,000 towards her legal fees.
Speaking to The Sunday Telegraph, the graduate said: "The payout means this is a victory for me, despite the university strenuously fighting my case and denying any responsibility."
"In light of this settlement I think universities should be careful about what they say in prospectuses," she said.
"I think they often make promises which they know will never materialise or are simply not true."
Court papers reportedly state Wong began a protest about Anglia Ruskin's "poor standards" during her graduation ceremony.
In a video published on Youtube in 2013, Wong - who can be seen wearing her graduation gown - described her disappointment with the university alongside other students.
"I think people from the management team do not treat students well. They think that we're international students come here to pay our money for a piece of paper, for the degree," Wong said in the clip.
"But, actually, we care about the quality, we care about how much we could learn. Could we be inspired by the lecturers or do they just send some PHD students, that have no experience at all, to teach?"
Experts feel that Wong's victory will set a precedent for other students who have been dissatisfied with their experiences at university, according to reports in The Daily Mail.
The tabloid reported that a National Union of Students spokesperson said this case 'indicates a way students can seek recourse'.
Despite the pay-out, Anglia Ruskin maintains that this case does not prove that the university is at fault.
A spokesman said: "Ms Wong's longstanding litigation...has been settled at the instruction of our insurers to draw a line under these matters and to prevent a further escalation of their legal costs.
"The claims were wholly without merit and resulted in cost orders made against Ms Wong by the Central London County Court on two occasions."