The bank has announced its Shared Parental Leave scheme will now include grandparents, as well as new mums and their partners, in a bid to provide employees with newborns "greater flexibility over their work life balance".
The first beneficiaries of this scheme will be Leanne Pegley, who is expecting a child in early April, and her mother Teresa, whom she plans to share her leave with.
The mother and daughter both work at Santander branches in Essex.
"I believe that all family members have a big role to play in bringing up children, but obviously everybody has their own commitments as well" said the mum-to-be.
"With the shared parental leave we can all balance our work and family life and have the best of both worlds."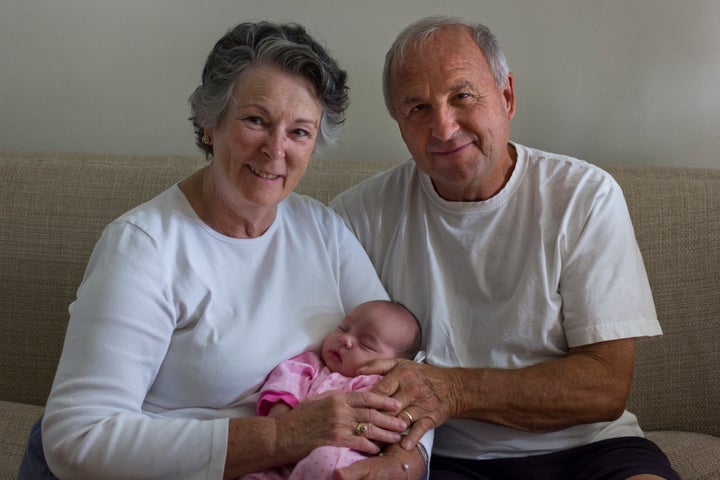 In October 2015 the Government announced plans to consult on a major new extension of shared parental leave, with the aim of implementing the policy by 2018.
The scheme will allow new parents to share their parental leave with their parents as well as their partners, to reflect the fact that many parents call on the support of their wider family to help with childcare.
Santander has also changed its maternity pay policy to entitle employees to 16 weeks of full pay – a provision that will be matched for grandparents and partners who take Shared Parental Leave.
Vicky Wallis, HR director at Santander UK, said: "To enable new mothers to share their maternity leave with a grandparent ahead of new legislation is a real landmark. It is the result of positive discussions and commitment from across the organisation and our trade unions Advance and CWU."
Lucy Peake, chief executive of Grandparents Plus told The Huffington Post UK she welcomes the news especially as a survey conducted by the national charity found that 2 million working parents said they would give up work if grandparents were unable to care for their children.
"We urge employers to follow Santander's lead to extend shared parental leave to include grandparents," Peake said.
"This would make a real difference to the one in four working families that depend on grandparents for childcare while their children grow up.
"People are working longer and its time to take action to enable grandparents to combine work and care.
"Giving working grandparents the right to flexible working and entitlement to leave to care for their grandchildren as they grow up would make a huge difference to families and to the economy."
Linda Rolph, general secretary of Santander union Advance, commented: "It is vital that today's employers do all they can to enable their workforce to balance their commitments in and out of the workplace and it is very positive to see Santander leading the way in this area."