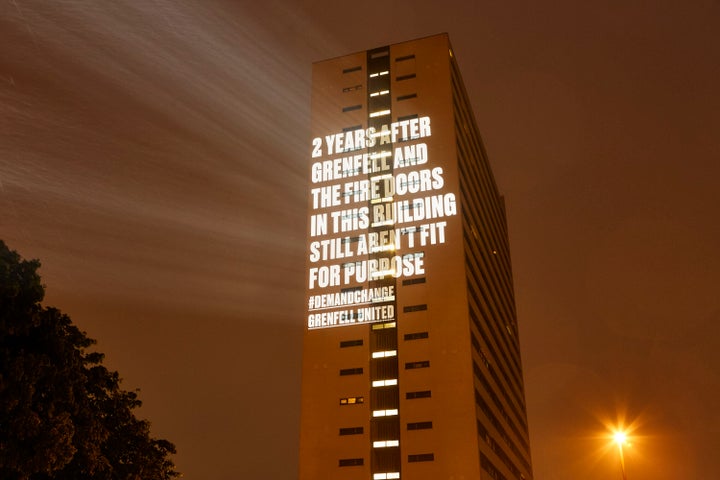 Dangerous Grenfell Tower-style cladding remains on 328 high-rise buildings, the latest official figures show on the two-year anniversary of the disaster.
ACM is similar to the material blamed for the rapid spread of the 2017 Grenfell Tower fire, which ripped through the building and claimed 72 lives.
Of the building still covered in cladding, 163 are private buildings, including residential and student accommodation, and hotels.
There has been little progress on remediation, with the number of high-rises across the country "unlikely" to meet current building regulations largely the same compared to the previous month.
The data release shows it is "unclear" whether 37 private buildings even have remediation plans - which is actually five more than the previous month.
The slow progress is despite the government last month promising £200 million to remove ACM from private towerblocks as landlords were refusing to do the work, representing a U-turn by ministers after losing the stand-off.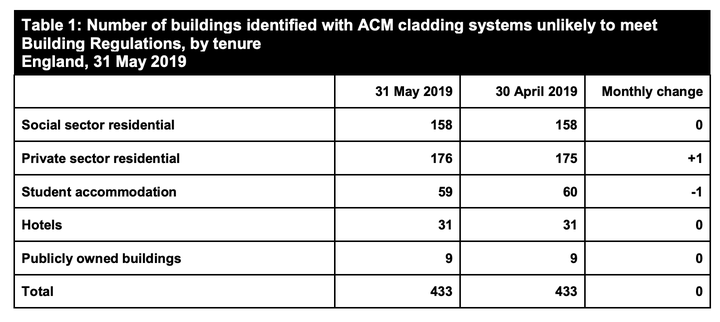 Campaigner Ritu Saha, a leaseholder at the Northpoint towerblock in Bromley, south London, which is still covered in cladding, told HuffPost UK: "Two years on from the wholly preventable tragedy at Grenfell Tower, we residents of Northpoint are still in the same situation as we were two years ago.
"We still live in a block wrapped with combustible cladding, with huge internal fire safety defects. Our residents still spend their free time after work and all night patrolling our corridors to keep us safe from fire.
"We are still trapped in dangerous homes, facing a threat to life every day as well as financial ruin to make our homes safe."
Labour's shadow housing secretary John Healey said: "Many private tower block owners have shown zero sign of replacing their Grenfell-style cladding, and government ministers are letting them drag their feet.
"Since Grenfell, government action has been too slow and too weak on every front.
"Enough is enough. Private block owners should be made to replace this dangerous cladding, or face councils taking over ownership of these buildings to get this vital safety work done."
Matt Wrack, general secretary of FBU, said: "In the time since the fire, the government's facile approach has utterly failed all those involved that night and the thousands of people who are at risk across the country.
"After two years, the Grenfell Tower Inquiry has delivered no answers and we are no closer to tackling any of the underlying causes of the tragedy.
"Countless homes are still wrapped in flammable materials, while warnings from tenants about risks to their safety go ignored. Fire and rescue services are, in the face of continued cuts, unable to prepare for a similar incident, with no national structures or coordination from government.
"As things stand, we risk sleepwalking into another catastrophic loss of life. We demand urgent action from government to ensure that the events of Grenfell Tower can never happen again."
An MHCLG spokesperson said: "Ensuring the safety of residents still living in buildings with unsafe ACM cladding is of the utmost priority.
"Two years since the Grenfell Tower fire, progress has been made, although we acknowledge that there is still much more to do.
"That is why the government has stepped in to fully fund the replacement of unsafe ACM cladding on high-rise social sector buildings, and on private residential properties where building owners have failed to do so."