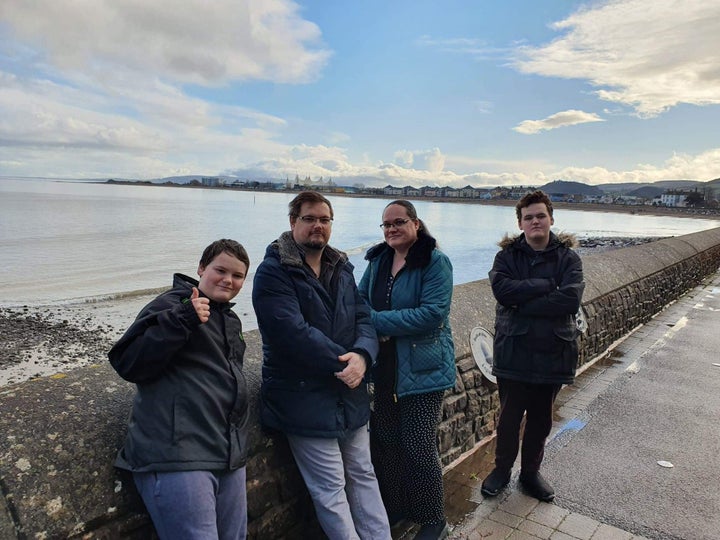 "I'm trying not to panic but we are not managing," says nurse Laura Smith, who lives with her husband Neil, a social worker, and their two children. "I don't know how this is going to resolve itself."
The 38-year-old from Rugby lives with multiple sclerosis (MS), a condition which can affect the brain and spinal cord, causing a wide range of symptoms from vision problems and fatigue to muscle spasms and issues with balance.
The cost of living crisis – combined with the fact Laura spends a lot of time in and out of hospital, which impacts the number of hours she's able to work – is leaving her family struggling to pay the bills.
They save money where they can, with Laura and Neil regularly having soup for meals as it's less expensive, but they're still in a desperate position.
Like many people in the UK, the family has been impacted by rising energy costs, but not putting the heating on isn't an option for Laura as it can worsen her MS symptoms.
"Having the heating on during the winter is a total non-negotiable for me. If I get too cold I can get ill. My symptoms get so bad that I can't move and am at much higher risk of falling," she says.
To try and cut costs where they can, the family has had to compromise by having the heating on at a different temperature, as well as relying on blankets for warmth.
Bills are a "constant" source of stress, adds the mum-of-two, who admits she's not hopeful for the future.
Half of disabled people are relying on community spaces to stay warm this winter
Laura and her family's story is sadly not uncommon. A poll of 1,005 people with complex disabilities, surveyed by the charity Sense at the start of October 2023, revealed half (51%) plan to spend the coming cold months in community spaces to stay warm, as it's too expensive to heat their homes.
These 'warm spaces' are provided by councils and local communities and include libraries, churches and community centres. (You can find your nearest one here.)
This is our second winter facing soaring energy costs and 53% of disabled people surveyed stated they are already in debt due to the rise in cost of living. Meanwhile, two-thirds (66%) are constantly worried about bills.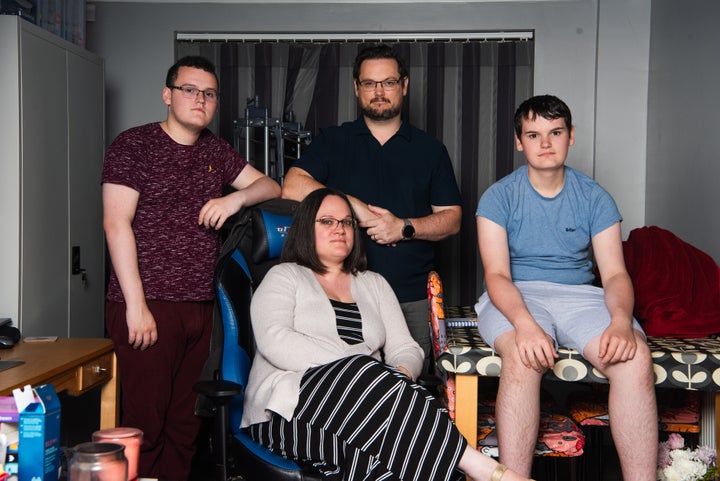 Disabled people are disproportionately affected by the cost of living crisis
Disabled people often earn less and face higher living costs, according to Sense, which means the cost of living crisis has hit this group particularly hard.
Some will need to pay more for special diets and therapies, use specialist equipment like breathing machines, ventilators, electric wheelchairs and feeding pumps which require a surplus of energy usage.
Being able to turn on the heating is essential for people like Laura, as well as those who are less mobile or struggle to regulate their own body temperature.
Yet the necessity of specialist equipment doesn't change how much it costs to run and, due to increased energy prices, 18% of disabled people have said they're reducing their usage of such equipment.
Such pressures are causing huge emotional and physical strains – 39% of those surveyed admitted their physical health has gotten worse and 63% said their mental health has worsened.
Charity urges government to offer more financial support
This year, the government has provided cost of living support for people on benefits, but Sense's research suggests these payments aren't enough to cover high energy bills – 44% of respondents said they haven't received enough support when it comes to energy costs.
Earlier this year, the government said it would consider the introduction of a discounted energy tariff that would protect disabled households struggling with their energy bills.
However, according to Sense, disabled people and their families are still in the dark. The charity has been inundated with requests for information and support and is calling for the government to look again at the social energy tariff ahead of the autumn budget.
It is hoped such a tariff would provide discounted energy to disabled households who require higher energy use due to essential equipment such as electric wheelchairs or breathing machines.
These already exist in several countries including Italy, France and Spain – here in the UK, 86% of respondents said the tariff would help them.
Richard Kramer, chief executive of Sense, said: "The government cannot sit back and watch for a second winter, as more disabled people are forced into debt and ill-health.
"We are urging the government to recognise the full impact of rising costs on disabled people and bring in a social energy tariff which would help millions struggling across the country."
A government spokesperson told HuffPost UK: "We are already supporting the most vulnerable with energy costs this winter, helping up to 3 million families with £150 off their bills through the Warm Home Discount."
"We know the challenges people are facing with which is why we are protecting those on low incomes from high prices with record financial support worth an average £3,300 per household.
"This includes up to £900 for those on means-tested benefits and a £150 disability support payment on top, whilst continuing to bear down on inflation to help people's money go further."
Help with bills this winter