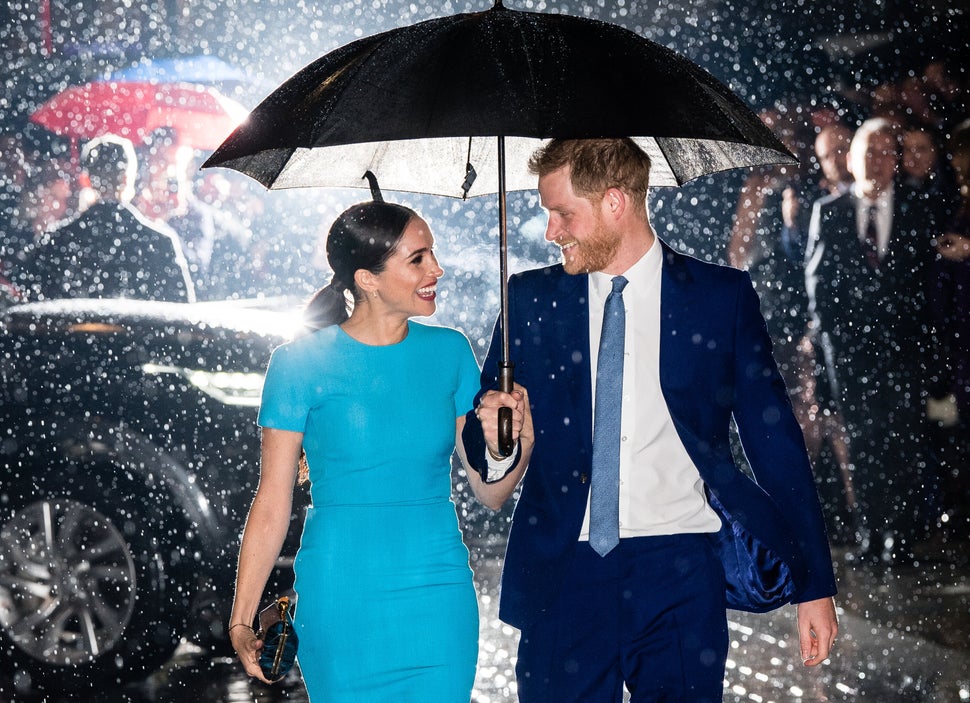 It's the photo that stopped people in their tracks – or at the very least, mid-scroll. Holding the stem of an umbrella and gazing into each other's eyes, the Duke and Duchess of Sussex attended one of their last royal engagements in London sporting royal blue, of course, and the largest of smiles.
Harry and Meghan were at the awards of the Endeavour Fund, which Harry set up in 2012 to inspire and reward sporting and adventure projects for veterans.
It's the first domestic event the couple have attended together since announcing they planned to step down as royals and split their time between the UK and North America with their son Archie. The family of three has been staying in Canada for the past few weeks, and anticipation was high for what some dubbed the Sussexes' 'farewell tour'.
Thankfully, royal and entertainment photographer Samir Hussein, who has captured intimate moments of the royal family for 12 years now, was on hand to photograph their arrival – and regardless of what you think of the royal family or where you stand on 'Megxit', I think we can all agree this is a beautiful shot
Hussein tells HuffPost UK he flew back especially for the event from Ireland, where he'd been photographing the Duke and Duchess of Cambridge's trip, to capture the duo – and he had the tiniest of windows to do so.
On arriving at the event, his hopes for a decent set of photos weren't particularly high, he explains: "It was pouring down with rain, which can be very tricky when shooting flash photography." He also knew the couple would be under an umbrella, adding yet another obstacle to getting a clean shot.
"Little did I know these elements would come together so spectacularly to produce a timeless image of the couple," he says.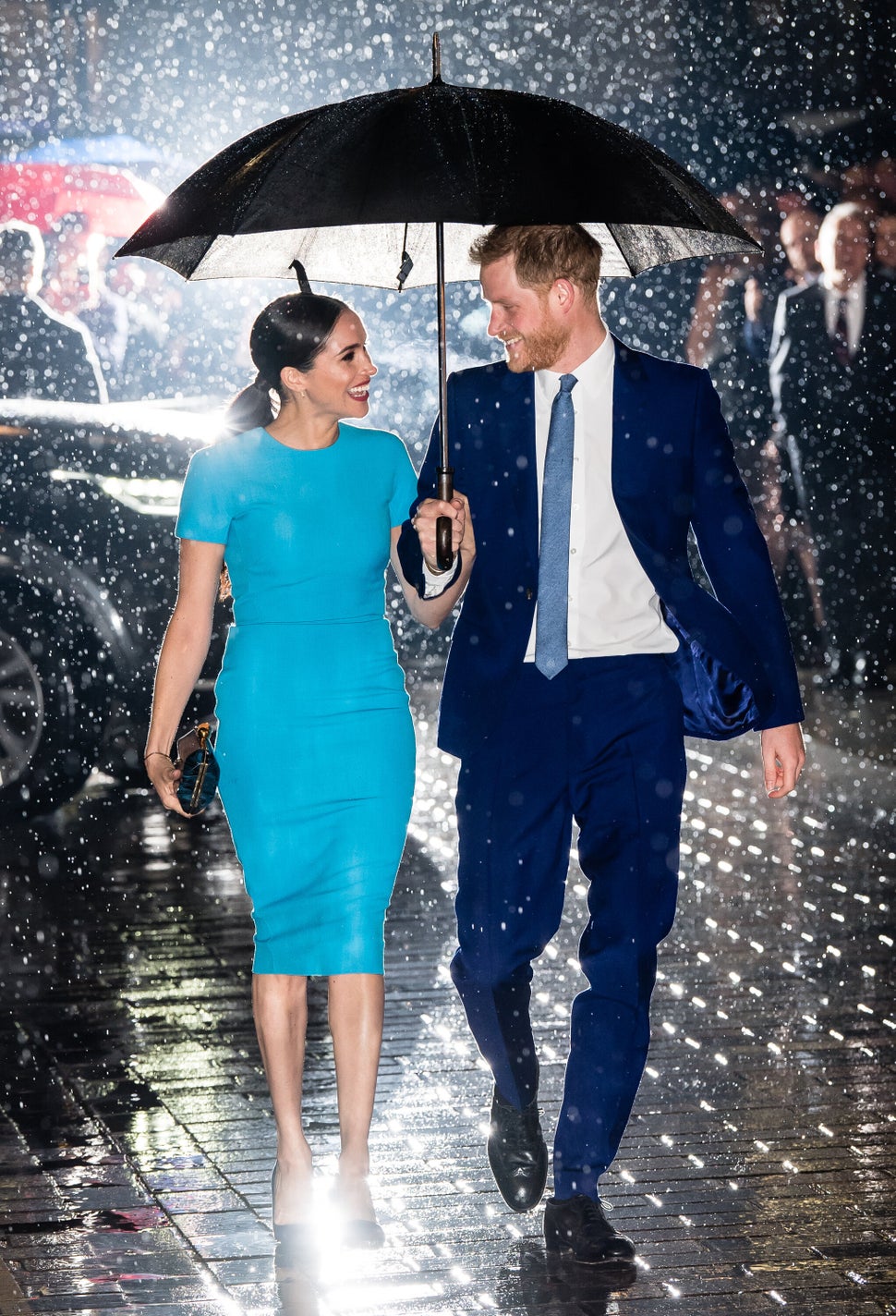 So how did he capture the money shot? It was all in the timing, Hussein insists.
He discovered the pair would be dropped off near the entrance to Mansion House and would walk for just 10 metres before entering the event, which didn't provide much room for error.
Hussein stationed himself in the official photographer's pen in the best line possible to capture the couple head on – and says Meghan, Harry and the flashing lights behind them did the rest.
"When they arrived their body language and affection for one another was amazing."
"When they arrived their body language and affection for one another was amazing," he says. "They were smiling and seemed excited to be photographed together after the endless stories and debate about them stepping down as royals."
The way the light falls on the rain around the couple adds magic to the shot – like a shower of diamonds or as one commentator simply put it, 'stardust'.
The photographer explains that as the couple walked towards him he noticed a flash going off from a camera in the crowd behind them – and it was too good an opportunity to miss. "I knew that if that light could be lined up to be right behind them as they walked it could create a dramatic photo, acting like a backlight in a studio shot," he explains.
"I managed to manoeuvre myself... and then had to work quickly with just a second or two to get the shot as they smiled wonderfully at each other."
Hussein didn't know if he'd captured it clearly until he downloaded the photos to his laptop. "I held my breath as I zoomed in to to check if it was sharp – with the rain pouring and many flashes firing it's easy to end up with soft images," he says. "Thankfully it was sharp and I knew I had a truly special shot."
The photographer says the photograph, which has made the front pages of numerous newspapers and been shared around the world on social media, is "probably the most iconic photo" of his career.
"It's a one-in-a-million event when all the elements you could wish for as a photographer come together – perfect timing, great lighting, strong symbolism and amazing subjects make this a magical photo I am extremely proud of.
"It's probably the best royal photograph I have taken."