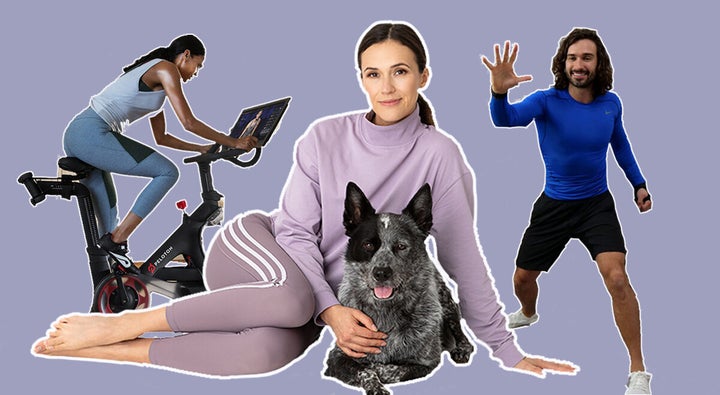 So, you think you're a fan of fitness? But did you become dangerously close to splashing your savings on a Peloton?
The pandemic has changed the fitness industry beyond recognition, yet there are some things we've been doing en masse in 2020.
Below, we round up 10 of the biggest exercise trends – a fitness bingo, if you will. How many can you tick off?
1. You were obsessed with Yoga With Adriene
Oh, you know my close personal friend Adriene too? What a coincidence.
The words "hop into something comfy and let's get started" became the catch-phrase of the first national lockdown for those doing Adriene Mishler's 30-day 'Home' challenge.
Her YouTube channel boomed in popularity during the first three months of the pandemic, says the New York Times, going from an average of 500,000 to 1.5 million views a day.
2. You walked... like, a lot
We see you, government-mandated hour of exercise per day. And we raise you nine months of looking at the same four walls.
We have walked a lot of miles since.
When interviewed for a government report between May and July 2020, 39% of Brits reported walking more than before the outbreak of coronavirus. We can sense a re-release from The Proclaimers coming on.
3. Joe Wicks became your PE instructor
If you've not pretended to be Spiderman, performed 'bouncing bunnies' or shuffled like a crab at some point this year, you've clearly missed out.
The Body Coach became the nation's PE teacher when schools closed early in the pandemic, but his YouTube workouts have been enjoyed by us big kids, too.
No, your thighs are burning.
4. You downloaded Couch to 5K
More than 858,000 people downloaded the Couch to 5K app during the first three months of the first UK national lockdown – a 92% increase from the same period in 2019.
"Downloaded" is the key word...
5. You quit Couch to 5K
Then there's everyone else.
6. You did Instagram workouts
Remember when you couldn't log onto Instagram without getting a notification that someone, somewhere, was doing a live workout?
We'll be forever thankful for those free pick-me-ups when we needed them most – but the home and interiors envy also lives on.
7. And experienced Zoom fitness classes, too
"Join our zoom class", they said, "It'll be fun".
And before you know it, you and 10 strangers are staring at each other's faces, trying to make small talk before your live workout begins.
At least there's always an easy out...
8. You went to an empty gym and posted the evidence
Went to the gym at some point this year? Great. But it doesn't count if you didn't post a photo of empty treadmills. If your caption included a phrase such as "I like this more" or "why can't it always be like this?", you get an extra point.
9. Maddie Lymburner (aka MadFit) blew your mind
So, you got bored of PE with Joe, huh? Thought you could handle a HIIT workout that's designed for actual adults? Maddie Lymburner (probably) proved you wrong.
The YouTuber – famed for the account MadFit – gained more than 30,000 new subscribers a day as gyms closed during the first wave of the pandemic.
We love her dance-inspired workouts and HIIT sessions, but five minutes in, we we're usually taking a breather, sitting on the floor and watching in awe.
10. You (almost) bought a Peloton
Peloton's branding u-turn has been so extreme, even those reluctant to exercise are tempted to splash out on one of the expensive home bikes. If you haven't got one, you want one.
Last Christmas, Peloton's Christmas advert was compared to an episode of Black Mirror. This year, we're looking at the stock prices and seriously regretting not investing our life savings. 2020, what a wild year.