Hundreds of people have 'dropped dead' at London's Heathrow airport in a series of mass demonstrations against climate change and airport expansion.
The protest on Saturday afternoon saw a mass bicycle 'blockade' as well as hundreds of activists wearing gas masks lying in a terminal to protest against airport expansion.
The campaigners from the global group Reclaim The Power covered the floor of a section of the terminal, wearing masks "to highlight the climate and pollution impacts of aviation".
The 'Stay Grounded' action is calling for no new runways or expansion of aviation capacity anywhere in the UK, and for the industry to be bound by climate change regulations.
Reclaim the Power is calling for a tax on frequent flyers to fund greater investment in 'climate-friendly' transport.
Some spoke to passengers about the effects of climate change and air travel, while a simultaneous 'critical mass' bike ride took place around the airport.
The group is sharing its protest using the hashtags #StayGrounded and #StopAviationExpansion, ahead of the Government's decision on growing London's airport capacity this month.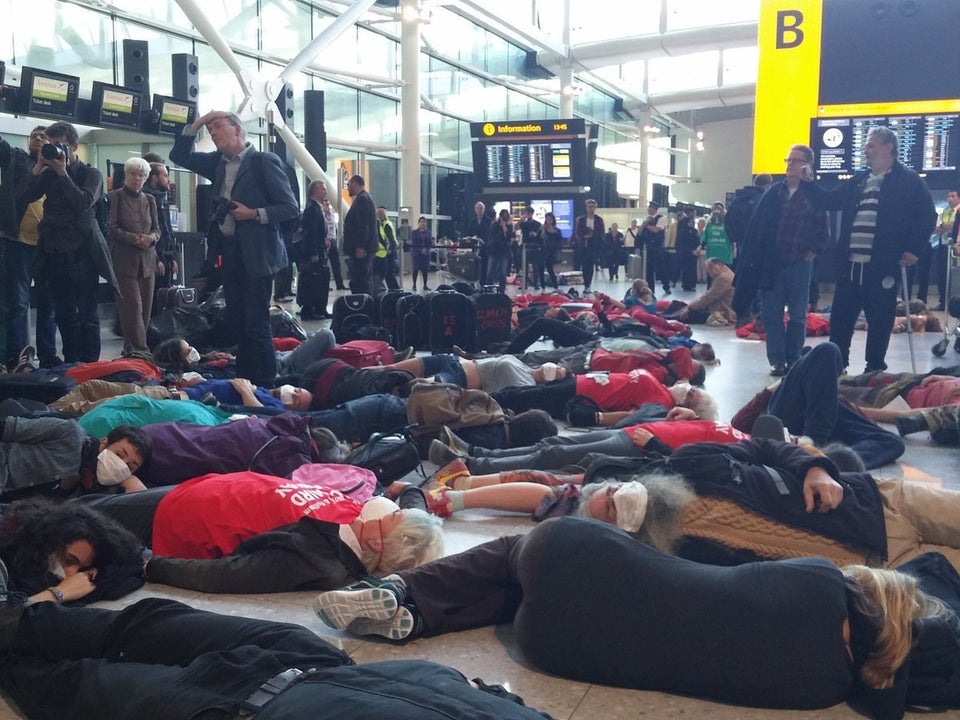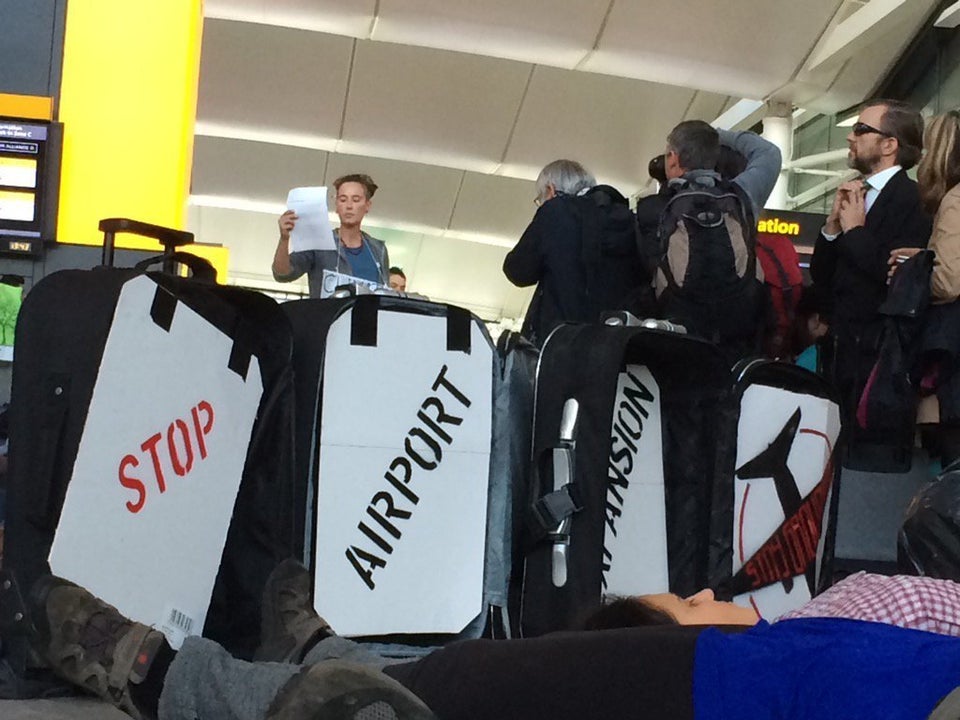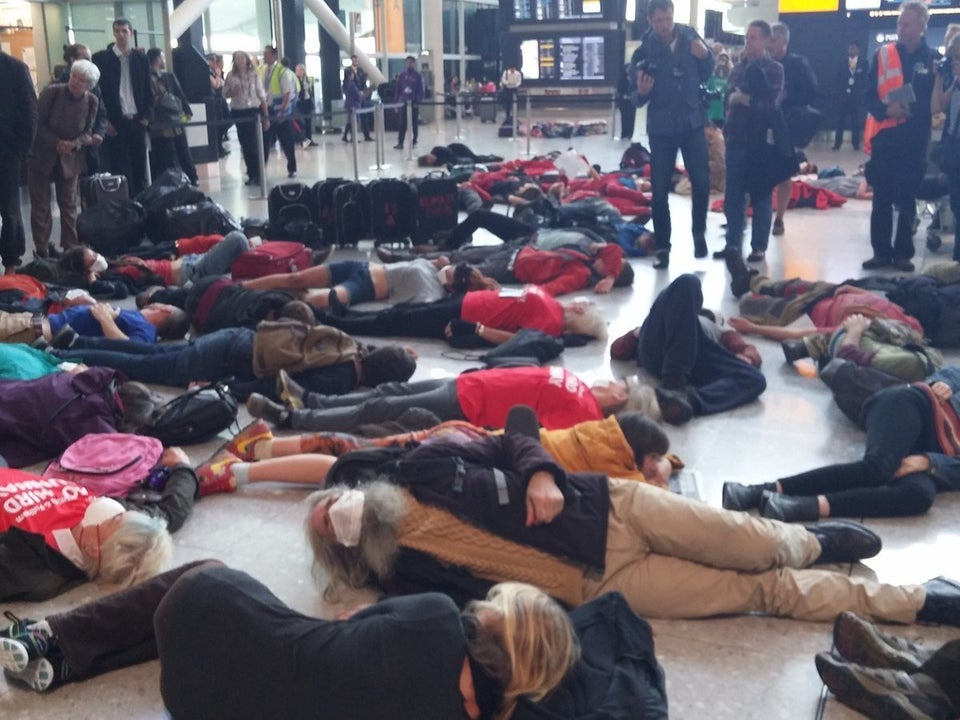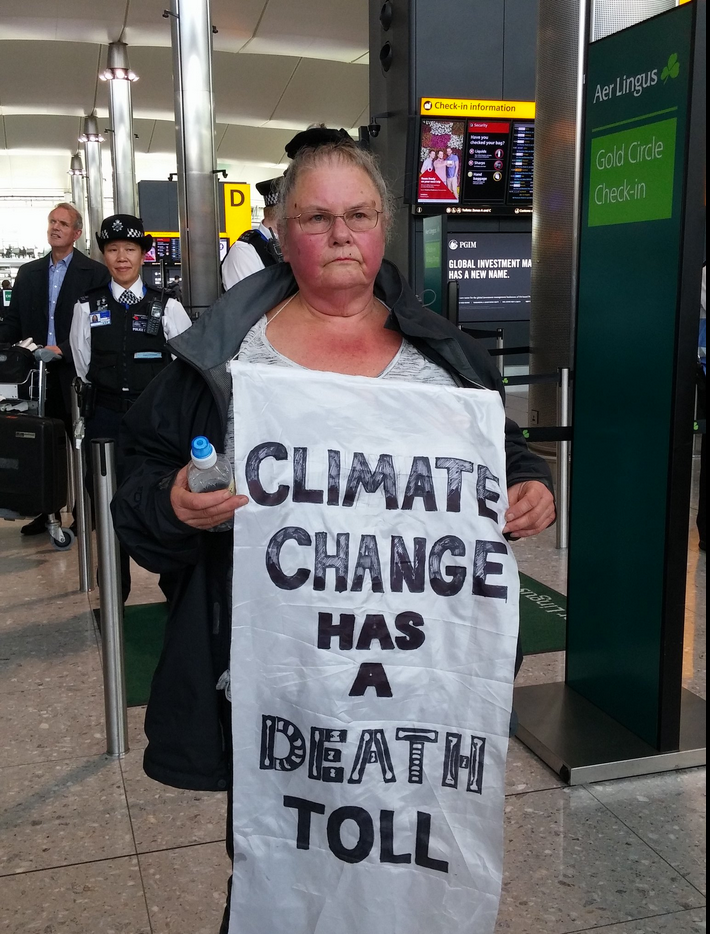 The protesters also set up a 'Frequent-fliers-high-polluters club' stand with champagne in the airport: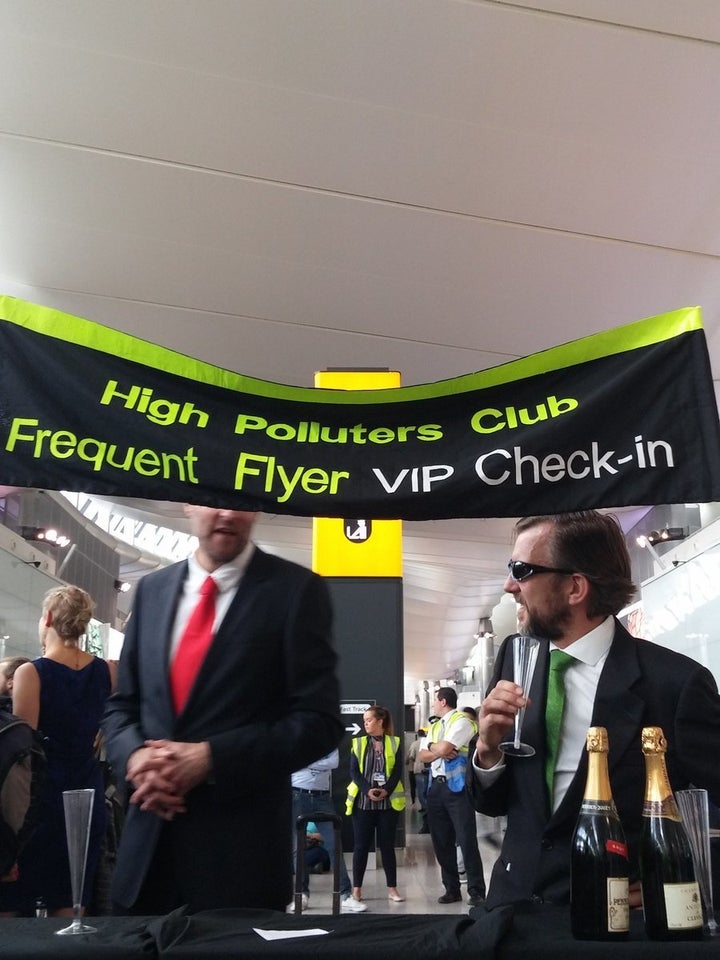 Reclaim the Power said 'hundreds' of riders took part in a ride wearing jumpsuits outside the airport to raise awareness of their cause.
The bike ride includes a stop at the nearby Harmondsworth Detention Centre "to highlight the impact of climate change and forced migration," the demonstrators said.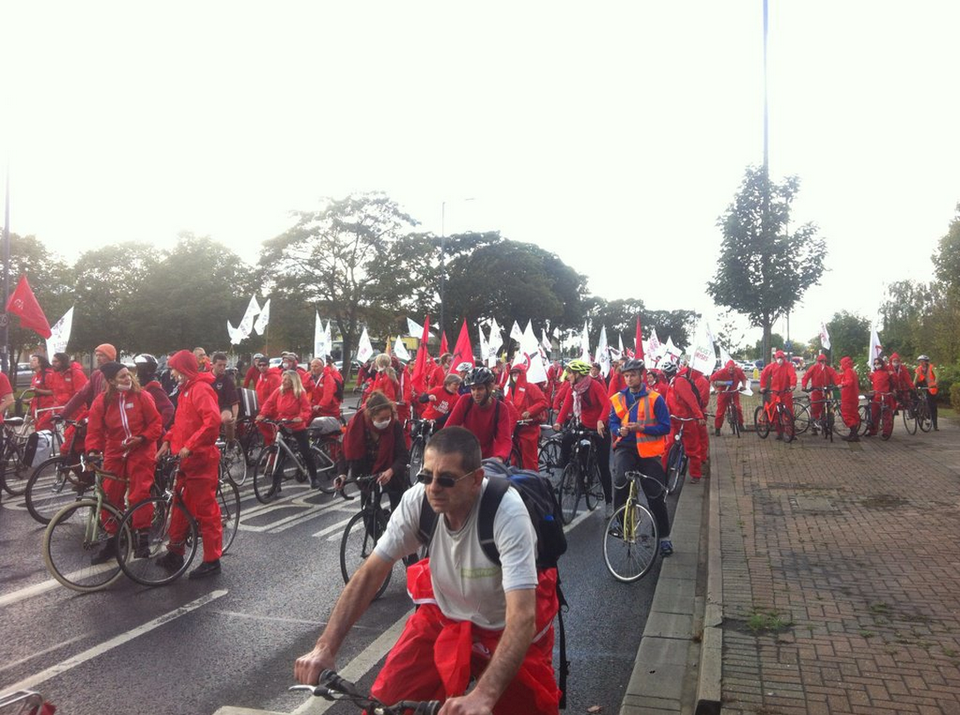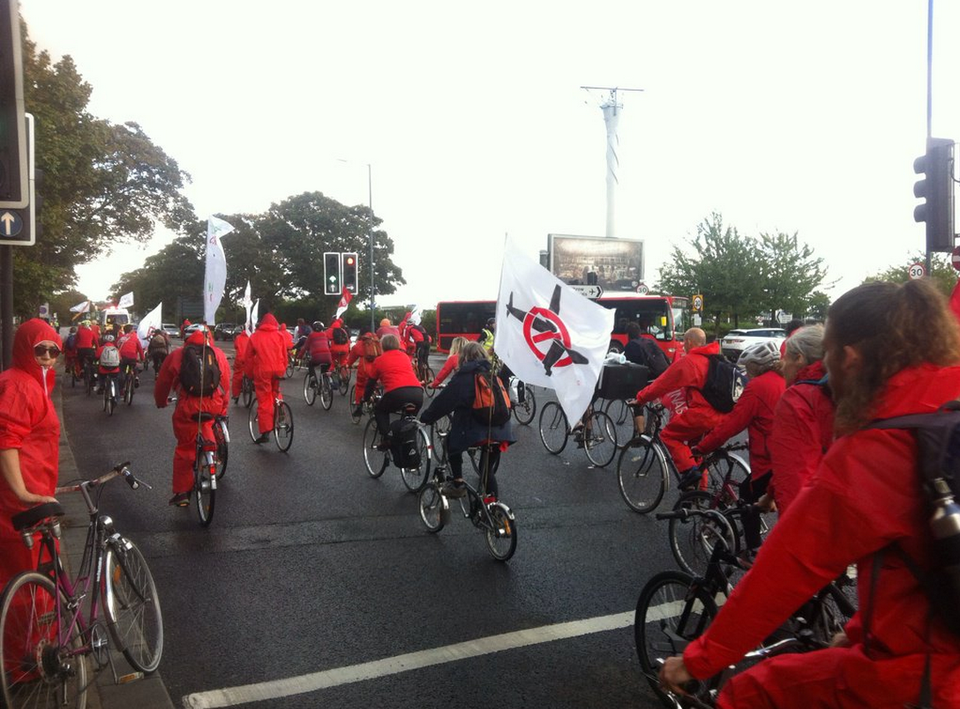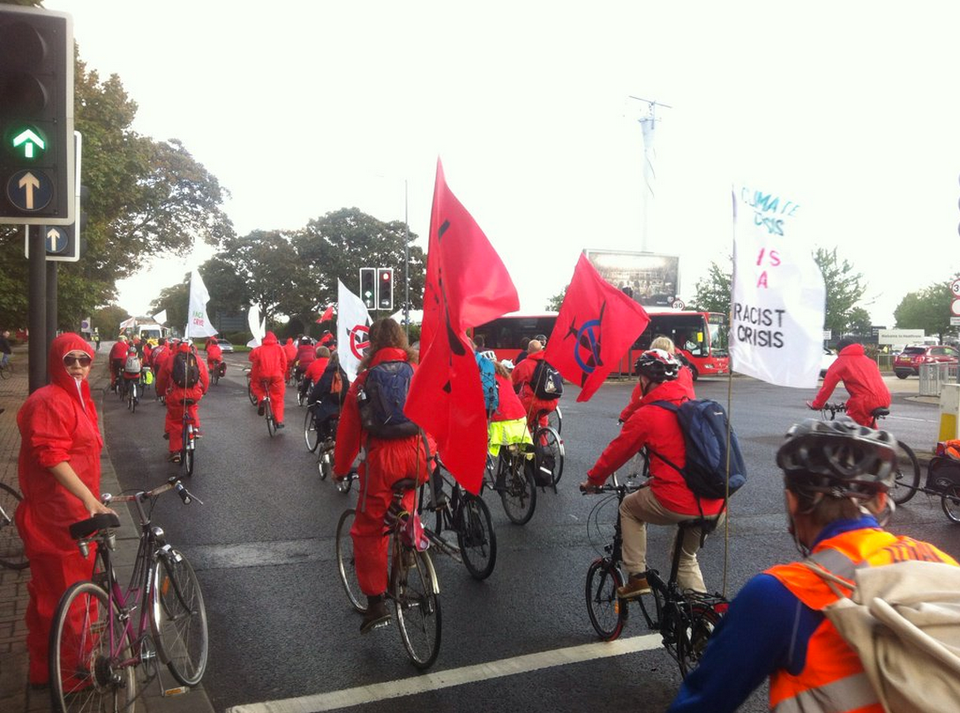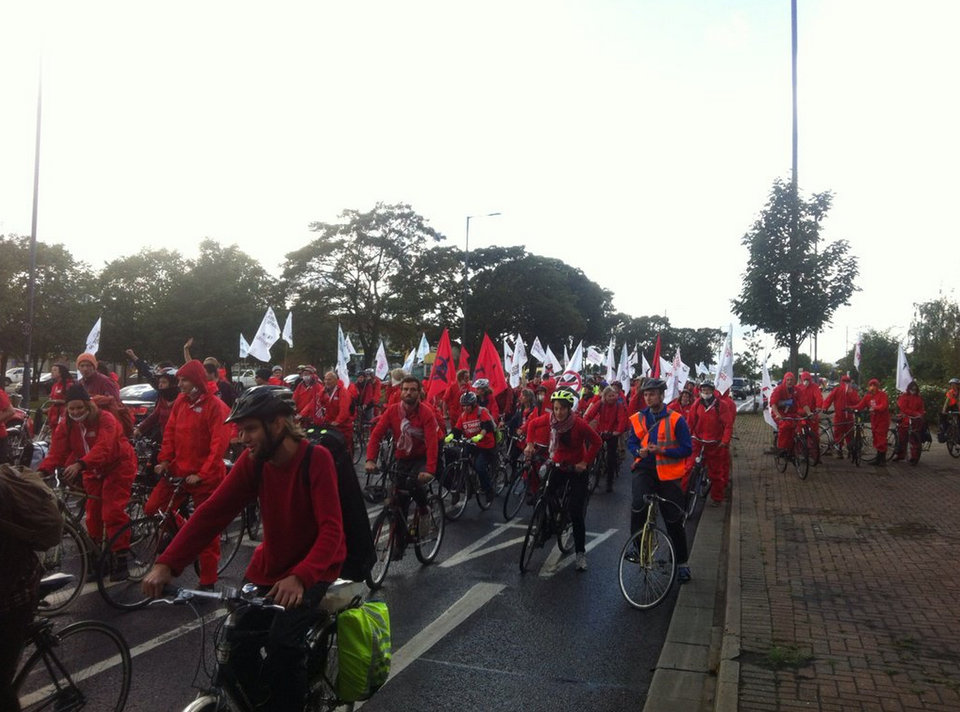 It told HuffPost UK it would also make use of the 'red lines' motif used in other demonstrations to signal that "a livable climate is a red line we're prepared to defend."
The action is part of a series of anti-aviation demonstration around the world during the UN's ICAO conference looking at the emissions impact of air travel.
On Friday morning Theresa May announced that she has enough cabinet support to press ahead with expanding Heathrow airport.