The party's success in Witney surprised the Conservative Government, and showed the public that our fightback is well underway. An even stronger challenge in Richmond Park would shake the Government's resolve. It would be a huge victory for progressive, liberal values.
Last month we finally got the answer we'd all been waiting for: it's Heathrow and not Gatwick. But before we all move on to the next big story, it's worth taking a second look, not at the location, but at the historic timeline. And what this says about successive British governments' ability to make decisions...
My American students could not believe how long it takes in Britain even to agree on the first step of creating additional runway capacity, which is d...
This week the Paris Agreement to address climate change enters into force, just ahead of world leaders reconvening at the COP22 climate talks in Marra...
Last week, three Labour MPs did something that takes courage. In calling for Labour to stand aside in Richmond Park, they were pushing for a more coll...
It's 6.17 on Wednesday morning. It's dark and quiet. Yesterday Prime Minister Theresa May gave the go-ahead to the third runway at Heathrow. "God,...
If Theresa May is serious about making our country 'a global leader in free trade' then a new runway at the UK's biggest port is a sure way to show the world that Britain is ready and open for business.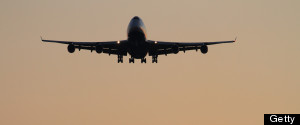 Permitting Heathrow expansion - hot on the heels of giving the green light to fracking - positions May and her government as climate wreckers. But it also puts them firmly on the side of greedy, dirty businesses and against millions of ordinary people when they could be helping us all from political and tax-payer investment in infrastructure.
With no indication the government intends to reject airport expansion proposals at Gatwick and Heathrow, ratification begins to look like empty symbolism. Either that or the Prime Minister simply doesn't understand the agreement on which she is about to put pen to paper.
So they're back. Direct flights from London to Tehran, that is. After a four-year break, including delays for "technical" reasons after originally ann...