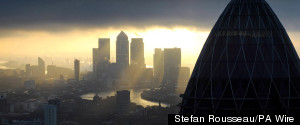 If the UK is to be a world-leading economy, it needs to be matched with world-class infrastructure... Future economic growth depends on a significant increase in airport capacity in order to encourage international trade and inward investment, attract tourists and increase employment.
We want to see the UK close its goods trade deficit from a worrying £9bn; we want to see British businesses shipping UK products all around the world, from Cambodia to Canada; and we want to see these exporting companies creating jobs and wealth. If we want to realise this ambition, we will need at least three, possibly five, extra runways over the next few decades.
Writing from London -- When I arrived at Newark Liberty International Airport earlier this week for my United Airlines flight to London, the check in...
Do any of the new proposals deliver on environmental issues? Many of the new ideas, such as noise compensation schemes and a congestion charge, aim to tackle these impacts but much of what has been proposed either misses the key questions or makes impressive promises on issues that are outside the control of airports.
Unexpected events happen all the time and even to airlines. However when something goes wrong in the system, air passengers often feel that they have entered a poker game with embarrassingly low hands.
If you live in London, you may find Heathrow and St. Pancreas two of the busiest points of departure from the city. However, there are better things to do in these ports instead of staying in the waiting areas if you've arrived early for your journey. Here are my top 3 suggestions to keep you chilled before crossing UK borders.
If we are to prosper and become a great trading nation once again, we will need to boost our airport capacity. We need modern airports with larger freight and passenger capacity; we need to be able to export British-made goods and compete against our European neighbours. No-one disagrees with this.
As an environmental campaigner I try to live as sustainably as possible and put my beliefs into practice. Skipping for food is, for me, an integral part of being both true to my beliefs and leading a truly sustainable life...
We're in the air en route to Lisbon for the first leg of a once in a lifetime journey around the world in fourteen days. It's early and whilst the team rest up before a day exploring the city, it seems like a good opportunity to reflect on where we are at.
In business, it is essential to be fast on your feet, identifying new opportunities and reacting to threats as quickly as possible. In public life, decisions are taken far more slowly, if at all, and, often, for all the wrong reasons...