It's 6.17 on Wednesday morning. It's dark and quiet. Yesterday Prime Minister Theresa May gave the go-ahead to the third runway at Heathrow. "God,...
If Theresa May is serious about making our country 'a global leader in free trade' then a new runway at the UK's biggest port is a sure way to show the world that Britain is ready and open for business.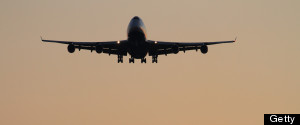 Permitting Heathrow expansion - hot on the heels of giving the green light to fracking - positions May and her government as climate wreckers. But it also puts them firmly on the side of greedy, dirty businesses and against millions of ordinary people when they could be helping us all from political and tax-payer investment in infrastructure.
With no indication the government intends to reject airport expansion proposals at Gatwick and Heathrow, ratification begins to look like empty symbolism. Either that or the Prime Minister simply doesn't understand the agreement on which she is about to put pen to paper.
So they're back. Direct flights from London to Tehran, that is. After a four-year break, including delays for "technical" reasons after originally ann...
Heathrow is facing air quality issues that simply cannot be overcome. If the best they can offer is a ham-fisted proposal that would severely impact small businesses and drivers across London then today should be the day that the idea of a Heathrow expansion is knocked on the head for good.
Imagine this. You live on a relatively quiet road on the way out of town. There's a bit of traffic as some people use your road on their way home but you expected that when you moved in. One day, you wake up and overnight bulldozers have turned your road into a motorway with car after car rushing past your house. You later find out that because the council is only 'trialling' the change, nobody had to tell you about it.
The bookmakers have George Galloway in third place for the position of Mayor of London, which is determined by the Supplementary Vote. Neither Sadiq Khan nor Zac Goldsmith stands any realistic chance of winning outright on first preferences. They, and all other Mayoral candidates who want to win, need to start engaging with Galloway's policy proposals.
Earlier this month, the UK Civil Aviation Authority (CAA) announced its proposal to improve the safety of air shows following in the wake of the Shor...
For now though, we can only hope that the government will make the right choice for British business and the economy in general, by taking a proper look at airport expansion in the South East.