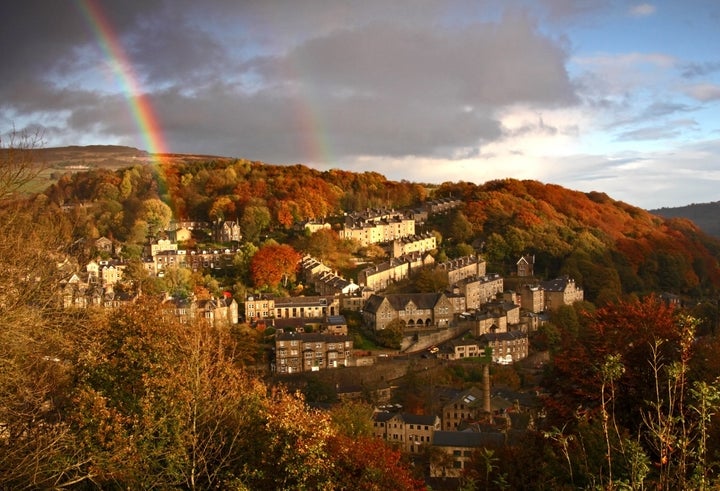 Hebden Bridge has a reputation for being an unusually diverse town, with a population of friendly and welcoming people. This may be somewhat surprising to the tourists who come over to visit the myriad independent shops. Winning the Great British High Street Award in 2016 and being hailed the "least cloned high street in Britain" are astounding achievements following the devastating floods of 2015. Nestling in the Valley, alongside beautiful woods such as Cragg Vale and just over the hill where Cathy yearned for Heathcliff in nearby Haworth, there are spectacular views to explore. Finish off by mooching around one of our many cafés, tea rooms and pubs or by seeing a legendary band or performer at the reputed Trades Club.
To the untrained eye, Hebden Bridge looks like an example of a well-preserved Victorian industrial town in West Yorkshire, famous in the past for trouser manufacture. Look closer and you will find a town that was almost abandoned, but brought back to life by hippies, artists and lesbians looking for a place to make a life. In the 1970s, 'alternative types' began to move to Hebden Bridge, often occupying abandoned houses and restoring them over the next few decades. This diverse bunch made the town particularly attractive to lesbians, many of who raised families in Hebden Bridge and other nearby towns in the Calder Valley, prompting the town to be crowned 'lesbian capital of the UK'. Rather than a brash 'gay scene', Hebden Bridge has a huge social network of couples, families and individuals, who can enjoy the serenity of our community, whilst being able to enjoy either work-life or a city gay scene, less than an hour away in Leeds or Manchester.
Gay men have long lived in Hebden Bridge, albeit in much smaller numbers than their female counterparts. This has anecdotally started to change in the last few years. I moved to Hebden Bridge in October 2015, having known the town through visiting friends since the mid-1990s. It seems my timing was perfect, as the following March saw the launch of Happy Valley Pride.
Responding to a piece of homophobic graffiti, it was transformed into a positive visual piece by local artists. Quickly evolving into a full week's annual Happy Valley Pride festival, punctuated throughout the year with the occasional sell-out, disco night, hosted by trustee and haberdashery owner 'DJ Red Helen'; plus regular light-hearted monthly socials at our local, LGBT+ friendly The Old Gate, aka 'The Gay' as we've nicknamed it! How could I resist getting more involved, initially as a volunteer and more recently as a trustee? The result was a wonderful family of inclusive friends; gay men, lesbians, bisexual, trans, non-binary and straight allies, all working and playing together to ensure that Hebden Bridge continued to grow as a safe and secure home for everyone.
The week-long festival confirmed our hope that Hebden Bridge didn't just tolerate its LGBT+ community, but valued and embraced us. Our famous independent shops offer outward solidarity, eagerly participating in imaginative Pride window displays in the run-up to the festival, as well as offering a plethora of prizes to help with our fundraising. Our local mayor regularly sits on our board, as well as participating as a judge in the less cerebral 'Pink Pooch' dog show.
Only in Hebden Bridge will you find our patron, Peter Tatchell alongside the mayor, handing out rosettes and dog biscuits, after delivering a human rights speech and hanging out at our only club. Last year, attracting alternative club night 'Duckie' from its permanent Royal Vauxhall Tavern proved a huge success when transplanted to The Trades as 'Duckie Comes to Yorkshire'. Queer artists such as Bourgeois and Maurice were blended with local act, Logan and Manley and a lesbian writers' workshop. All these queer goings on make me proud to make Hebden Bridge my home. We are tomorrow's history and I'm proud to be part of it.
Sean Pert is a trustee of Happy Valley Pride and the owner of a rescue cat named Oscar. Happy Valley Pride's festival takes place 22-28 July 2019. For more information, visit their website