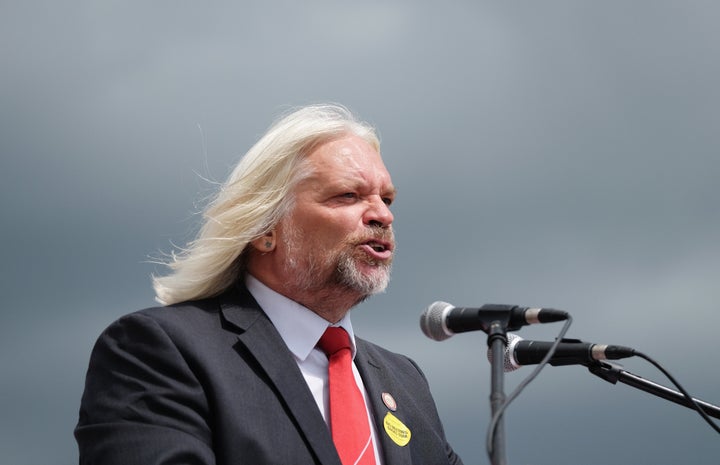 With his long white hair and trimmed beard, Tosh McDonald looks more like a glam rocker than the president of a trade union.
A railway worker since 1979, Tosh was elected president of the Associated Society of Locomotive Engineers and Firemen (Aslef) last year.
But it is not his work representing the UK's train drivers which has seen him rise to political prominence in recent months, but his barnstorming support for Labour leader Jeremy Corbyn.
Tosh has addressed numerous Momentum rallies, and almost shouted himself hoarse as he addressed thousand of pro-Corbyn supporters outside Parliament protesting against moves to oust the Labour leader.
Huff Post UK sat down with him just hours after Aslef's board unanimously agreed to support Corbyn in this summer's leadership contest – having backed him last year as well.
When asked for his view of how Corbyn's leadership has been, Tosh is unequivocal in his praise.
"For somebody who's been in position for nine months the achievements he's made have been fantastic. I also think when you look at the immense pressure he's been under the past few weeks he's come out as a man of steel," said Tosh.
"Maybe they don't think we can win with Corbyn as they are judging everybody else in the country by their own standards," Tosh replied.
"I think what's more important for them is they have lost control of the party. There are a lot of people in the Parliamentary Labour Party, Progress, Blue Labour, Labour Voice, all these organisations who have some very powerful friends and got some good backing from powerful friends.
"Now because they're losing their influence within the party, I think they are getting pressure on them from their powerful friends.
"I honestly believe there are people in the Parliamentary Labour Party who would rather take control of the Labour Party again then get the Labour Party back into power."
As the president of Alsef, Tosh represents an organisation which supports the renationalisation of the railways – a policy also put forward by Corbyn.
Tosh shook his head, and said: "All leaders, whether they are leaders of governments or shadow cabinets, they have always had reshuffles - it's only Corbyn's reshuffles that seem to create such a fuss.
"It wouldn't, in the past, I don't think a reshuffle would have taken the news away from the fare increases and the announcement on nationalising the railways."
He went on: "When I was watching the first reshuffle live on television and the banners were coming across the bottom [about a resignation] I thought: 'Who's he?' Then his name came up 'Jonathan Reynolds' and then his job 'Shadow Rail Minister' and I didn't know him.
"I thought, 'Is that my fault?' so I asked all the Executive Committee members and all the officers of Aslef to see if they knew him and only one had ever met him, and that was the General Secretary, who had spoke at a fringe meeting with him once.
"I think we had people in the Shadow Cabinet like that who were just looking for a career and to climb the greasy pole and it was just something to put on their CV rather than engage and meet and talk with people.
"In contrast with that, when Andy McDonald was made the Shadow Minister for Rail, and since then he's become Shadow Transport Secretary, within 24 hours he'd rung and spoke to me, he'd rung and spoke to the General Secretary, the assistant General Secretary and we were sharing platforms, speaking at meetings together and things and that's somebody who cares about people who work in their portfolio.
"I don't think any other leader having a Shadow Cabinet reshuffle on the same day as announcing the renationalisation of railways would have trumped it."
It is not just Reynolds who Tosh is angry with, as former Shadow Foreign Secretary Hilary Benn also gets a dressing down. Tosh is particularly angry with Benn's comparison of the International Brigade who fought fascism in Spain in the 1930s with the RAF bombing Daesh in Syria.
One of the biggest fears among Labour MPs at the moment is that hard-left activists will infiltrate their local parties and call for their deselection.
Huff Post UK asks Tosh whether those fears are justified, given that at the rally in Parliament Square there were many holding Socialist Worker banners?
"If you're worried about the Socialist Workers Party or the Socialists Party and entryism and infiltrating and taking over the Labour Party I think we're giving far too much credence to the Socialist Workers Party and the Socialist Party. There isn't that many of them," Tosh replied.
Should Labour MPs face reselection?
"As the President of Aslef I am always up for reselection. Anybody can stand against me at any time, as an Executive Committee member of Aslef when I turn up, I'm up for reselection, anybody can stand against me.
"I think that's the same for most organisations. I feel it makes me stronger."
"I would have no problem with mandatory reselection, but it's not the priority to be quite honest."
Tosh believes Corbyn can win seats from the Tories in 2020 "by being himself, by being straight talking by being honest and by not being like all the other politicians – by being inclusive with people like he is.
"Whether it's a Tory heartland or whether it's the former Labour heartlands of Scotland, if you offer something different, if you offer people a clear alternative of something they are going to vote for you."
Tosh vows that if Owen Smith defeats Corbyn in this summer's leadership contest, he will back him, but he believes that "the only chance Labour have got of winning the next election is with Corbyn."
"By uniting the party. I'm fearful that will mean some people will leave the party on the right. I think the left's learnt the lesson. We gave the party to the right back in the 1980s, we've taken our chance to reclaim it – our part of the party.
"I don't want it just to be the left within the Labour Party. The biggest thing that went wrong under New Labour and under Blair was they silenced all opposition, they silenced all criticism."
Many in the PLP might not agree with a lot of what Tosh said, but there may be some common ground: the desire to stop infighting and focus on attacking the Tories.
"Who would trust the Labour Party as it is now? I wouldn't, as it is now, I wouldn't trust them to deliver," Tosh said.