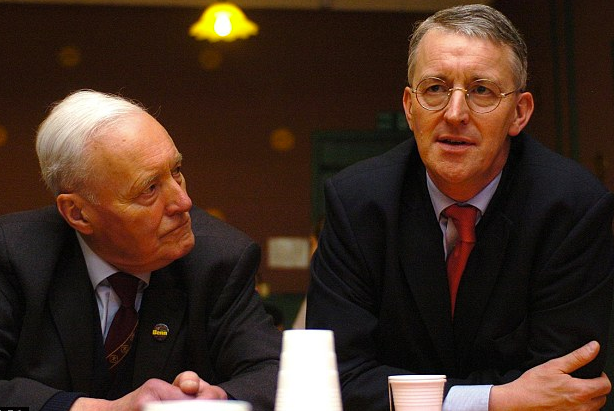 Hilary Benn today revealed foreign health workers cared for his dying father as he praised the contribution migrants make to the UK.
In a passionate speech in Westminster this morning, the Shadow Foreign Secretary spoke of how his father, Tony, directly benefited from immigration before he died in 2014.
As well as talking up the benefits of immigration, Benn also hit back at claims from Leave campaigners that quitting the EU would see migration levels drop.
Benn also admitted that with ten days to go until the vote, the contest was "really tight".
Speaking in Church House, Benn said: "Just reflect for a moment on the greatest social challenge that confronts us; the demographic time bomb that will see the number of people aged 65 and over rise by nearly five million over the next two decades.
"Already, one in five of our care workers come from outside the United Kingdom – from Europe and the rest of the world – and we will need more carers as more people need looking after.
"When my father came towards the end of his life, most of the people who cared for him with such patience and gentleness had brought their care from abroad to this country.
"And in the years ahead, it will be our turn to be looked after.
"And as well as providing that care, we will need to pay for it, which is why it is utterly irresponsible to advocate a course of action that will lead to a weaker, less strong and less prosperous economy."
He suffered a stroke in 2012 and died two years later, aged 88.
His son, Hilary, also voted out in that referendum, but has since changed his views and now believes the UK should remain in the European Union.
Today, Benn argued immigration into the UK would be needed post-Brexit as there would still be a skills gap in the British economy.
He said: "Free movement is part of the deal and the reason why so many people have come here from other EU countries is because jobs are available.
"Jobs that need doing and jobs that, if it had not been for this migration, employers would have been shouting about because of the difficulty they were having in filling them.
"Vacancies for doctors, nurses, lecturers, factory workers, chefs and waiters, receptionists, scientists and cleaners."
Speaking on BBC Radio 4's Today programme this morning, Brown argued "the heart" of the problem with migration was illegal immigration rather than the legal free movement of people across the EU.
"I believe that in Britain we have managed migration, it is not uncontrolled immigration. I also believe that the biggest problem is going to be illegal immigration," he said.
Labour Leave, the section of the party calling for the UK to quit the EU, accused Brown of being "totally wrong" on immigration
General Secretary Brendan Chilton said: "The problem is that we cannot control EU immigration. Open-door EU immigration means that we cannot do anything about the number of people coming into the country.
"We have to sit on our hands and watch the devastating impact it has on British working people; on their wages, on blue-collar jobs and our traditional industries. If we remain in the EU this is only set to get far worse."