A day after she was controversially defeated by Donald Trump in the Presidential elections, one would have forgiven Hillary Clinton for lying low.
But wallowing was not a consideration for the former Secretary of State.
The morning after winning the popular vote but losing the race, Hillary was out with her husband Bill, walking their dogs in the woods north of New York.
And that's where their paths crossed with hiker Margot Gerster, who was doing the exact same thing.
After offering commiserations and hugs, Gerster who was carrying her baby daughter on her back, handed her phone to former president Bill, who captured the moment for them.
Posting the image to Facebook, Gerster wrote: "I've been feeling so heartbroken since yesterday's election and decided what better way to relax than take my girls hiking.
"So I decided to take them to one of my favourite places in Chappaqua. We were the only ones there and it was so beautiful and relaxing.
"As we were leaving, I heard a bit of rustling coming towards me and as I stepped into the clearing there she was, Hillary Clinton and Bill with their dogs doing exactly the same thing as I was.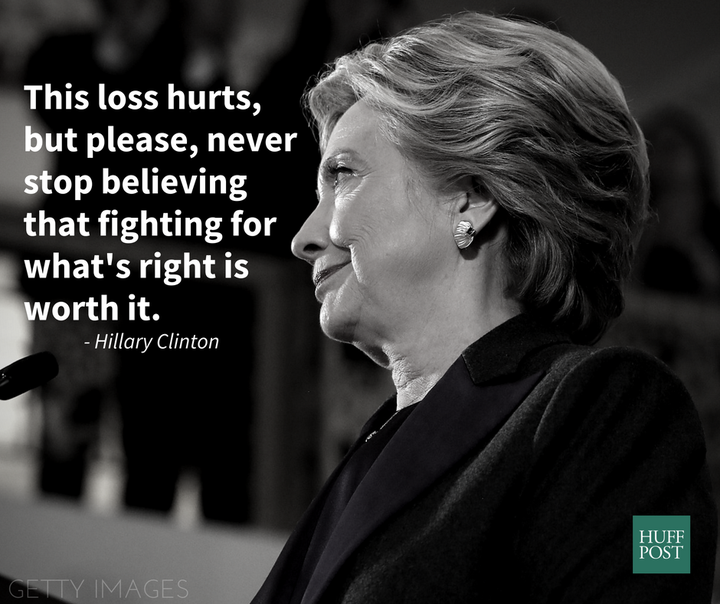 "I got to hug her and talk to her and tell her that one of my most proudest moments as a mother was taking Phoebe with me to vote for her.
"She hugged me and thanked me and we exchanged some sweet pleasantries and then I let them continue their walk.
"Now, I'm not one for signs but I think I'll definitely take this one. So proud. #iamstillwithher #lovetrumpshate #keepfighting #lightfollowsdarkness."
The grandmother-of-two said: "To all the little girls watching… never doubt that you are valuable and powerful and deserving of every chance and opportunity in the world."
She added: "To all the women… who have put their faith in this campaign and in me… nothing has made me prouder than to be your champion.
"We have still not shattered that highest and hardest glass ceiling. But some day, someone will.
"We are stronger together and will go forward together. And you should never, ever regret fighting for that.
Popular in the Community