Two men have been charged in connection with the alleged removal of items from a sunken Royal Navy warship in the English Channel.
John Blight and Nigel Ingram are accused of failing to declare items to the Receiver of Wreck from HMS Hermes, a protected cruiser built in the late 19th century and converted into an aircraft ferry and depot ship ready for the outbreak of the First World War, the Press Association reported.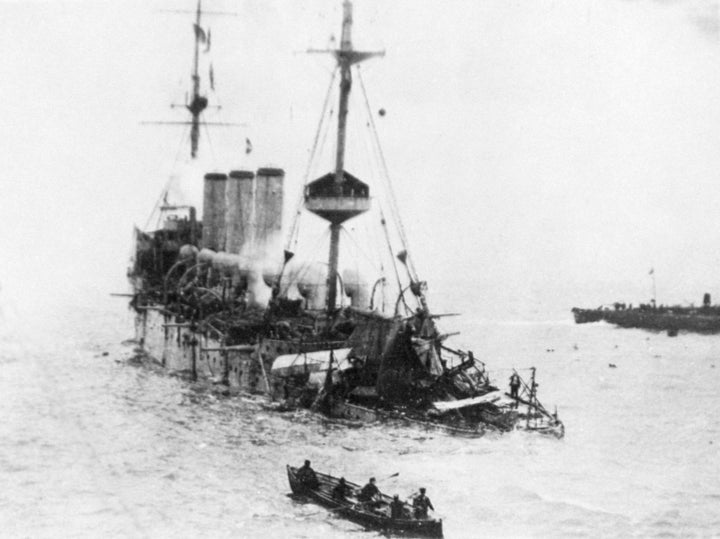 A Kent Police spokesman said: "Officers from Kent Police's rural task force launched an investigation in August 2015 after being informed that a number of historical artefacts had been reported missing from the wreck."
Blight, 57, of Winchelsea, East Sussex, has been charged with three counts of dishonestly failing to disclose items of wreck to the Receiver of Wreck with intent to make a gain.
Ingram, 56, of Teynham, Kent, has been charged with the same three counts in addition to being in possession of £16,000 worth of criminal property.
Both men have been bailed to appear at Margate Magistrates' Court on March 2.
The investigation into the alleged offences was carried out in partnership with the Maritime and Coastguard Agency, the Marine Management Organisation, the Receiver of Wreck, Sussex Police, Historic England and the French authorities.
In a separate case in September 2015, Vincent Woolsgrove, 49, of Kent, was jailed for two years at Southampton Crown Court for falsely claiming that he had found three rare Dutch cannons in international waters which had actually come from the warship HMS London that blew up in 1665 off Southend.
Related